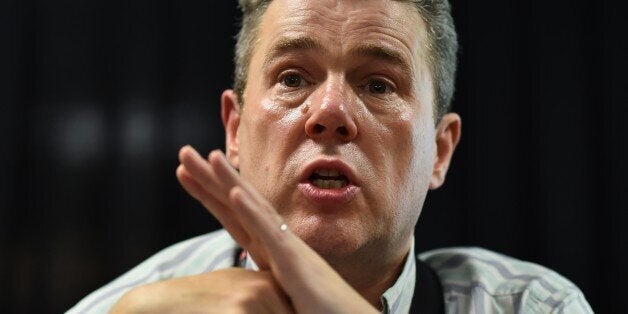 Next week, 30 November will mark my three-month anniversary as an in-patient at the wonderful Papworth Hospital -- my home from home, and my temporary office.
Throughout my illness, since it began in 2010, I have always taken the view that it is vital for me to go on working as normal.
I am elected to run the union and I'm not going to let anything stand in the way of that. I am immeasurably grateful to my wife, Ruth, and two children, Imogen and Rhys, for their support with this.
And, of course, for the fantastic medical support here. I've written before about this place, its dedicated staff and the need for us to fight with everything we've got to save our NHS from Tory cuts and sell-offs.
For me, living as normal a life as possible is very important. This week, for the fourth time I got the call to say there was a donor heart available and, for the fourth time, the operation was cancelled because the organ wasn't suitable.
People who know me know I'm a resilient character, but there would be no point pretending I don't feel the strain of dealing with the rollercoaster of emotions that throws up - and particularly the impact it has on my family.
I would again like to thank everyone who has sent cards to me - I'm sorry I haven't been able to reply to all of them - and those who have sent messages to Ruth on Twitter. It's impossible to put into words just how much it means to us.
Chris came up to Papworth and, journalistic curiosity aside, seemed genuinely interested in how I'm doing and how I'm managing to carry on working - indeed, why I am carrying on working.
First and foremost, it is because I want to and I am lucky that I can. But my doctors have also said it is good for me to do it and to keep active, and there are selfish reasons too, if I'm honest.
Quite frankly, I don't know how I'd cope if I didn't. As excellent as the care is here, I would have got cabin fever by now.
So I'm taking daily exercise and working hard, and thoroughly enjoying it as I always have. This means being in daily contact with colleagues, not just from my office but across the union. As well as visits from family and friends, staff make regular trips to discuss work and go through documents, and I am probably reading and writing more now than I did before.
As you can hopefully hear from the Five Live interview, being here has given me some time to step back a little and see things with fresh eyes. No bad thing when you've been doing the same job for more than 15 years.
So my 100 days as a Papworth resident is drawing nearer and I'm reflecting on just how much there will be for me to do when I am finally discharged. I will have a new heart, but the same determination to fight for what we believe in - for jobs, for better pay and for the future of our public services, like this amazing hospital.
Mark Serwotka is the general secretary of the PCS union