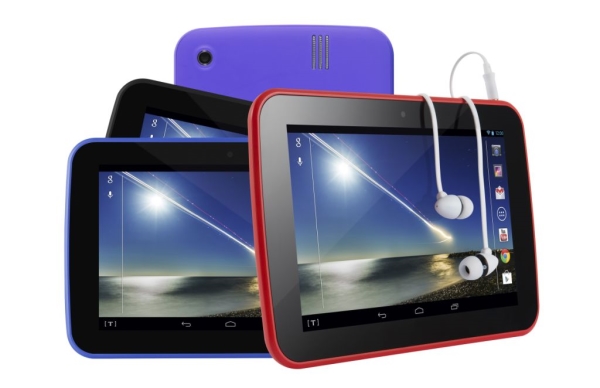 Many people are settling into the idea that a 7 inch screen is the ideal size for a tablet. The extra screen space provided by a 10 inch model sounds great in theory, but it does result in a device that is slightly more cumbersome to take from place to place. Looked at in terms of portability, 7 inches is perfect -- large enough to make most tasks easy, but small enough to easily slip into a bag, if not necessarily a pocket.
The slightly smaller size also makes an important different to the price tag, and there is a burgeoning market for tablets of this size. It is interesting to see that as the screen of phones gradually get larger and larger, the general trend for tablet is to shrink -- the two are on a collision course!
Price is an important factor for many people looking for a portable device. Apple's iPad and iPad Mini, and certainly Microsoft's Surface, are beyond the means of someone looking for something cheap and cheerful.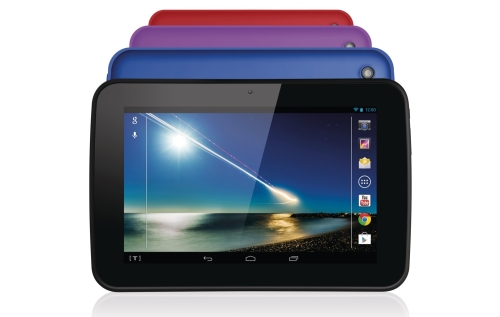 Without doubt, it is the Nexus 7 that has dominated this corner of the market, certainly in recent months, but there is a lot of competition. This is great for anyone looking for a tablet as it means there is a great deal of choice and there is also something of a price war as manufacturers compete for attention by driving prices down.
UK supermarket Tesco may seem like an unlikely contender, but it is the latest company to enter the market. The Hudl has been designed from scratch, and with a price of just £119, it will immediately appeal to anyone looking to get hold of a tablet for as little as possible. In fact, bought in conjunction with coupons through Tesco's Clubcard loyalty scheme the price is driven down to below £100. No details are provided about who has helped with the design and manufacturing process, but Tesco says that it has worked with a partner in China that "also manufacturers well-known products for Microsoft, HP, BlackBerry and Sony".
Stop Me If You Think You've Heard This One Before
Overall, Hudl specs should sound fairly familiar -- there are a few devices which fall into much the same bracket. The screen should be the starting point when talking about any tablet. Here we have a 1440 x 900 resolution, working out at 243 pixels per inch -- compared this to the Nexus 7's 1900 x 1200 and 323 ppi.
The display looks nice, but it's hard to get much more excited about it than this. Everything looks sharp enough, but even with the brightness turned up all the way, the image is still a little dark and murky. It's fine looked at in isolation, but as soon as it's compared to other recent mobile devices, it look rather less impressive.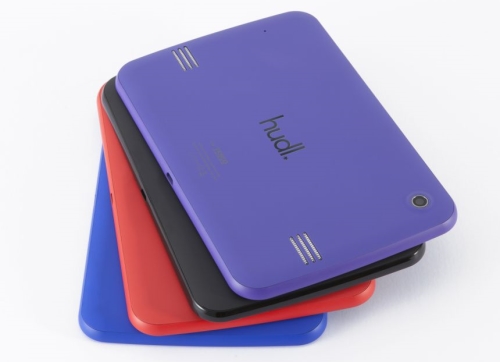 Despite the low price, the Hudl features a quad-core 1.5GHz processor. For day to day tasks, this is just fine, but to avoid disappointment, you shouldn't expect too much from it.
Running the Ice Storm benchmark in 3DMark yielded a good-looking picture, but there was noticeable judder and frame drop. Even in the least demanding benchmarks, the framerate dropped to 7 fps at times -- although it was generally above this. Overall, 3DMark assigned the tablet a rating of 2.5 out of 5 with a score of 3528, compared to 3.5 out of 5 and 4454 for the Nexus 7. The average frame rate of 21.2FPS for the Hudl compared to the Nexus 7's 50.2.
Shifting up to the Ice Storm Extreme test, the tablet really started to struggle. The average framerate drops to 12.2, and an overall score of 2747 earns the tablet 2.5 stars out of 5. The Nexus 7 receives a 5 out of 5 rating for a sore of 6988. Taking things even further with the Ice Storm Unlimited test, the Nexus 7 scores and impressive 10597, while the Hudl trails behind with just 3916.
So bona to vada
But this is not really what this tablet is designed for, nor is it likely to be what buyers are expecting from it. Spend £100 on a tablet and it's not likely you're going to be using it to play the latest, greatest and most demanding games. Available in multiple colors -- in addition to the covers -- this is a tablet that will certainly appeal to children.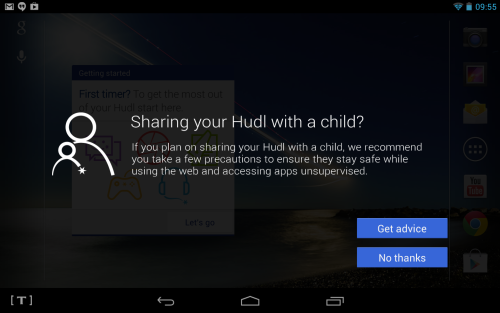 On the software front, the Hudl is running Android 4.2.2 and the OS has been tweaked with a few Tesco specific tools. There is an extra onscreen button in the bottom left hand corner -- this T icon provides access to Tesco's range of online services including shopping, loyalty card details and banking.
Blinkbox is installed as standard, and there's also Clubard TV with free movies and TV programs. Being free, the selection is a little limited, but free is free. The homescreens are filled with Tesco widgets that can be used to place online orders and account details, and there are helpful tutorials which are useful for first time tablet users.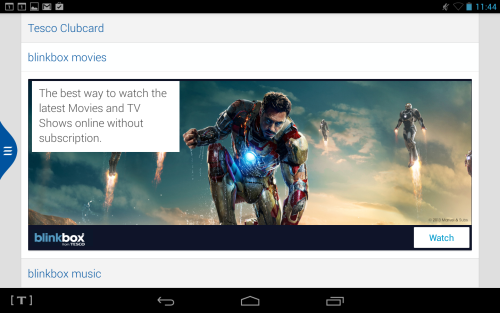 This is being touted as a family tablet, and there is guidance to help parents set up controls and restrictions to stop kids from accessing anything they shouldn't.
In terms of hardware, the Hudl impresses. The slightly bubbly, rounded body has a retro 70s feel to it and, coupled with the rubbery back, it feels great in the hand. The weight is more than the Nexus 7 at 390g, but it's still not too heavy. Physical buttons for power and volume are pleasingly raise and there's a mini HDMI output for connecting to a TV.
The harsh truth of the camera eye
There's only 16GB of built in storage, but the microSD slots means this can be expanded to 48GB very easily and cheaply. What really lets the Hudl down is the cameras. Both the front and rear cameras are awful -- this in spite of resolutions of 2MP and 3MP each, which should be enough to take reasonable pictures. Images are noisy and low quality, but they are sufficient for video chats when no other options are available.
The tablet feels nice and robust -- it seems as though it should withstand family life -- but there are soft touch cases available for £15 each, or leather versions for £20 to add some extra protection. There are other accessories available including an in-car charger and a mini-HDMI to HDMI adaptor.
This is clearly a tablet for the non-demanding users. Performance is hampered slightly by the 1GB but everything else is pretty much up to par. Dualband wifi is practically a given these days, and audio quality is decent.
The Hudl is no powerhouse, but it's far from being something to dismiss out of hand. You get a lot of tablet for your money -- and it's a great present for younger children who don't need the raw power of more expensive alternatives. Look at it as 'my first tablet' or 'my backup tablet' and you won't be disappointed.
Images supplied by Tesco