Football is an unpredictable game and the Premier League is certainly no different. As much was evident in the very first game of the 2014/15 campaign, where a United side rejuvenated by the appointment of Louis van Gaal were expected to brush aside a Swansea outfit that have endured a summer of upheaval that has gone somewhat undocumented.
This time last year David Moyes - hailed 'The Chosen One' at the time - was enjoying a comfortable 4-1 victory against the very same opponent in his first game at the Old Trafford helm. This time, after what could be deemed a very encouraging pre-season campaign United were all set to hit the ground running under a new manager once again.
Given his prestigious past in management, Van Gaal's success with the Netherlands at the World Cup shouldn't really have been required to convince the fans of his credentials. What the Oranje's third-placed finish did show off was the Dutchman's ability to implement a new tactical system to a side that many felt would struggle to progress past the group stages.
For much of his managerial career Van Gaal had utilised a 4-3-3 formation but injury to one of the national side's key players, Kevin Strootman, enforced a rethink. The Netherlands would field a back three with high-energy wing-backs and one creative midfielder behind a strike partnership of Van Persie and Robben. With the side dispatching of the likes of Spain, Chile and Brazil and only losing to Argentina due to a penalty shoot-out, Van Gaal was lauded for a tactical masterclass.
If there's one thing that Van Gaal likes most it's arguably himself. Lavished with praise for his work with the national side this summer, the former Bayern Munich boss would deploy the same tactic with United, a job bestowed upon him prior to the World Cup. It's a decision that can certainly be questioned. If there is a position in which the Red Devils are well stocked it's in attacking midfield areas. Van Gaal's newfound formation allows for just one.
Ashley Young and Antonio Valencia have been utilised as wing-backs and there seems to be little to no room in the current system for Adnan Januzaj or Shinji Kagawa, with Juan Mata currently favoured in the number 10 role. What the formation also demands is strong options at centre-back, where the squad now looks light following the departures of Nemanja Vidic and Rio Ferdinand.
A look at the teamsheet before the game would have made for encouraging reading for the Swansea players. With injuries to Luke Shaw and Antonio Valencia it was Ashley Young and Jesse Lingard that filled the wing-back spots, with the latter making his league debut for the club - ended early on due to injury - along with defender Tyler Blackett. Injuries certainly left his options limited but it seemed as though Van Gaal wanted to announce himself to the Old Trafford faithful by winning his first match in charge with a highly experimental XI, and we all know that you don't win anything with kids...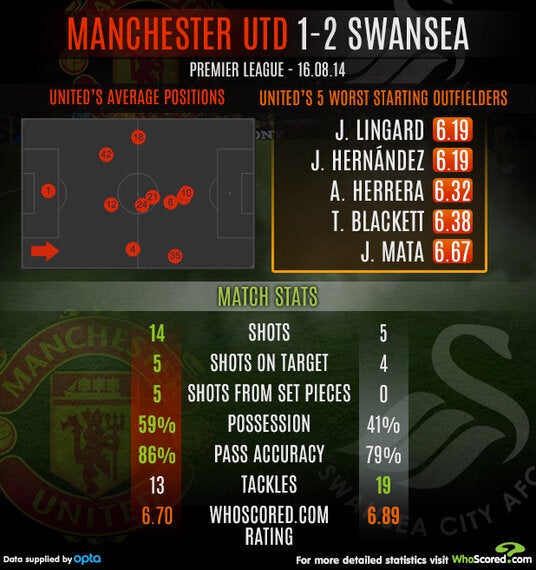 United held the majority of possession in the match (59%) and had more efforts on goal in total (14) but with just 5 on target, in truth they looked blunt from open play. Five of their efforts in the match came from set piece situations including Wayne Rooney's second half equaliser and when the same player hit the woodwork from a direct free-kick. Swansea had just 5 shots in comparison but all came from open play and 4 hit the target. Their opener came following a string of 29 completed passes.
Garry Monk's tactics were spot on. Though his side are usually keen to hold possession he wasn't too concerned with doing so and it proved a wise decision. Using the same system, the Netherlands looked at their best on the counter during the World Cup, mustering more efforts on the break in the group stages than any other team (6). They actually struggled to create chances in the latter stages of the tournament prior to a bronze medal match against a disheveled Brazil side. The limitations of the system had already begun to show. Swansea were happy to sit back and stifle United's creative players, who didn't have the answers on the day. Juan Mata picked up a modest rating of 6.67 from WhoScored.com, while Ander Herrera's debut was not one to remember, scoring just 6.32.
It should be said that Van Gaal changed tack at half time, switching to a 4-2-3-1 formation, but there's a case that he should have realised that, due to absences through injury, a 3-4-1-2 set-up was not the way to go. Stubborn is a word that has been used to describe the Dutchman in the past and it may well be apt here. He didn't have the personnel with the experience to implement a system dependent on defensive organisation.
It's only one game in and while United fans are rightly pointing to the fact that the performances highlighted the blatant need to strengthen the squad, it should also bring down their expectations of a coach that could seemingly do no wrong going into the season, which may not be a bad thing.
Was Van Gaal in the wrong by trying to start with a 3-4-1-2 formation this weekend? Let us know your thoughts in the comments below
All statistics courtesy of WhoScored.com where you can find yet more stats and player ratings.
Popular in the Community