Lomo Saltado is one of Peru's most loved dishes. Every household in Peru makes it and so do many restaurants. Every mum and aunt in Peru has their own recipe which differs from each other. Some make it with red wine instead of vinegar, others add beer, but like all our dishes, its all about great ingredients and flavours.
Oh, and I mustn't forget, its also about fire. A few days ago I was invited as a special guest on BBC1's live show Saturday Kitchen. Here was my big chance to tell the world about our restaurant Ceviche and Peruvian cuisine and prepare, on live TV, our number one national dish. I met with the show's producer three weeks before and he calmly asked me what I would like to cook. I told him, ceviche of course. He said "Hot food works best. No contest". So well, not only was my choice rejected, but I felt challenged. Ok, I thought, if you want hot, I'll give you hot. I'll give you fire! I decided on Lomo Saltado - "great" he said, not knowing what he was really in for.
I rehearsed the sequence with our team at Ceviche, talked as if it was live and prepared as much as I could days before. After all, this was going to be my debut on live British TV. I'd cooked on several TV shows in Peru, and for videos we do, but none were live. So I rehearsed, at home and at Ceviche. My kids ate Lomo Saltado for 3 days running. Everyone thought I was on the Atkins Diet. I also rehearsed their Omelette Challenge - I went through almost 100 eggs, but that's another story.
The morning arrived for the studio rehearsal. Their friendly and brilliant presenter James Martin was not there so I had to practice with the show's Home Economist, the lovely Micaela. "I've seen you before!" she shouted. "I know you" she said. Oh dear, what have I done now? I thought. It transpires that when I used to DJ she used to be a fan. She calmed my nerves as we reminisced about raving! So we started cooking at rehearsals and as the pan got hotter the fire started. Intentionally. This dish requires it - lots of it and it is the fire in this dish that gives it its final touch of distinct flavours. Cameramen, producer, home economist all stood back in wonder as my dish flamed through smoking the studio and then....the fire alarm set off. Top chefs and tv presenters in other studios came out to see what was happening. The sound engineer and studio producer tucked into the dish and remarked it was utterly delicious.
The next day, I woke at 5am and was picked up early at 6.30am. We started rehearsals and then came the live show. James Martin loved the dish and jumped back when fire started flaming out from it. It was fun, many on twitter commented on his jump, and the show's guests top chef Atul Kochhar and pop star Rachel Stevens loved it. It was the first time a Peruvian dish had been cooked on British TV and I thank everyone who tweeted lovely things to @martinceviche following the show. The shows producer, with a twinkle in his eye, said he loved it. So much so, that they want me back in the summer.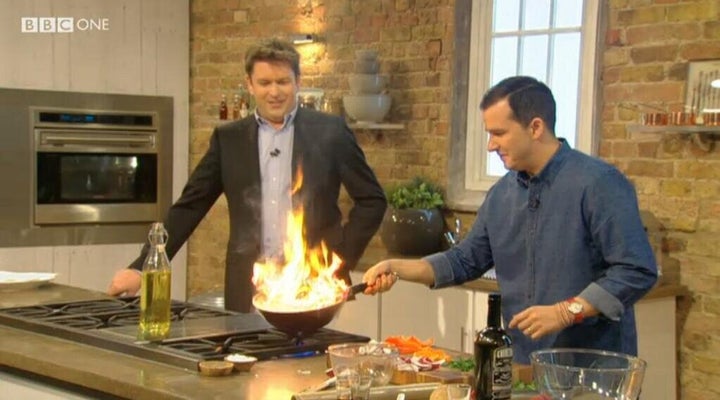 Photo: Saturday Kitchen courtesy of Cactus Productions
Lomo Saltado is sometimes known as a Criollo dish but more known as a Peruvian-Chinese dish; a favourite Chifa dish. These are its true roots. Chifa is Peruvian-Chinese cuisine and the name for the many restaurants in Peru of this category. The word Chifa comes from the Chinese word 'chi-fan' which means 'eat rice', which we do a lot of. Calle Capon in Lima is famed for its Chifas. I recommend you go there.
In the 1850s Chinese migrants from the Canton region, arrived with hope for a better life and were sent to work in Peru's fledging guano trade and reinforce the African slave workforce in haciendas around the coastal cotton and sugar cane fields. But they were also treated as slaves. With them came their stir-fries or 'saltados' as well as sweet and sour combined sauces. Although already widely used, thanks to the Chinese, it was at this very time that rice also became more widely used as it was used as pay as well as tradition and as a staple.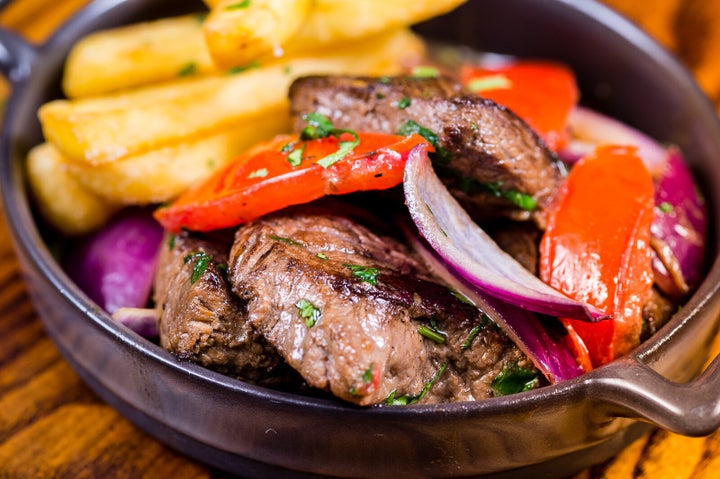 Photo: Paul Winch-Furness
Lomo Saltado is not only Peru's most popular stir-fry; it also shows the rich fusion of old and new worlds. This juicy mixture of beef, onions, tomatoes, amarillo chilli and soy sauce sauteed in a large pan (or wok) is one of the many contributions Chinese immigration brought to Peru. It's a quintessential Peruvian dish and is made in different ways in every household and restaurant but we think we make one of the best. Why? Because we got it wrong many times before we got it right. Although our ceviches and causas proved a resounding hit during our trial pop up restaurants and supper clubs, our Lomo Saltado was hit and miss.
To rectify this I went to Peru six months before opening Ceviche and in seven days I went to 27 restaurants - the best fine dining and holes in the wall, just to try this dish at every single one. For example La Peña Don Porfirio has great juices and favourings but not great meat, BravoRestobar had creatively added fried yucca and El Club Nacional made a top quality version fit for three people in one dish. In each of the 27 restaurants I watched how each one was prepared, saw the ingredients and cooking utensils used and type of hob or wok cooker used; I learnt and tasted. With that learning I came back to London to help build our hot kitchen around this and use the recipe I created from all those which I tasted. It was further improved by our Head Chef and is now one of our best selling dishes.
It also made its debut on our screens in the prolonged winter of 2013, helped the programme trend on twitter and was watched by the show's biggest audience of the season. Suffice to say, at Ceviche, its giving our ceviches a run for their money.