One of the first things I was taught in school about Peru's geography was the beauty of its three main geographical areas; the coast, the mountains and the jungle; la costa, la sierra y la selva. Here you can find many treasures that are blessed with a wide variety of climates and soils to grow many ingredients. Peru is known as more than just a bio-diverse country; it's considered a mega-diverse country and is in fact one of the ten most bio-diverse countries in the world.
The Peruvian coast is made from the majestic Pacific Ocean with a sea that benefits from the cold Humboldt Current which is very rich in fish and seafood. So much so that Peru ranks first in fish species, having 10% of the world's total. It boasts an incredibly varied species of sea life, which accounts for the freshness and many varieties of our dishes. Many coastal cities boast some delicious seafood and fish dishes and some of my favourite chefs specialize in seafood. Chez Wong is one of them. He's a cult hero, a friend, a mentor and loved by many. He only uses sole, and has two options: hot or cold? Sweet or sour? His are the most macho ceviches I have ever tasted. His are dishes that make you grow hairs on your chest and feel guilty that you have eaten them.
Then there are classic fine dining Lima restaurants like Amor Amar, Pescados Capitales and Francesco which serve tidy but delicious ceviches and family run restaurants like Sonia's, La Paisana and Mi Peru which serve you even more funky and yummy ceviches too. Our favourite recipe is for Don Ceviche; it's a dish we serve and love and you too can learn how to make it in this video.
The Andes might be a difficult terrain to live in but it holds no shortage of culinary delights. Potatoes originated from this area, and out of 3500 varieties in existence, 2500 can be found in Peru. Super grains such as Quinoa and Amaranth and delicious fruits like Lucuma all originate from our Sierra region. And don't forget the chillies. Our Andean people have really made the most of these by creating dishes which are popular all over Peru. If you want a superfood favourite try our Ensalada De Quinoa; vegetarian, beautiful, healthy and delicious.
In between the Andes and the Amazon there is an in-between zone called "Jungle Eyebrow" Ceja de Selva which has perfect conditions to grow Peru's award winning chocolate and coffee. When it comes to Amazonian cooking, fish is king, but we can't forget the wealth of fruit to be found in our jungle, from cocoa beans to passion fruit and mangoes. Of course bananas and plantains are the locals' side of choice. An enormous variety of fruits and vegetables, herbs and plants make up the Amazonian larder- more and more, chefs in Lima and at Ceviche in London are using ingredients like Camu Camu fruits or Paiche Amazon Fish to create some of the tastiest dishes. Last week our team created Amazon Fish Patarashca.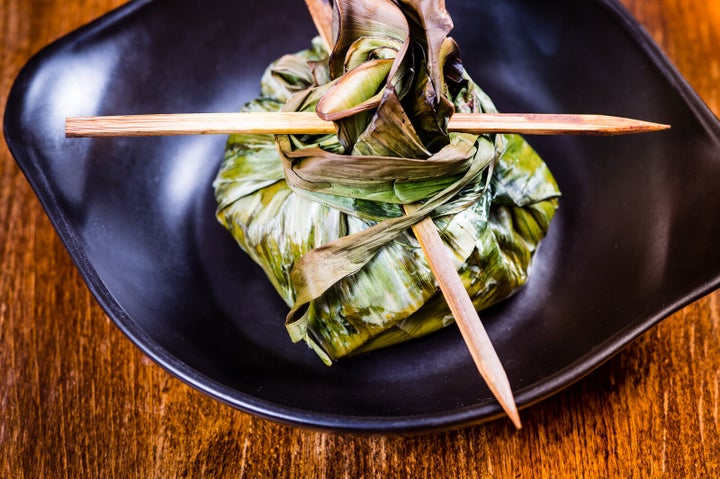 We are using paiche, known as the King of the Jungle. A firm, white fish that is considered by many top chefs as the new black cod. As with all our ingredients and produce we work with a supplier that farms paiche sustainably and delivers a great tasting fish of the highest quality. This recipe I think will be a star from our book. You can see a little preview here.
I envy the geography in Peru, it gives cooks there lots of inspiration. I daydream about it while I walk the streets of London on my way to Ceviche. As a grandson of the Andes (granny was Andean) I long to return to the mountains. As a child of the Pacific and coastal dessert I miss the hot sun and aggressive sound of the ocean crashing against the rocks, but just the mere fact that I grew up knowing Peru's geography, respecting what is grown and produced as a result, helps me and inspires me in our work to cook Peruvian dishes to our customers in London.
Related