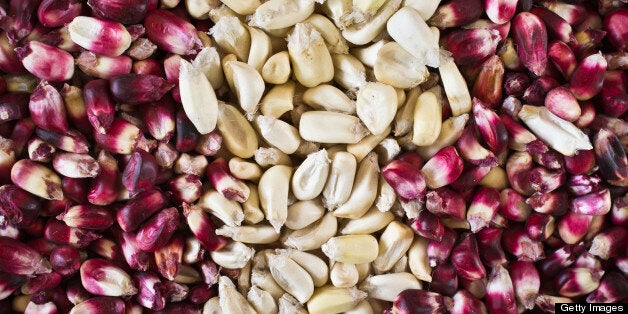 Whilst in Cusco a few weeks ago I witnessed several potato and choclo corn harvests. Some were ritualized and the customs surrounding them date back 2,000 years. The smell of the soil was powerful, the elements vibrant with life and the closeness of the people to the land which they continue to worship is apparent in the return they get. Mother Nature loves them back. Peru's richest natural resource is its produce.
It is said that the tomato, certain types of beans, certain types of chillies, 2,500 out of 3,500 potatoes in existence, many types of grains, cereals and root vegetables and even the humble peanut is native to the area known as Peru. These alongside a huge variety of fish, thanks to Peru's rich coastline and animals grown in Peru's various regions help make Peru's wide range of dishes. The Peruvian Larder is plentiful.
Mother Nature has been kind to Peruvian chefs and cooks over the years and thus fuelled their creativity and quest for great taste. Going to Cusco was an extraordinary trip; San Pedro Market is a place of wonder for any cook and food lover. In my 20s, as a DJ, I travelled to over 50 countries and visited many many markets but San Pedro is right up there in terms of produce, smells, tastes, colours and flavours. My kids and wife loved it too. The beef aisle - yes, they had a whole aisle dedicated to beef - seemed to run for 50 metres. Breads of all shapes and sizes, grains, and then the potato aisle - mountains and mountains of potatoes for another 50 metres of all shapes and sizes; truly recommended.
Back in Lima, in February of this year I traveled south to Ica, passing plantation after plantation through desert terrain. The Pacific Ocean trailed us all the way, and the many stops along the way provided the spectacular seafood on offer. No wonder Peru is known to have some of the best fish and seafood dishes in the world.
Ceviche, Prawn Chowder, Seabass and Scallop Stew, Parmesan Scallops, Callao Mussels, Seafood Rice, Octopus in Olive Sauce and Hot Marinated Fish - all are Peruvian dishes much loved and cooked thanks to the inspiration given to us by the Pacific Ocean.
A few years ago I was in Mistura, Peru's biggest food festival and besides the scramble for food served by regional, posh, street and funky food stalls, the best thing was the produce pavilion. People from a variety of regions had brought their ingredients, vegetables, grains, products and more to sell. Potato farmers, maize growers, fermented drinks producers all proudly displayed their creations and harvests.
I saw a stall with 35 types of quinoa, another one with 78 varieties of prickly pear, known as 'tunas', and a stall selling hundreds of different types of potatoes. That's before I got to the Amazonian pavillion which displayed some incredible fruits and vegetables I had never seen in my life. It was a trip and I was truly blown away.