Dare point to parallels between literature and hip hop and prepare to embark on a war of words with detractors of rap. The genre's vulgar, misogynistic and they want little to do with it. The irony however is that often those criticisms are the similarities shared between the two - Shakespeare spoke of his love for bosoms, Kanye does so about booties, different anatomies, but same intentions. Today, young Londoners are merging the two worlds but the transition isn't one that is welcomed by all.
Geoffrey Chaucer's Canterbury Tales may be the most famous piece of literature of all time, but even his work is open to a contemporary hip hop remix. Chaucer Fast Forward was a project ran over the course of several weeks, where four youth groups from Hackney, Lambeth, Lewisham and Camden were each allocated one of the poet's tales to study, dissect and then translate through the use of hip hop.
Under the guile of renowned spoken word artists, which included the likes of Malika Booker, the groups' efforts concluded in a grand performance at the British Library, where the original Canterbury manuscripts are housed. The initiative was jointly devised by Focus For Life, Small Green Shoots and Louder Than Words, three organizations across the capital that use literature as a tool to engage inner city kids.
Myvanwy Evans founder of LTW stated: "[The young people are] aspiring poets and spoken word artists, some are youngsters who are on council estates expressing themselves through rap, music and making their own beats, all of them are creative and have a vision, and would like to perform more."
For many of them it was the first time they'd heard of Chaucer. So the challenge of not only studying his work but also having to find how it applied to their lives makes their accomplishments even more impressive.
Matthew Babayemi's experience as one of the participants of the scheme exemplified the objectives behind it. He said: "[I gained] an insight into some poetry that I wouldn't necessarily be interested in outside of this project. Chaucer I've heard of him, I know that he's a poet but would I read his stuff? Not unless I was exposed to it"
And it's this impact that Charlie Dark pointed to as he goes a step further and advocates adopting methods such as these as part of national curriculum. The East London based DJ, poet and playwriter was creative director of the project and he urged: "If those who are in powers that be do not change the way they teach literature and do not embrace the type of literature that young people are reading now and listen to, what eventually is going to happen is that we're going to get to a stage where it becomes irrelevant. What you have to understand is that language in the mouths of young people is a very powerful thing because they inject energy into it. They use it in ways it was not intended, they remix it and they make it fresh, exciting and create debate. And it's really important that is encouraged in schools and the enjoyment of literature is not taken out at the expense of teaching literature."
Across the pond an American primary school teacher also subscribed to that notion but was reprimanded when she decided to act on it. The English teacher from Florida was recently suspended after giving a class of 14-year old students a homework assignment, which required that they deciphered the lyrics of a Lil Wayne song. The idea was that they would use it to identify the rapper's use of metaphors and puns. However the content and its graphic descriptions were unwelcomed by many of the parents, and the inevitable backlash saw her suspended from her role.
Whilst the objections of the parents were somewhat understandable, how realistic it was for them to have those isn't. Many of the children would have known who Lil Wayne was, what crew he belongs to and were probably blindly reciting his raps beforehand. If the teacher chose to utilize that to her and their advantage, surely it can only be deemed positive?
If that scenario paints a picture for you, last week's events at the Tate Britain provided another. An audience filled the The Clore Gallery (and the adjoining corridor) to capacity for a night called Poetry Luv. Another evening of spoken word poetry led by young people and on this occasion headlined by poets, Dean Atta and George the Poet. The two are relatively young men with growing prominence over a number of years also a further evidence of the growing trend.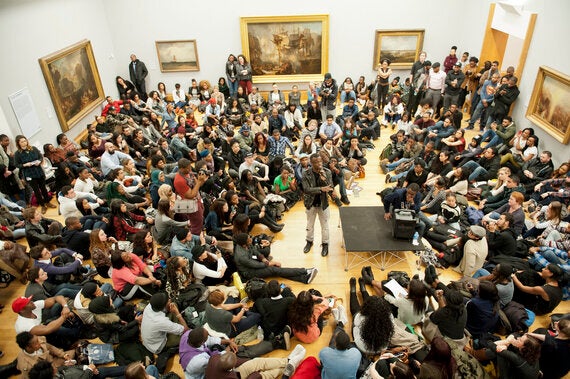 Elijah Kerr, better known by his rap stage name Jaja Soze, was one of two of the event's organizers. Prior to the event the musician responding to the headline, 'EX GANG LEADER AND A DJ TO HOLD POETRY SHOWCASE AT THE TATE BRITAIN' wrote on Instagram, "The media always calls me an ex-gang leader smh - why can't you just call me Elijah Kerr for f*cks sake... but anyway we still progressing regardless"
Hip Hop carries a stigma - somewhat deservingly, other times born from lazy generalizations, but one it has, and will continue to face in its efforts to branch out. It's why parents are angered by the thought of it being taught to their kids, why the press write the headlines they do or why literature connoisseurs want to preserve the art. But as Charlie Dark puts it, Hip Hop like Literature was created for the common man and "you can't let people take it away from the people it was originally intended for"
The benefit is mutually exclusive. Through literature hip hop's viewed beyond the negative preconceptions. Through hip hop, literature's no longer a dreaded GCSE exam but a popular pastime again.