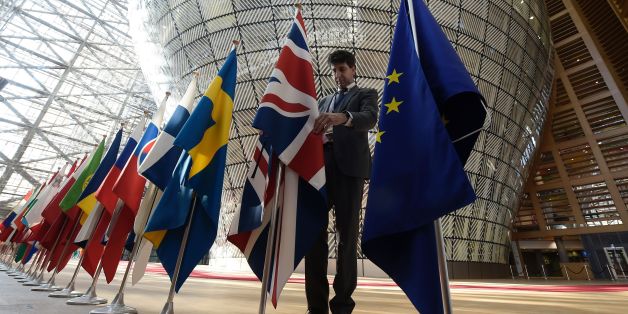 JOHN THYS via Getty Images
With Article 50 now triggered, and a snap election now taking place in June, students are now worried about the future of their education. As much of our system is rooted in Europe, it's understandable. Here's what the Brexit process could mean for students in the near future.
Changes for students coming from abroad
Any EU national students that are currently studying in the UK will see no changes in their education and funding. The Guardian has reported the Student Loans Company saying that there will be no change in their funding while they're still studying.
However, we are likely to see a decline in the amount of EU students applying for UK universities. This is because they will likely be treated as international students after Brexit, and so the fees will get higher. Experts are predicting, though, that the demand for places by home students will fill this gap.
As for Erasmus and other exchange programs, they are stating that for now, there will be no change in how they operate. If fewer EU students opt to come to the UK though, that could change.
Possible changes in funding
One concern that has been on everyone's mind is research funding for universities. in 2014-15 alone, UK universities received more than half a billion pounds from EU investment. This funding is in doubt after the Brexit vote.
There have been reports of funders pulling out of programs as there's little information on the future of Brexit. Several academic have raised concerns that certain study programs will not be able to continue without this funding. Post graduate study is particularly at risk, they say. If you're a student looking at taking on a postgraduate degree, this could affect you.
This could have an effect on staffing numbers too. With class sizes already rising, students are already turning to custom writings services for help when they need it. With funding receding, this could get worse.
Job prospects
Of course, students are worried about what their prospects are going to be like once they graduate. At the moment, this is still very much up in the air. The situation with employment hinges on whether a recession happens after we leave the EU. If one does happen, it can be expected for available jobs to decrease, making it harder for graduates to find employment. There are several sectors that could be affected, including:
Law: With withdrawal from the EU comes the need to redraft laws. This will take skilled lawyers, but experts in the industry are predicting an overall decrease in hiring.
Media and internet: These are likely to be hit by the economic impact of Brexit. Writer Nicolle Finch from Paper Fellows says, 'We expect there to be a slowdown in the jobs on offer in the media and online writing sectors. If a recession happens, there'll be less funding and less jobs available. We hope that this will only be a momentary dip, though.'
Energy: Oil and gas industries are largely free from the EU, but they will be impacted by long term economic implications of Brexit.
Accountancy and finance: Students should expect an initial drop in available jobs in this sector. However, London is likely to remain a global hub for finance.
Studying abroad for UK students
Many students from the UK are asking questions about whether they can still go abroad to study. One concern is that they'll need to obtain visas to go into the EU, where of course they didn't need to before. This will be very much dependent on individual countries, although it's expected that many will campaign to allow British students to still come without visas.
Other students are wondering if they should go abroad now, before anything changes. As it stands, it could take two years for Brexit to be fully implemented. That means students still have time to go abroad if they wish. The NUS has advised students to keep an eye on the UKCISA website, in order to be informed of any changes as they happen.
However, it's not all bad news. There's evidence that several sectors will be safe after Brexit. This is includes tourism, as the falling pound makes the UK an attractive tourist destination. Teaching and healthcare are two industries that will still need a steady stream of graduates too, so if you're a student studying in those fields you'll be ok finding a job after graduation.
All in all, there are many concerns arising from Brexit for higher education. Students are most concerned that their opportunities are going to decline. As Article 50 has only just been triggered, only time will tell how students will be affected.
The snap election will change things too. The outcome of the vote will have a serious impact on Brexit negotiations.
For right now though, UK and EU students can continue to study as they were before. The outcome will not be clearer until after the election.