I am 23-years-old and have worked in financial services for the past six years. I worked my way up from the call centre in a London investment firm, to a sales support position before being promoted into my current role of Sales Manager.
In January last year I noticed that I was having difficulties reading emails and was having to squint to read small text. This was unusual for me as I had perfect vision my whole life.
I immediately went to an optician and expected to be given glasses, but instead I was rushed to hospital because it turned out that I had profound vision loss in one eye.
Diagnosed with a rare genetic condition
Over the next few weeks I had different tests and all the time my vision was deteriorating at an alarming rate and spreading across to my other eye. After a few months I finally received the devastating diagnosis that my vision loss was due to a rare genetic condition called Lebers Hereditary Optic Neuropathy that has no treatment or cure. By this time I had lost all of my central vision in both eyes and was registered blind.
Up until this point I had been struggling to try and carry on with work. After I received the diagnosis it was clear that I would need to take a long period off work in order to come to terms with the situation.
Like most people that I now come across in society I was ignorant to what people with vision impairment can do. At the time I assumed that my career was over, as I could not see how I would carry on with my job.
In the first few months after diagnosis, employment was not my main concern. I found it really hard to come to terms with my vision loss and therefore had to battle depression and accept what had happened to me.
With hindsight this was an important stage to go through. In the early days, two important resources for me were the Facebook support group for my condition, which allowed me to see what people can still achieve in spite of sight loss.
The other resource was the office of a local sight loss charity as they were able to show me what equipment was available to help me in the work place before I even involved my employers. I will say that my employer was extremely supportive throughout all of this. They allowed me as much time as I needed, assured me that there would be a job for me and that they would make the recommended adaptations.
Getting back to work
Anyone in this position knows that at that particular time you need reassurance, as you are really lacking in confidence. If my employer hadn't been so supportive from the start I don't think that I would be back at work now.
At the time I thought that my employer was just doing what they legally had to. I now realise that they went above and beyond.
Nine out of 10 employers believe vision impaired people are difficult or impossible to employ. The fact that I have been able to maintain employment shows that with the right support it is possible.
The next stage was to involve Access to Work who are part of the Department of Work and Pensions and are a free resource for anyone with a vision impairment. I arranged an initial meeting with ATW, my manager and HR. We sat down in a room and discussed each of my day to day duties and then the assessor recommended adaptations in order for me to carry on doing my role.
I have now been back at work for four months. It has its daily challenges and frustrations but does continue to get easier as time goes on. There are some things such as spreadsheets that I find really challenging but I continue to persevere and find ways around the challenges.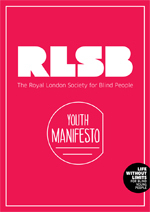 Fighting for change
As a vision impaired person I feel like I need to work twice as hard just to prove that I am on an equal level with my colleagues.
I recently joined the Royal London Society for Blind People's Youth Forum, with the aim of changing employers' attitudes to taking on someone who is blind or partially sighted.
The Youth Forum has this week launched its Youth Manifesto - a document outlining the problems and challenges that young people with sight loss face. We will be coming up with solutions to these problems and then taking the manifesto to people and organisations that can influence these changes.
Please back the work that the Youth Forum is doing for the young blind community by pledging your support to the Youth Manifesto on Change.org. The more support we get, the more decision makers will hopefully listen to our message.