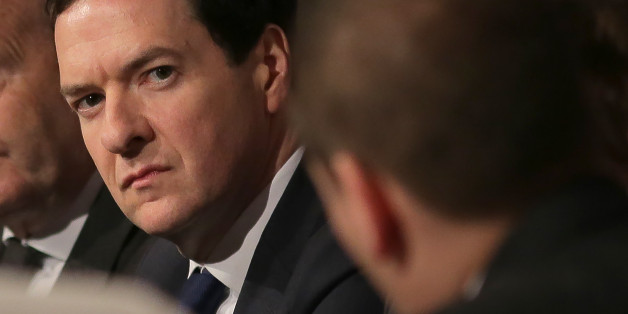 DANIEL LEAL-OLIVAS via Getty Images
The path between journalism and politics is well-trodden. Whether it is Michael Gove moving from a column at The Times to a fast track to the Cabinet or Bill Deedes quitting as a minister to edit the Daily Telegraph, there's always been a place for the journalist-politician.
Yet Friday's announcement that George Osborne, is to become the editor of the Evening Standard is still a surprise.
But if he wants to be an editor he needs to quit as an MP.
A free press is a cornerstone of democracy. Without a vigorous press holding political power to account we risk corrupting our democratic institutions.
Most of us accept that newspapers have views and political positions but that doesn't mean blind obedience nor does it make a newspaper an appropriate place for the powerful to endlessly beat the drum for their favoured policies. Nobody wants all newspapers to end up like the Daily Express.
While that does not mean editors have to be free of all affiliation, I think it does mean an editor can't be a sitting member of the governing Parliamentary party. Especially when they still yearn for high office.
It's a fundamental conflict of interest, especially as his reporters would be covering the impact of policies he championed in government.
Previous politicians who have tried it have come unstuck. Remember when Boris Johnson tried to combine being Shadow Minister for Culture, Media and Sport with the editorship of the Spectator?
The magazine published an outrageous editorial bemoaning the mawkish sentimentality of Liverpudlians in the wake of the horrific murder of the hostage Ken Bigley in Iraq. And Boris was sent to apologise in person to the people of Liverpool. An apology that was most certainly not accepted.
The point is that as editor you are responsible for everything in the paper and the potential for embarrassment is high. It is not just your own writing that can get you into trouble.
But there are reasons to think that George Osborne could be a good, perhaps even great, newspaper editor.
Back in 2006, I briefly worked with him in opposition. He's incredibly well connected, hard-working, and smart with a surprisingly populist touch. I remember him once asking me whom I thought was the most important doctor in Britain. When I suggested it was Dr Hilary Jones from GMTV he was delighted.
That populist quality is a vital one for the editor of a daily newspaper, especially a mid-market one like the Standard.
And he's genuinely interested in journalism - at the start of his career he tried and failed to become a graduate trainee on The Times.
If he could bring those journalistic instincts and liberal qualities together with a desire to create change in society, he could make a real impact at the Standard.
But I don't think that is likely. It seems to me that this is just the latest step in George's ongoing quest to become Prime Minister.
The editorship of the Evening Standard may look like a powerful pulpit from which to hurl stones at Theresa May and build momentum for a bid for Downing Street. But it would be an immense disservice to the million people who read the paper. And in the end, the readers have to come first.
Matt Walsh is Head of Journalism at the University of Northampton. He has spent more than 20 years working in the media, including as an editor at ITN and the Times. Matt has also worked as a communications advisor, including a brief period advising David Cameron and the Conservative Party leadership team on broadcasting strategy