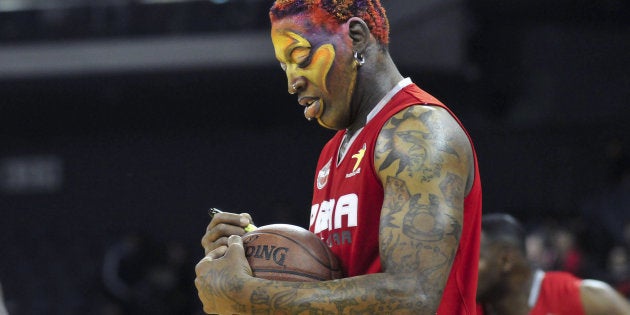 Every day we're bombarded with news of the latest escalation in tensions between North Korea and the United States. The fierce rhetoric between the two nations' equally uncompromising leaders continues unabated.
While they stand vehemently opposed in the political arena, Kim Jong-un and Donald Trump are actually remarkably similar in character. They are both megalomaniacs who have risen to lead their respective nations, albeit along very different courses. They are both, to varying degrees, proponents of isolationism and nepotism.
As if the daily drama is not surreal enough with these two egos at loggerheads, there is one person in the world -- only one -- who has access to both men. One person who can possibly build a bridge of reconciliation between the towers of totalitarianism and crony capitalism.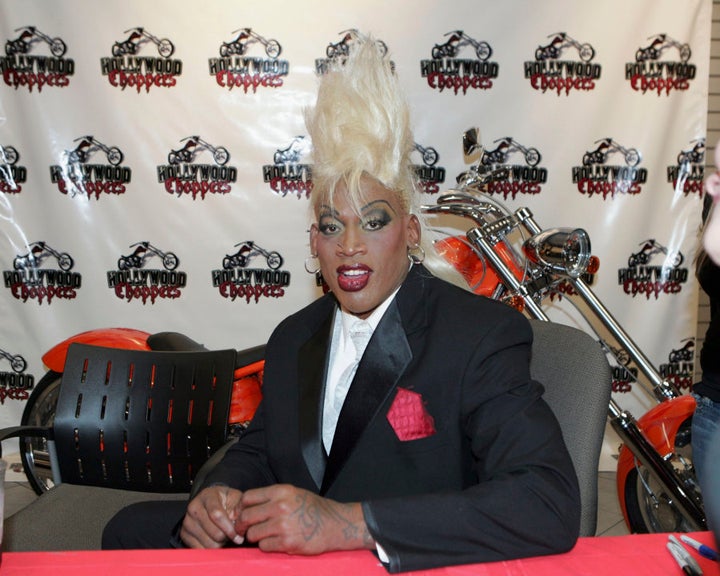 The image above is of an eccentric to say the least but serves to highlight the trope to not judge a book by its cover. Place Rodman's image beside pictures of Kim and Trump dressed in suits and you might think you'd be able to pick the loony. Au contraire!
Rodman is a self-styled bad boy, formerly a professional basketballer and wrestler, and a one-man media circus. So how does he fit into this scenario of high-level, high-stakes political diplomacy and intrigue?
Rodman is the only mutual friend of Kim Jong-un and Donald Trump; a poisoned chalice at a time when the two leaders are at each other's throats.
To me he is simply and affectionately Rodders. Reading his autobiography 'Bad As I Wanna Be' when I was younger inspired me to break out of my shell of shyness. Where Michael Jordan was the superhero, Rodman was the flawed anti-hero.
But he wasn't always the bad boy. He was a man who'd had to deal with a tough life and decided it was time to take it by the scruff of the neck rather than the other way around. His story was as inspiring as it was colourful and controversial.
After his journey through the NBA and the WWF, Rodman's media star began to fade. It was resurrected occasionally, most notably in 2009 and 2013 when he was a contestant in 'Celebrity Apprentice'. It was here that he became friends with Trump.
And in 2013, Rodman visited North Korea for a series of basketball exhibition games. The tour went well and he went back on several occasions, meeting with Kim and becoming, in his own words, a "friend for life".
So through pure coincidence, Rodman is the only mutual friend of Kim Jong-un and Donald Trump; a poisoned chalice at a time when the two leaders are at each other's throats. Can this unique position conceivably provide him with the influence to save the world from nuclear war? And is he the kind of man we want in such a position?
Do we have any other choice?
While on par with Kim and Trump when it comes to shooting from the lip, Rodman is a lover, not a hater. His metamorphosis in the 1990s was from a victim of fear and loathing to a man embracing individuality. It is here where he could well be influential upon the two national leaders, for it is ultimately fear which drives Kim's and Trump's isolationist policies and nepotistic appointments. It is their respective fears which have the world sitting on the brink of a global catastrophe.
On his most recent visit to North Korea in June 2017, Rodman asserted that he was going to:
"... try to bring peace between both nations. That's the main reason why we're going. We're trying to bring everything together. If not, at least we tried. We're trying to open doors between both countries. Just a little bit goes a long way."
I wish Rodders well. Sadly, however, I am only too aware that his role in both courts is closer to that of a jester than one from whom the world leaders would likely seek counsel. And I'm certainly not expecting to see Kim and Trump with rainbow hair and pierced nipples any time soon.
But we must hope. The fates have already proven that they possess a wicked sense of humour. So maybe, just possibly, Dennis Rodman can show Kim and Trump that there is another path to the one of fear and firepower upon which they are both currently so frighteningly intent.