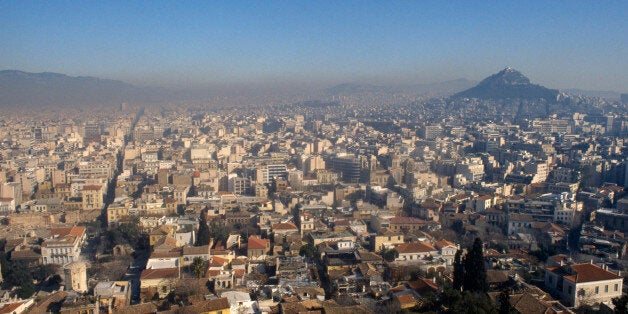 Αγαπώ την Ελλάδα (I love Greece)!
I have been a huge fan of Greece ever since I watched, My Big Fat Greek Wedding. I fell in love with the passionate culture and humorous attitude. I always enjoyed going to Greek restaurants in my hometown, Florida, where it was usual to dance on tables, while throwing napkins in the air and shouting, "Opa!" However, growing up in America, I did not have many opportunities be exposed to authentic Greek culture.
When I lived in London for my Masters degree, my whole idea of Greece changed.
While the UK was considered part of the EU, Greeks were (and still for the time being are) able to come freely to work, study and live. Half of the students in my program were Greek. I was thrilled to meet educators from Greece and learn more about the country I had always dreamed of visiting. Except, I soon noticed that the Greek students kept to themselves. I saw them sit with each other, study and take breaks together. I didn't see them socialize much with people from other countries.
I remember having a silent meltdown one day, feeling homesick, missing my family and friends. I was exhausted from looking at my computer screen all day. I wanted to quit.
That was when I saw my soon-to-be first Greek friend.
She was on the phone, speaking passionately in Greek. I could not understand a single word she was saying, but by her body language I thought she might have been feeling similar. I did not want to intrude on her conversation, but I felt like she needed a friend just as much as I did.
When she hung up the phone, I decided to approach her and ask how she was doing.
She stared at me for a moment. Then her response described exactly how I was feeling. We began talking. She told me she did not think her English was too good but she really wanted to improve. I told her I always wanted to learn more about Greece and get to know her peers, but I felt like they were keeping to themselves.
To my surprise, she told me she felt the same way about the American students.
From that day forward, the Greeks and the Americans became great friends, the British students too! We all sat mixed together and went to Greek restaurants in London together. We also enjoyed exploring the British culture with one another.
Over spring break, my friend invited me to stay with her and her family in Athens, Greece. I was ecstatic. I could not wait to see if life was similar to, My Big Fat Greek Wedding!
"Travel the world. Understand different cultures. Be inspired by beauty everywhere. Make friends all over. Be a citizen of the world. Stay close to what makes you feel alive."
Why visit Greece this spring?
According to National Geographic Traveler Magazine, spring is one of the best times of the year to visit gorgeous Greece. It is the time of year when you will find magical blooming wildflowers, wonderful weather, great options for hotel accommodations and not too many crowds. You can enjoy exploring this vibrant country comfortably by foot or car, and in March and April the temperature will feel just right.
Here are 4 Must-See and Do Things in Athens Greece this Spring:
1. Visit the Parthenon and the Acropolis Museum.
The Parthenon is one of the most magnificent creations in the world and is known for its magnificent monument on the Acropolis. It was dedicated by the Athenians to the Greek goddess, Athena Parthenos. Walking up to the top of the hill, you will find the best views of Athens.
The Acropolis Museum focuses on the findings of the archaeological site of the Acropolis of Athens. The Museum consists of 4,000 objects, each an impressive artifact found on the rock.
After exploring the Parthenon and the Acropolis Museum, take a stroll back down the hill to Pláka, a historical neighborhood in Athens. This is found on the Northern and Eastern slopes of the Acropolis.
Pláka is a rustic, antique like village, and it is full of life. You will find beautiful narrow side streets with outdoor seating for phenomenal Greek food. The buildings and atmosphere impresses the locals, travelers, and will greatly inspire artists and photographers.
3. Drink an iced Frappé Coffee.
This coffee was accidentally invented by a Nescafe representative in Thessaloniki, and it is now known for being the most ordered coffee beverage among foreign tourists and Greek's youth.
Before visiting Athens, I was a non-coffee drinker. Now, I recommend having it at least once a day, because when you leave you will miss it dearly.
4. Take a day trip to Cape Sounion (Sounio) to see Poseidon's temple.
Sounion is known for it's world-renowned archaeological site and was one of my favorite half-day excursions. The smooth drive from central Athens takes you through hills alongside the Mediterranean and Aegean Seas, which will absolutely stun you with some of Greece's most beautiful views.
Cape Sounion is home to the ancient Greek temple of Poseidon, also known as the god of the sea in classical mythology. It was constructed on a cliff and it's ruins are now overlooking the Aegean Sea as well as upscale Greek summer homes.
After visiting this breathtaking site, make sure to have a ouzo lemonade at a local seaside restaurant. The food will impress you each and every time!
να περάσεις καλά (enjoy yourself)!