So you've built up your brand's fan base on Facebook and now you're wondering what you can do to actually turn these fans into paying customers? Here are five clever ways that companies have used the Wildfire social media management platform to turn their Facebook Fans into customers. Each brand set out to engage their fans and new users by providing a compelling promotion that drove user entries with the potential for a reward of some sort. The successful key to these campaigns, however, is that each was specially crafted to encourage or require purchasing behavior in order to unlock most of reward value. The five examples shared below will get you on your way to crafting a winning strategy for turning your brand's Facebook fans into paying customers!
Tip #1: Turn your coupons into a game!
Feelunique.com is one of Europe's fastest growing online beauty retailers. They used Wildfire's Sweepstakes Application to launch their "Beauty Giveaway" sweepstakes and grow their fan base on Facebook. The "everybody wins" campaign created a fan gate, requiring individuals to "Like" the feelunique.com Facebook page before completing an entry form. Prizes were awarded every day for three weeks. Every participant won a prize for entering--prizes ranged from $350 gift cards for feelunique.com to site-wide discounts, all of which required transactions at feelunique.com to redeem value. The campaigns resulted in almost 7,000 entries over its three week period. Because the campaign allowed fans to win something every day, engagement with the promotion remained high throughout. An additional result of the giveaway was that feelUnique received 2,500 new email subscribers, 250 new customers, and over $80,000 in sales revenue. Additionally, customer referrals from Facebook increased by over 60%. ROI in monetary terms was approximately three times cost, measured based on sales from voucher redemptions.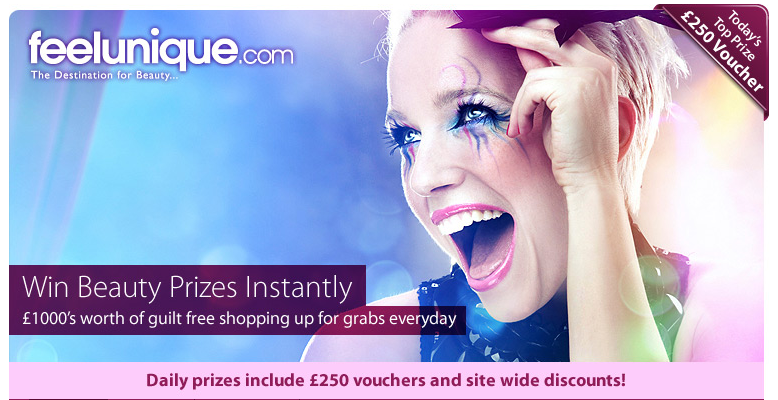 Tip #2: Drive People into your Store via a Giveaway
Giveaways are a great way to engage people and generate word of mouth, but by offering a giveaway that must be picked up in store it can also be a great way to drive purchases. Digital Surgeons, a digital marketing agency, used Wildfire to run a giveaway for their client Edible Arrangements. After becoming a Facebook Fan of Edible Arrangements entrants received a voucher for free chocolate dipped strawberries. But to redeem the coupon fans had to visit an Edible Arrangements store - thus providing a fantastic opportunity for local Edible Arrangements franchisees to promote their store to a slew of new customers. This campaign was a wild success for Edible Arrangements - not only did it generate 170,000 new fans but it also resulted in a double-digit increase in sales from the year prior.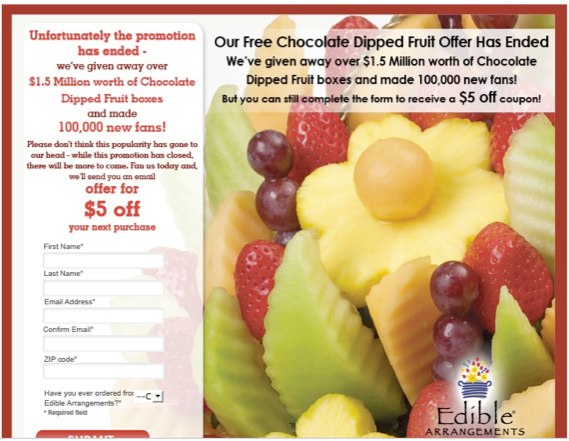 Tip #3: Drive visitors to your online store via a creative sweepstakes
Zappos ran a unique sweepstakes with Wildfire where they promised users the chance to win a $500 voucher for use at Zappos, but only after entrants visited the online store and put together a list of the items that they would purchase with the winning money, if it were theirs. This was a powerful way to encourage thousands of people to not only visit the Zappos site but to also create a list of their favorite items on Zappos, which, in turn, encouraged many consumers to buy.
Tip #4: Create lucky coupons to draw users into your store
Jamba Juice launched a campaign called "Feel Good Bucks" that used Wildfire's unique coupon code generation functionality in a very interesting way. They gave out 'lucky' coupons via our Facebook Connect Product and Facebook Fan Page Product that could be redeemed at Jamba Juice stores. When consumers redeemed the coupons they either received $1 off their purchase or they had the opportunity to win one of many thousands of instant prizes, including cash prizes of $10,000! To make Jamba's campaign even more fun and social, they combined it with Wildfire's Virtual Gifting solution so users could send Jamba Bucks to their friends in the form of fun, Jamba-branded virtual gifts like smoothies, bucks, and cartoons. By combining the utility of a coupon with the anticipation of an instant win and the social channels of Facebook, Jamba was able to generate huge interest in their campaign and drive tens of thousands of consumers to purchase at their stores.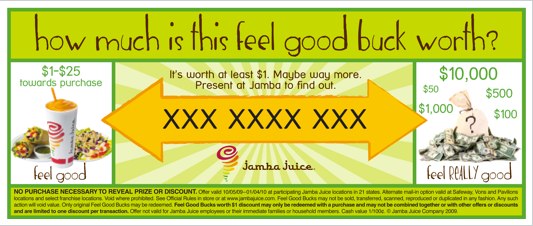 Tip #5: Use a sweepstakes to drive people to your coupon
In celebration of its one millionth Facebook Fan, Duck Tape launched a Wildfire sweepstakes, giving 100 lucky winners a Duck Tape prize package. But to sweeten the deal for every entrant in the sweepstakes, they also put up a coupon for $1 off a roll of Duck Tape, which was available for claim to anybody completing their submission into the sweepstakes. Sweepstakes are not only a great way to encourage users to interact with your fanpage and website but they're also a powerful way to drive people to your coupon or online shopping cart so it's certainly worth considering the combination of a sweepstakes with a coupon.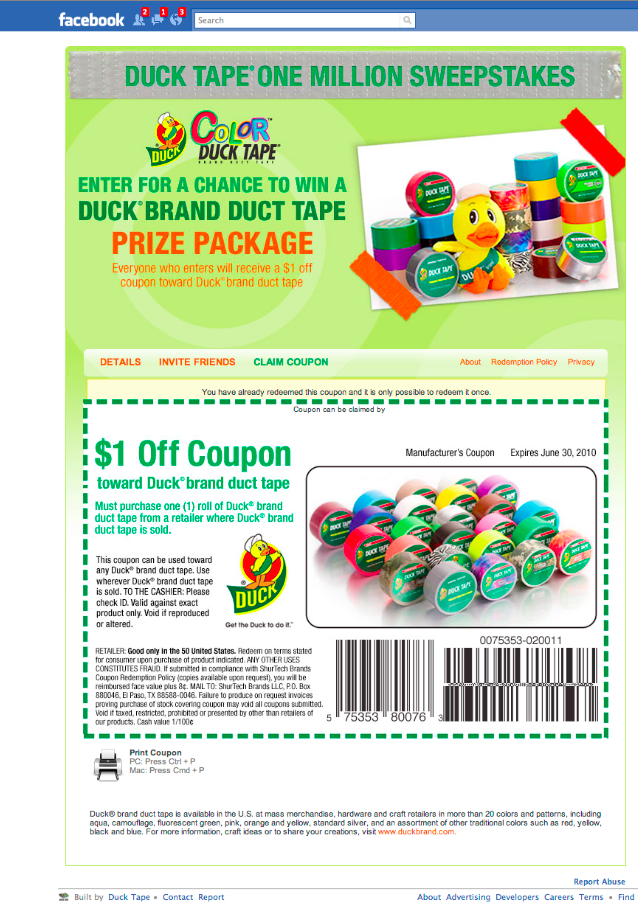 While Facebook presents brands with a wide spectrum of opportunities for creating, maintaining, growing, and engaging a fan base, there is much opportunity to use this fan base to drive sales for businesses. Understanding how best to nurture the community leads to understanding how to facilitate buying behavior within it, as well.
What are some examples of interesting sales campaigns you've seen driven through Facebook? Tell us in the comments, we'd love to hear from you.