Facebook just introduced a new advertising option for marketers, the ability to promote status updates on a per-post basis, to increase their reach. While this feature is being rolled out slowly and is not yet live to all brand pages, we'll outline the mechanics of this new function below, and take a peek about our own fan community's reaction to the new feature.
Here's what you should know about Promoted Posts:
Promoted Posts will look just like regular news feed posts and will also appear in the mobile news feed
Promoted Posts will be marked as "Sponsored" in the feed
The starting price for promoting individual posts is 5.00 and the highest price is 300.00
Posts can only be promoted within a 3 day period of their creation, to ensure the freshness of the content
Nothing changes in terms of how posts reveal for existing fans of your brand page. Your posts have always reached a percentage of them (17% on average according to Facebook) and will continue to do that, but you now have the option to make sure an individual post reaches more fans than it normally would.
Facebook is including a slew of analytics that demonstrate the effectiveness of the promoted ad in real time
The promotion of each post can be paused at any time and doesn't have to last the full 3 days
You can now see how many fans, as a percentage of your total fan base, see any post whether or not it is sponsored.
The writers at SocialFresh took great screenshots of this feature in action. While the amount a brand is asked to pay per post differs by size of the brand (and its fan base), you can see the functionality that allows page administrators to sponsor greater post reach incrementally. In the example below, it costs the administrator $20 to promote a post to 3,700 more fans than would have seen it organically.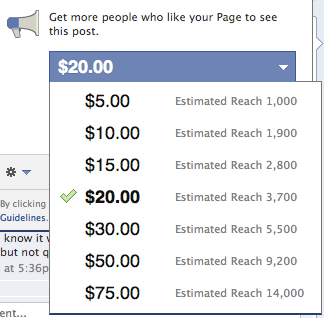 The option to promote posts within a budget is integrated right into the status post box. This provides a hearty prompt each time an administrator posts, to consider extending the reach their message. While there's no need to promote every single post -- it will get seen by as many fans as an average (free) one -- this is a handy new advertising tool to push your brand's message further than it would normally go.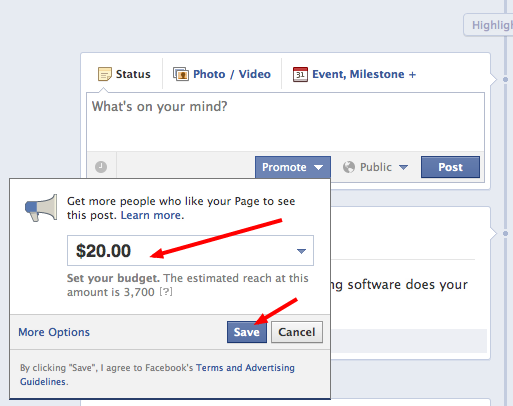 When we broke the news to our Facebook fan community, the responses were mixed. Some users, like Michelle Pescosolido, were enthusiastic saying, "I love it! I can't wait to test it out. We have been building brands and businesses online for a few years now and all the changes have been great for better conversions. Looking forward to having this option."
Others expressed worry that paying-to-play might push smaller brands out of the news feed. Josh McVey, owner of Rain Tree Marketing and Consulting, says, "I am skeptical. I understand Facebook has been moving in this direction for some time but it is disappointing to see money winning out over hard work (edgerank). It puts the power back into the hands of those with more money and away from those with more creativity."
What do you think of this new feature? Will you promote your posts? Which ones will you put a budget behind? Share your thoughts in the comments; we're happy to hear from you!
[Photo Credit: SocialFresh blog]
This article originally appeared on the Wildfire Social Media Marketing blog.