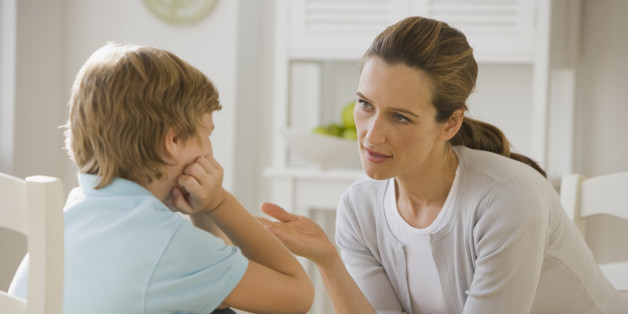 Tetra Images via Getty Images
For Sexual Health Week this year, FPA are supporting people to have more open discussions about subjects related to porn, such as body image, consent, communication, safer sex...and the difference between fantasy and reality.
First of all - well done, preparing to talk about porn already makes you a sex education hero!
Before you get too worried, just remember that you don't have to be a sex education expert. You just have to be a parent or carer who is willing to discuss the difficult stuff. As we all know, kids come out with random and tricky questions all the time. I personally find Minecraft much harder to talk about than sex. I just don't have a clue. We will all have topics that we find more challenging than others.
Don't save it for one big 'talk'
Try and get into the habit of regularly discussing growing up, friendships, feelings, relationships and sex from an early age. This makes the more challenging topics like pornography easier to broach. It's much, much easier (and much more effective) than saving everything up for one big 'talk'.
Evidence shows that kids who regularly discuss this stuff with their parents are safer and less likely to come to sexual harm. Just like knowing road safety, this information protects us. Also kids who know that they can chat to mum or dad about this stuff will more likely seek out your help rather than find other, possibly unreliable, sources of information. If you don't talk to your children about these topics who will?
Spot everyday discussion points
Try to bring up the topic when you see something relevant on the television, radio or in music. If the opportunity doesn't naturally arise then create opportunities yourself by asking questions about what they're learning in school, or if any of their friends are talking about porn.
By discussing pornography in relation to the media, school and friends, we help make it seem less personal to both you and your children. You can then talk about their views and thoughts once you've both warmed up to the topic. When delivering difficult sex education topics I like to use film plots or soap storylines to discuss other people's experiences, which makes it much easier to approach the topic.
Don't make it about you
Avoid making it all about your past experiences growing up. It's okay to acknowledge that the world has changed since you were young, but this isn't your time to unload your experiences onto your child.
As an adult it's legal for you to access and enjoy legal pornography in private if you so wish. But if you do use pornography it's no more appropriate to share this information with your child than telling them what your favourite sexual position is! Don't do it!
Share reliable sources
Identify some good reliable information sources you can steer your child towards so they can refer to it in their own time. You don't have to get all your facts right straight away, what's more important is that you show a willingness to discuss these topics. You can find out the 'right' information together.
These sources will also help you with age-appropriate information. You can also ask your child's school what information they are giving at what age so you can reinforce important and targeted messages. If your child asks a question about something it's usually a good sign that they're old enough for an answer. Good information sources will also provide the appropriate legal information that you may need. Take a look at FPA's tips for parents.
Power through!
Often, the biggest thing that puts parents and carers off talking about difficult topics is their own personal feelings about the topic. You could have strong negative feelings about pornography, or maybe you use and enjoy legal pornography. Have a think about the topic beforehand and maybe chat with other friends who're parents about how they feel and approach the topic. Admitting that you're not sure about how to discuss porn, and exploring the topic together with your child, is much better than ignoring the issue and not talking about it at all.
As a sex educator you'd probably expect me to know 'everything' about these topics. I don't. I can't. The world is constantly changing and what people consume as porn and say about porn is always changing. I discovered early on to try and keep an open mind and be prepared to learn from the children and young people I work with.
And finally, remember to acknowledge that pornography is a form of entertainment, not real life. Real life sex should be pleasurable but also have consent, communication, contraception, condoms and compromise.​