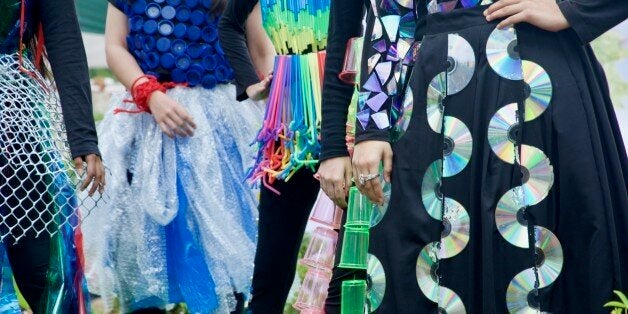 "Buy Well, Choose Well; Make it Last" [Dame Vivienne Westwood]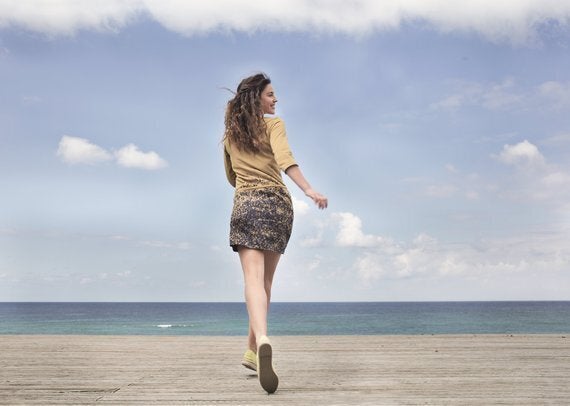 Fast food; Slow food. Fast fashion; Slow fashion. It can be hard to stay in sync with the pace of life. There's no question that this shift in gear reflects a new age in conscious consumerism. Nowhere is this more apparent than in fashion, where the philosophy of 'buy less, buy better' has acquired popular kudos. Fashion has always had activism in its DNA, so it was only a matter of time before the industry came clean, especially following the Rana Plaza disaster.
And, for the socially self-conscious cynics out there - unsure whether being virtuous might compromise their cool-rankings or, heaven-forbid, their Instagram followers - get this: when high priests of hedonism Liam Gallagher and Harry Styles profess to 'being good', we know that good has become hip. The 1D heartthrob says "I don't drink much", while the Mancunian music legend - told Jo Whiley at Glastonbury that "I'm taking care of myself nowadays [...] and I'm feeling good".
Back to fashion. The fastest growing conscious consumer sector, which grew by 72% in 2010, ethical fashion only continues to pick up pace. "A fabulous beautifully made jacket is not going to disappear out of fashion next year", says the premium British designer Amanda Wakely. Meanwhile, Safia Minney MBE, founder of People Tree, and a leading campaigner on trade policies, is also the author of 'Slow Fashion: Aesthetics meets Ethics', now considered a bible for the Slow Fashion movement.
If fashion buyers want SS18 trends, they may well be surprised. "Sustainability or responsible innovation is by far the biggest trend in the industry right now," says Eva Kruse, chief executive of Global Fashion Agenda, which organises the Copenhagen Fashion Summit, though it was Sir Martin Sorrell who coined the phrase "doing good is good business" back in 2010. That London ethical based brand Gandys - founded by the Forkan brothers under their 'Orphans for Orphans' initiative with flip-flops - recently launched its first womenswear collection, is also revealing.
It also coincides with the move upmarket for Thought Clothing - formerly Braintree Clothing. Over the past 18 months, this ethical brand has been repositioning with the aim of sitting alongside more contemporary brands such as Toast and Mint Velvet.
Total ethical spending in the UK is now worth £54billion (2016) and represents around 7% of all UK consumer spending, which is more than we spend on cigarettes and alcohol, combined. The value of overall ethical sales grew by 8 %to £38billion in 2015, during a period when inflation barely rose above 0.5 %, according to the new Ethical Consumer Markets report.
Looking at the fashion specifically - valued at £28bn in the UK - is fascinating. Throughout 2017 the British Fashion Council has been celebrating Positive Fashion best practice, creating a dialogue and providing a platform to tell good news stories that help facilitate change.
The militant ethical activism of figures such as Vivienne Westwood and Zandra Rhodes has filtered down to the ever-demanding Gen Z, now buying into H&M's 'Conscious Collection', albeit sometimes unwittingly, which arguably is just the point. As a language and mindset, sustainability is one in which we have become fluent.
For a long time, conscious consumers have felt neglected. 'Why must ethical, affordable and fashion each be mutually exclusive?' seems to sum up the widespread grievance. The raw reality for well-intentioned retailers is this: shoppers buy on design and style first. Sustainable fashion needed to catch up and the demand needed to be there.
Sustainable has now got stylish and affordable. There are signs that people are buying less but buying better - Mintel found this was true for 69% of women aged 25-44 - but even so, saving up for a piece from, say, Stella McCartney - however beautiful and ethically-made - is beyond the budgets of most people, which is why the democratisation of ethical fashion is such a fabulous thing.
So, who's buying into the ethical market? Well, apparently it's the Millennials and a good fistful of folks either side.
A report on the shopping habits of Millennials says 70% indicate a willingness to spend more with brands that support ethical causes. In his book Who Cares Wins: Why Good Business is Better Business, David Jones, argues that the Millennial demographic are "the most socially responsible generation that ever existed" and dubs this influential, marketing savvy set as "pro-sumers".
What I find especially interesting here is two things. Firstly, how going green has gone mainstream and cloaked itself in coolness. It's quite likely that a blazer or dress that catches your eye in store, for its on-trend appeal, will be made from organic cotton, hemp or recycled leather using a zero-waste design. Moreover, the organic, ethical fair-trade whimsical purchase you make is off-the-shoulder blouse or tailored blazer than the proverbial sackcloth. This has certainly been the case for contemporary womenswear brand Skunkfunk, family owned and designed in Bilbao and distributed to UK retailers by Love Brands Ltd. Their collections, 50% ethically sourced, bring technical outerwear and innovative fabrics to womenswear, even involving regional artists to design original prints. Besides tracing their supply chain back to the source, this GTOS certified Fairtrade fashion brand uses a unique pattern cutting processing which aims for Zero Waste. The fashion fascist no longer needs to compromise on aesthetics to be virtuous.
But the real point here really is that, as consumers, we want to do this. We want to be 'good'. Being 'good' has become something of a status symbol and something we demand from brands and businesses. Importantly, it's also become an affordable desire to satisfy. We no longer need to drive a Prius or own a Canada Goose parka. This is far from greenwashing. It's an authentic and commercial decision made by retailers who are responding to consumer demand. How exciting is that?
This leads me to the second striking detail. Not only has ethical become affordable but the availability and supply and choice is fuelling the increased demand, 54% of consumers today, according to Unilever. Kevin Chesters, chief strategy officer at Ogilvy & Mather London says "The shift has definitely come from consumers demanding more transparency and more responsibility from retailers".
Of course, pace is only one quality of the ethical movement, which has shed its hippy status, been endorsed by celebrities ranging from Leonardo di Caprio to Emma Watson and is now manifesting itself in directional fashion. There was a time when only the premium brands were singing this tune, but now we're all humming along and conscious clothing has become very catchy. Given time, it may just become a No1 hit.
Related