World War One left its mark on most families in Britain and those who worked in farming were no exception.
Our family was one of thousands that sent men to war and helped produce food for the nation.
My father was in the SW Borderers Regiment fighting on the Macedonia front in 1917. He was one of more than 170,000 farmers who left their home and business behind to do their patriotic duty in the Great War.
But hundreds of thousands more farmers stayed on farm to feed the nation at a time when the German U-Boat campaign cut off global trade routes for imported food.
The Women's Land Army was created and an extra 98,000 women were given the opportunity to work on the land. Without them, the harvest would have been much, much smaller.
And the government recognised that skilled farmers who were fighting on the front line were needed back at home. By 1918 more than 66,000 soldiers had returned to Britain to help with the harvest and to produce the food to feed a population of 45million.
The shortage of labour and horses, many of which were also sent to war, saw the emergence of new technology. By 1918, 6,000 tractors were in operation, $3.2million was invested in US machinery and 400 British Saunderson tractors were ordered by the British Government.
Germany nearly starved us into submission, but thanks to the hard work of farming families we had enough food to last us through the war.
As the farmers from World War One demonstrated, with a supportive government, access to the best science and technology, and leading land management and environmental stewardship, farming and food production can thrive.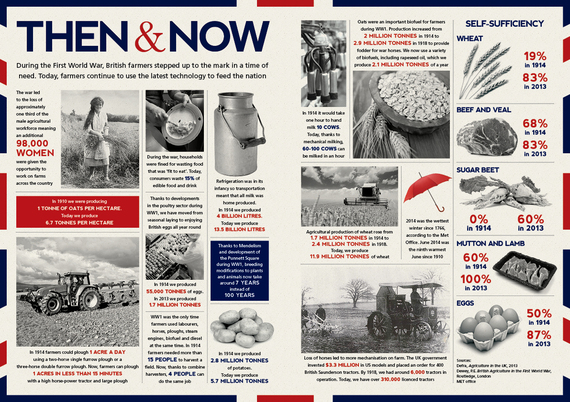 Now, as then, British farmers are ready and willing to rise to the global food production challenge that, by 2050, will see an extra two billion people need feeding.