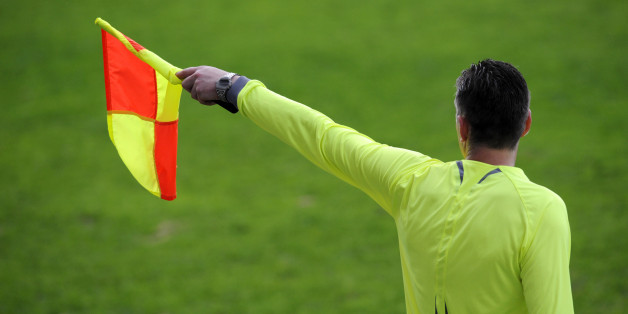 Romans Koksarovs via Getty Images
After the successful addition of the Goal Decision System in 2013, recent events seem to suggest that the time may have come to consider further use of video technology in football, and for referees to have access to some sort of replay or review system. Many sports already have it, and maybe we have just been to stubborn in the world of football to not allow it in to the game. The GDS system has proved it can work successfully. A very simple system with cameras set up on the goal line, a sensor is triggered when the ball has crossed the line and In turn a message is sent directly to the referees watch. No confusion no fuss just a clear indication that the ball has crossed the line and a goal can be awarded.
This month the question has been raised on more than one occasion. A number of decisions made that at end of the day could be fundamental in the success or failure of a teams season. I must be honest from the start I have never been a fan of video technology in football, I fear the game would change to much, become slow and be a constant battle with a video referee. With teams contesting every decision that didn't go their way. Of course thats looking at it very loose non formulaic way, with no consideration for structure, but it would be a shame to hastily add something that would ruin the game.
Recent events though have altered my opinion, and I believe there is now a place for it. So why has my opinion changed?
Well lets take the ELP Cup final first of all. A huge day for Southampton FC, their first major final for thirty eight years. What would be the perfect start? Well taking the lead against Manchester United would be a very good place to begin, and that happened. Manolo Gabbiadini finishing from close range. Saints fans in dream land until moments later linesman Stuart Burt raised his flag to signify the goal was off side and shouldn't be counted. Within a matter of seconds television replays around the world were highlighting how horribly wrong he had got it. Denying Southampton FC of their dream start. Im not saying that decision cost Southampton the Cup, far from it but if they had taken the lead it could have been a very different game.
Swansea v Burnley, the following weekend. Burleys equaliser to make it 1-1 was awarded in equally a dubious manner. George Boyds cross in to the box evading everyone apart from the hand of his own striker. Free kick to Swansea? No a penalty to Burnley awarded by referee Anthony Taylor. Again within moments the cameras had picked up on whose hand it had hit, and it wasn't a Swansea player. Manchester United V Bournemouth, that very same weekend, a number of incidents, a "stamp" to Zlatans head, an elbow from Zlatan on Mings? Decisions that were again missed but picked up by the camera lenses.
Now please don't get me wrong, I'm not trying to point out and make issue with our referees. They have a very tough job as it is. Just four of them officiating the game, dealing with 22 players and of course not forgetting the managers on the touch line. With just one instant to see an incident and make a decision. Lets not also forget to add in to the equation the role of the TV and media. With the privilege that we and the audience at home have, being able pull there decision apart from several different angles within a few moments.
So how about we make their job a little easier? We now have the technology there to assist them. With the speed we can now turn around a replay it really wouldn't take long to pause the game while they take a moment to see a piece of action again to get the decision correct. At the end of the day we are all human and just like players miss place a pass, sometimes a referee can see something slightly differently to how it actually played out. How would it would work? Well I think there needs to be a firm line in the sand, just like with GDS, its either a goal or it isn't. The decisions to consult need to be very clear, almost like playing the Yes No game. Is it offside? or Was it hand ball?
I have seen video technology successfully introduced into hockey first hand. The referral system is there for incidents inside the D, Umpires can call upon it at anytime by calling an umpire referral. Teams also have an opportunity with one referral each, if they get it correct they keep there right to refer, it if they challenge wrongly they loose it. Very simple, very quick and clear. Once the decision is made play moves on and any doubt is removed from players minds.
Having seen that work in a sport like hockey and the success it's had in rugby. I feel if would be foolish to not seriously consider it. I really don't think it would harm our game to allow a firth television referee. Maybe they could be sat with a monitor, able to watch the match and if required the on pitch referee could consult them on big decisions. Referees already can take a moment to discuss a decision with a linesman so how would this be any different?
As the spoils for the game up in value the line of successes and failure becomes thinner. One wrong decision could cost a club hugely, missing out on the title or relegation from a league.
In my view now is the time to find a solution to help get these decisions right. Elevating pressure of the match officials, who remember currently have to make a decision after seeing an incident just once. So what's the likely hood of us seeing this in the not to distant future? Well the Football Association are currently in advanced talks to consider use video technology in some way, and have highlighted next seasons FA Cup as a potential competition to trial a video referee system.
So maybe its a question of not if but when.