Just under two years ago, on a bitterly cold winter day, both the English Defence League (EDL) and the Unite Against Fascism (UAF) groups protested in Preston city centre.
It was also the day I learned that the University of Central Lancashire (UCLan)'s student newspaper isn't controlled by its media volunteers as the Students' Union claims it is, but by the Union itself.
On the day in question, 27 November 2010, UCLan had banned its students from borrowing any journalistic equipment in an effort to stop them reporting on what they said would be too dangerous a situation.
It didn't stop me. Events like these shouldn't stop any student journalist. So I approached Pluto, the Students' Union's newspaper, which is completely separate from the university, and offered to cover the story for them.
The answer was diplomatic. They couldn't ask me to go, but they would run the story if I went of my own accord.
So off I went, armed with my own equipment and all the enthusiasm a wannabe hack should have. And then I ran off home, typed up, and then filed my copy with the paper.
Not long after, my phone rang. "The Union has just drafted a no-platform policy," the then-Media Officer told me. "You're not allowed to quote any EDL protestors."
I was instantly appalled. The very cornerstone of journalism had been broken. I had spoken to both EDL and UAF members about why they were protesting. The EDL said it was protesting against the "Islamification of Britain" while the UAF said it was opposing racism. Both sides of the argument needed to be told, and both parties had the right of reply.
I insisted on this. But this new, rushed-through policy meant that the UAF quotes could stay, but the EDL quotes couldn't.
In the end, my story didn't run at all.
It was a valuable lesson. The student journalists didn't control the editorial output. Powers higher up did - higher than the Media Officer himself - and that's a dangerous threat to the freedom of the press.
It's with this still fairly fresh in my mind that I reacted so furiously to the Union's positioning of the news their Education Officer, Joey Guy, had been suspended for tweeting about missing April Jones.
News that would later run on the BBC national and local sites, in The Sun and on Huffington Post was buried on page 11 of 16. That's after a Pizza Express, after a 'news special' on the pros and cons of owning a car at university, and in its own, special 'in other news' section.
It was an incredibly draconian situation that thankfully was highlighted in detail by the Huff Post and others.
It was essentially a damage limitation and PR disaster for the Union. By trying to suppress a story they had made it worse. But it didn't end there.

President Edd Graham-Hyde then took to Twitter to call me a few names (above) - "angry and critical wannabe amateur" - and refused to answer the questions I asked him in response.
He even retweeted last year's SU President who asked him to tell me to fellate myself (below). But that's okay; it doesn't upset or hurt me. It's his opinion and he's entitled to it. As for fellating myself, I'd be lying if I said I hadn't tried.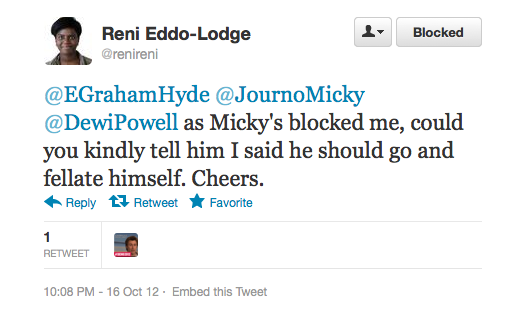 It could be argued that people in a position of power shouldn't talk to somebody who voted for them in such a way, but I'm a believer in freedom of expression and they both have every right to hold an opinion of me, as I have of them.
But my motive during this whole debacle hasn't been to criticise anybody. I haven't levelled personal attacks at a single soul. I have no strong opinion as to what fate Joey Guy should face for his tweets. All I've asked for is a free press and I don't care if it makes me a hundred enemies - I will continue to do so.
The Union is independent of the university despite receiving funding from them, so the paper should be free from the Union despite receiving funding from them. After all, the BBC is editorially independent despite being financial dependent.
Media Officer Sophie Bennett should act in the interests of her readers who she asked to vote for her, not her colleagues and bosses, and should never have run for election if she wasn't confident of juggling the Union's needs with those of her readers.
And the President should have no input into editorial decisions, and should not attend news meetings that might discuss his actions or decisions.
Pluto's latest front page (pictured below), which tells the story of how this row erupted, hints at a lesson learned and a paper free from outside influences. Ultimately, time will tell, but I will remain sceptical until I've seen how it deals with the Union's decision on Joey Guy's future, whenever that may be.