It was great to hear Justine Greening, the UK Secretary of State for International Development, voice support for increased focus on gender this week at the Bali High Level Panel meeting to discuss the framework that will replace the Millennium Development Goals when they expire in 2015. The issue cuts across almost every aspect of development and a standalone goal on gender and gender mainstreaming will help the way we engage with a wide range of issues, from access to health and education to economic opportunities and political representation.
This was clear on my recent visit to land rights activists in Nepal. I met people who were crushing rocks and performing agricultural work to feed their children. The men earned more than women and some payments were only being made in kind: labourers receiving six kilograms of rice for a full day's work (approximately 90 Nepalese Rupees, or around 70p). The tenant farmers had to give 50% of what they farmed to the landlord.
In my role as a VSO livelihoods volunteer, I am working with Community Self Reliance Centre (CSRC), a 20 year old Nepali NGO advocating for land and agrarian reform, secure livelihoods and women's empowerment. At CSRC we work with those who are landless and help them demand their rights and obtain land certificates. The organisation supports the work of 2,600 Village Land Rights Forums (VLRFs) across the country, a grassroots network that provides the basis for the land rights movement in Nepal.
As part of my visit to Mahottari, Saptari and Siraha Districts in the Terrai area, I was trying to determine ways to assist people in rural Nepal with their livelihoods and connect them with government programmes, Corporate Social Responsibility initiatives and NGOs.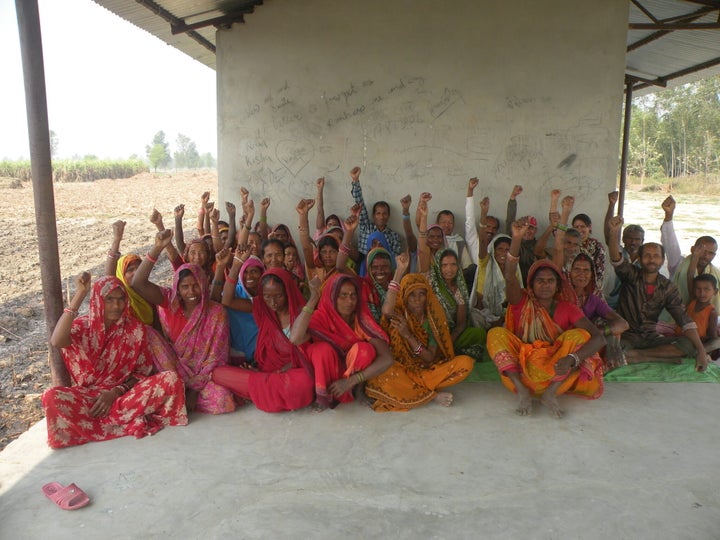 Janasewa Women's Agricultural Cooperative, Mahottari
There are government funds and in-kind contributions available for farmers and CSRC has been working to develop frontline leaders and activists who can assist their communities in accessing these schemes. CSRC is also working to change attitudes and ensure that women are involved in meetings and have an input in decisions about these issues.
Achieving land-ownership for the rural poor in Nepal is a complicated process and I have seen the many difficulties people face in these rural areas. But there are many opportunities to overcome these challenges through solar and other types of alternative energy, improved sanitation and development of village markets. Women's empowerment is a crucial part of this as their presence in the land rights movement attests. I firmly believe that encouraging these communities and particularly the women in them to organise and articulate their rights is the best way to achieve development in the long-term.
VSO is calling for a dedicated goal on gender equality and women's empowerment, with concrete targets on the representation and influence of women in decision making from local to international levels. From my work in Nepal I can see the difference women can make in leadership positions. Their contribution should be reflected in the framework for the future of international development.
Related