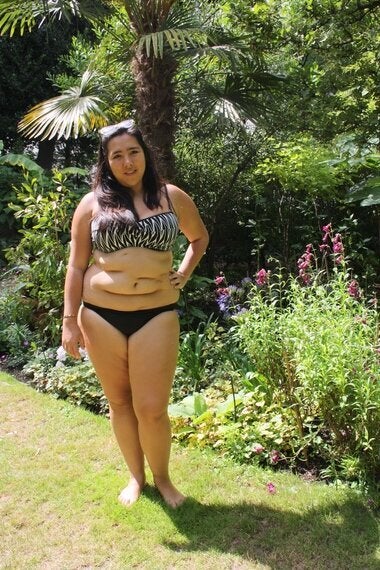 This is what I have believed for the last 21 years of my life and when asked in January why I never wear bikinis, this horrible sentence came out of my mouth. I was shocked - at myself! I had had 15 surgeries, a brain tumour, a punctured intestine, an obstructed bowel, a cyst in brain and have lived for the last 21 years with a condition called Hydrocephalus yet somehow my scars have always been the hardest part. They make already awkward moments in your adolescence even more uncomfortable - like taking your top off for the first time in front of your boyfriend, and made me feel even more isolated in a world where I felt no one could understand.
At age seven, I tried on my first bikini and after receiving a range of reactions from disgust to pity, it soon became easier to hide away and be doomed to a life of tankinis and one-pieces. Why did I believe this? Because over the years, I have learnt that my scars make people uncomfortable. I had become ashamed of my body and soon other people's disgust became my own and this was allowed to be the case because of one simple reason - I had no one to talk to about it.
Well in January, I started to talk about it - all of it, and I want other people to join in on the conversation. Every human has scars, whether there are emotional and physical - they are part of our story and we should be proud of them.
About a month ago, I finally faced up to wearing a bikini and although I love my body thoroughly and have for many years - this was one of the most difficult things I have ever done, yet once it was on, it was one of the most liberating feelings to know that I wasn't letting two pieces of material stop me from being comfortable in my own body. My belief is that no one should have to feel ashamed of their body, whether you have stretch marks or a C-section scar so... THIS summer, let's stand up and be proud of our scars and what they represent - a story!
Click the share button to join the movement and make this the summer where we stopped being afraid to bare our bodies, scars and all! #scarrednotscared
Related