It's been an amazing time for disabled people, ever since the Paralympics. After we were seen proving exactly what we are capable of in the arena of sport, disabled faces started popping up more and more in other areas of modern life. Disabled characters started appearing in our soaps and dramas, disabled presenters graced our TV screens and disabled people in the political world began exerting influence on the shape of our society. The latest step forward comes from the world of fashion, with disabled models gracing the catwalk of New York Fashion Week, a story that was featured through out the media. I am over the moon that our society is pushing for more diversity, whether it's in day to day life or the fantasy world of fashion and the media, and that seeing disabled faces is becoming more normalized. However, as I am fast approaching 50 this year I must raise a word of warning. You see, we have been this way before.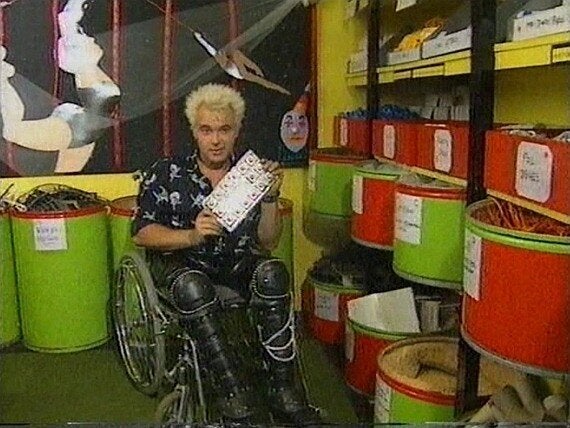 A screen shot of a youthful Mik on Beat That
I started working in the media in 1989, when I was booked as part of the presenting team for a mainstream program made by Thames called The Help Roadshow. Each week we traveled around the country highlighting green issues and advising the public on how to be more environmentally aware. Yes, in 1989! No big thing was made of a disabled person being a presenter on this show, it was just seen as normal. A sign that society was moving forward. This then led to me being hired by Channel 4 to front their first children's TV series, Beat That. This show was very well received and gained over 2 million viewers per week. It also won an Emmy in 1992. Yet again the media loved the show but did not make too much of the fact that a disabled person fronted this mainstream show. About this time I was asked to model in a show for London Fashion Week, and so joined a group of models who were all "alternative" to strut my stuff. I was featured in magazines, and began a nice side line as a model, while still mainly working as a presenter now working for the BBC on their current affairs programming.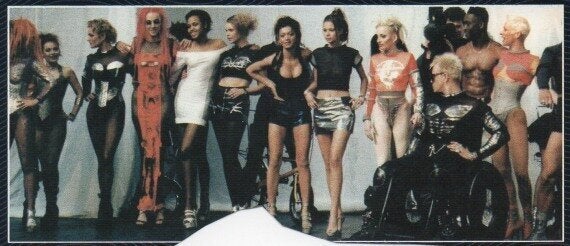 The line up for the Dane show at London Fashion Week
Long side my growing career, other disabled people were also striving for success. In the modelling world, Shannon Murray was the first disabled model to front an advertising campaign, and actress Julie Fernandez became the first full time character to appear in a UK soap, when she played Vanessa Lockhead in Eldorado. I also did a slot in a UK soap in C4's Brookside at this time. Every TV channel had it's own specialist disability TV show, which meant that disabled people were regularly on our screens. These shows also gained health viewing figures, so it wasn't just disabled people tuning in. Alexander McQueen used disabled models both in his photographic work and for his couture catwalk shows. Disabled sports personalities were also becoming household names. Tanni Grey Thompson was pushing the boundaries of what was thought possible as she kept winning marathons, and she was also be one of the best presenters I have ever worked with. All of this seemed to say that disabled people had finally broken through and things could only improve as time passed.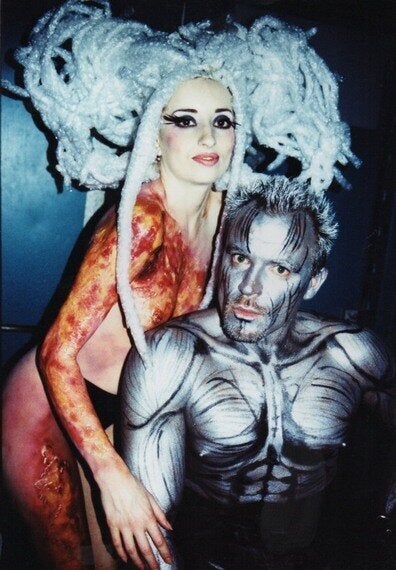 My wife Diane and I about to go on as part of another fashion show.
Sadly shortly after this period that things ground to a halt. Suddenly disabled people began to disappear from our TV screens and catwalks and disability sport slipped to off peak coverage if they were lucky. Suddenly disabled people were almost invisible again. It was like the last 10 - 15 years hadn't happened. Why do I bring this up? Well at a time when it looks like disabled people are claiming their rightful place in our society, I am worried that the ground we have made again could easily be lost. Especially if we forget that this ground is that which we already once held. It is vital that we remember all of the achievements of previous disabled people as we celebrate those of the younger generation. If we allow our society to think all that they now see disabled people doing are new achievements they will be fooled into thinking that society always moves forward. Sadly many of us older disabled people know this not to be true.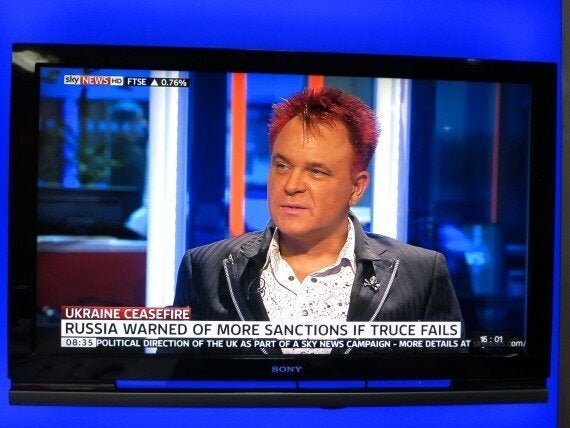 Life in the old dog, appearing on Sky News.
I am in no way distracting from the amazing work of this new generation of disabled go-getters. All I ask is that they remember that they are part of a struggle that has been going on since before they were born, and to learn from our mistakes. We too easily believed that things only got better, and by the time we saw the writing on the wall it was too late. While I really hope that current move towards diversity and inclusion within the media and fashion worlds are permanent, it should not be forgotten that these are industries that revolve around change. It is really cool to focus on diversity at the minute, but this "fashion" can soon fall out of favour. It did once before and old duffers like me felt that change as we slipped into obscurity, leaving our society to feel happy about conformity. If you know your history you can avoid making the same mistake over and over. So bravo to all the young disabled people smashing down barriers, but please remember that those barriers have been rebuilt since my generation did exactly the same. When you break through, make sure you burn the damn things to prevent their being rebuilt ever again!