The Philippines is no stranger to deadly storms, but the devastation of Typhoon Haiyan stands apart. Described as the world's most powerful storm on record, it has already cost the lives of thousands of people and undoubtedly countless animals on which they rely.
Whilst the media are currently reporting the magnitude of human impact and damaged infrastructure, we at the World Society for the Protection of Animals (WSPA) are now on the ground providing immediate care and resources for suffering animals. We work closely with INGOs and governments to ensure that our efforts complement and support the humanitarian aid that is vital in those first days after a disaster like this. Direct aid is urgently needed now, as the risk for illness and disease increases with each passing day.
But we also need to think beyond those first days and weeks, and look at the future for those 11 million people affected in the Philippines, recognising that when a disaster hits, people and animals' very survival, and eventual recovery, cannot be seen in isolation. By helping disaster-struck animals we also help people in their communities, as approximately 1 billion of the world's poorest people rely on livestock and other animals for transport, food and their livelihoods.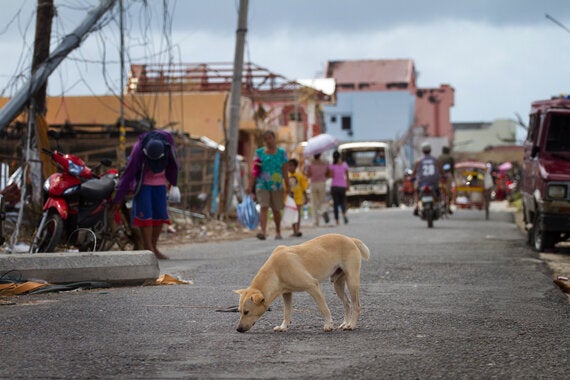 We began our efforts on the ground in the Philippines last week, by issuing public service announcements to local radio stations and news outlets to give advice to animal owners at risk from the storm. WSPA's disaster response team quickly deployed to their base in Cebu City and are working alongside humanitarian aid agencies to conduct a rapid assessment of those communities in most need. The shocking number of estimated human casualties makes us well aware that animals also desperately need our help; their needs will be similar to those of people--ranging from emergency food, water and shelter to veterinary care for the injured.
Our hope now is to reach animals and communities in time to control the escalating situation and not let the mortality rate further soar in the Philippines. "Over years of working in disaster zones, we have seen that mortality for people is also often linked with their animals with many people putting themselves at risk by refusing to evacuate their homes unless something is done to save their animals. This is yet another reason why emergency management plans for animals are important for people too."
This isn't the first time we have we have worked in dire circumstances affected by natural disasters. The World Society for the Protection of Animals has been safeguarding animals from disasters for nearly 50 years. WSPA is the only animal welfare organisation to have a global, full-time disaster management team. Our work for animals starts with people, and we work with individuals, governments, humanitarian and animal-focused organisations across the globe to help communities protect the animals that they rely on for transport, companionship and their livelihoods.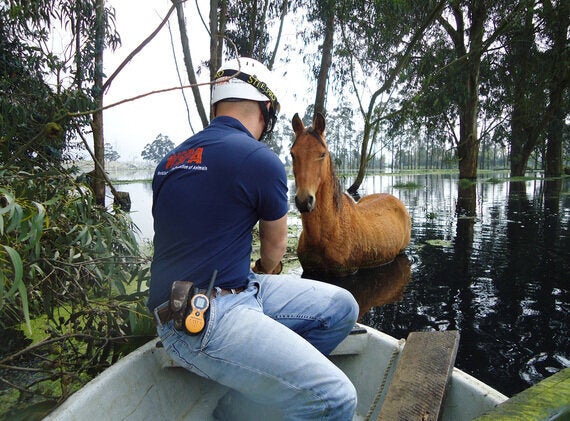 We have dedicated teams working around the world to protect animals in times of crisis by preparing citizens and governments through training, support and responding when a disaster does hit. Our teams deploy regularly to respond to many varied situations from floods to droughts to fires to volcanic eruptions and earthquakes. By helping animals who are impacted by these disasters, we know we are helping people too.
But while the major headline disasters take our attention, we also continue to work in other ongoing disasters such as flooding in Uttarakhand, northern India to the snows of the Bolivian Andes. An intense Bolivia drought that began in 2012 is a great example of the impact our work can have in helping communities and animals to survive a disaster. The drought affected animals in the mountains during the driest months; threatening people and their livelihoods who earn a living processing wool to make clothing and other accessories for their families and to trade. We applied a two-stage intervention to provide nutritional support and distribute mineral supplements to feed 30,000 animals over two months. Our veterinary team also improved animal health by using 5,000 doses of deworming and injectable vitamins whilst training community representatives in handling medicine to provide on-going care for animals. The second stage was to construct 70 shelters to protect animals through the harsh months, allowing them to conserve energy and prevent deaths, especially in mares. Our intervention is on-going but so far we have helped tens of thousands of animals and 500 families, and continue our efforts there as well as the other regions of the world in which we are operating.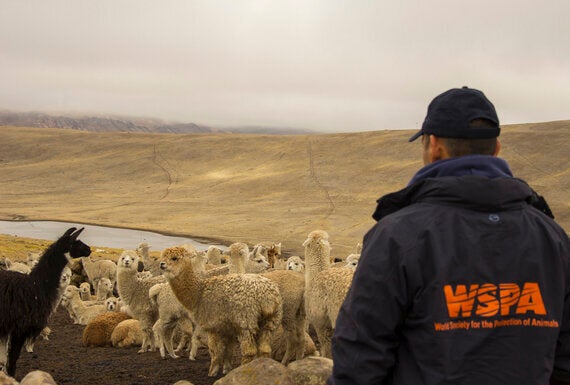 The current situation in the Philippines is evolving rapidly and our response is being tailored to best address the urgent needs of impacted animals. The WSPA disaster management team are working closely with the Philippines government and colleagues on the ground at this very moment, and will be updating the disaster blog regularly from the field.