What's the most visited National Park in the United States? The Grand Canyon, Yosemite, Yellowstone? No, it's the Great Smoky Mountains National Park, which attracts over 9million visitors a year. If that sounds a lot then even if they all turned up on the same day they'd still fit in as the Park spreads for well over half a million acres, straddling the border between North Carolina and Tennessee.
It's a shame those acres aren't as well-known outside the USA as some of the other National Parks, as here you'll find everything from golden eagles to hummingbirds, from 500lb black bears to delicate orchids. There are even mussels, as Bill Bryson discovered when he walked the Appalachian Trail, which goes through the Smoky Mountains:
"Three hundred types of mussel, a third of the world's total, live in the Smokies. Smokies mussels have terrific names, like purple wartyback, shiny pigtoe, and monkeyface pearlymussel. Unfortunately, that is where all interest in them ends. Because they are so little regarded, even by naturalists, mussels have vanished at an exceptional rate. Nearly half of all Smokies mussels species are endangered; twelve are thought to be extinct."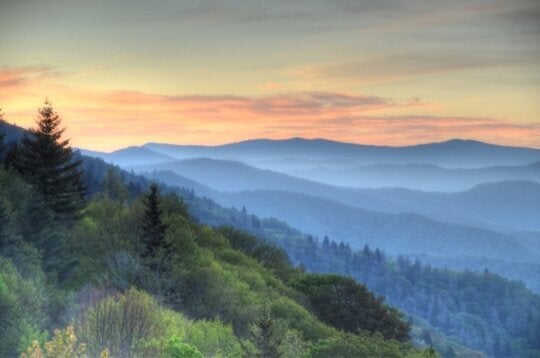 The Oconaluftee Overlook in the Great Smoky Mountains
Courtesy of the Bryson City/Swain County NC Chamber of Commerce
About 70 miles of the Appalachian Trail runs through the Great Smoky Mountains National Park, with a further 780 miles of other hiking trails and unpaved roads. There's mountain biking, horseback riding, whitewater rafting, fishing, zipline canopy tours, and more sedate activities like golf and visiting breweries and vineyards. Yes, there are vineyards here too. Well, you have to have something to go with those Smoky mussels and fresh rainbow trout.
Bordering the National Park and the large Cherokee Indian Reservation known as The Qualla Boundary is Bryson City. Don't let the city name fool you as with fewer than 1,500 residents this is small town America, not New York. Here you'll find places like the Everett Street Diner, the Bar-B-Que Wagon, and the delightfully-named FryDay's and Sundaes - can you take the Great Catfish Sandwich Challenge, and eat one in less than 17 minutes, the current record? This is clearly a cosmopolitan place, though. I'd go for the $3.25 English Chip Butty, though not before attempting a catfish sandwich.
One of the best ways to experience the Smoky Mountains is to rent a log cabin, and there are plenty to choose from around Bryson City. Hidden Creek Cabins has creekside log cabins and others like the Skytop Cabin at higher elevations and with views that make you think you've died and gone to heaven. One of the smaller options was Pop's Cottage, a gorgeous rustic and romantic open-plan hideaway for two, with a well-stocked kitchen and comfy sofas to lounge on inside, and outside treats like a fire pit, a too-tempting hammock and a hot tub on the balcony. Here you can sit and soak and star-gaze at night or, during the day, stare at the mountains miles in the distance, with eagles soaring in skies of the deepest blue.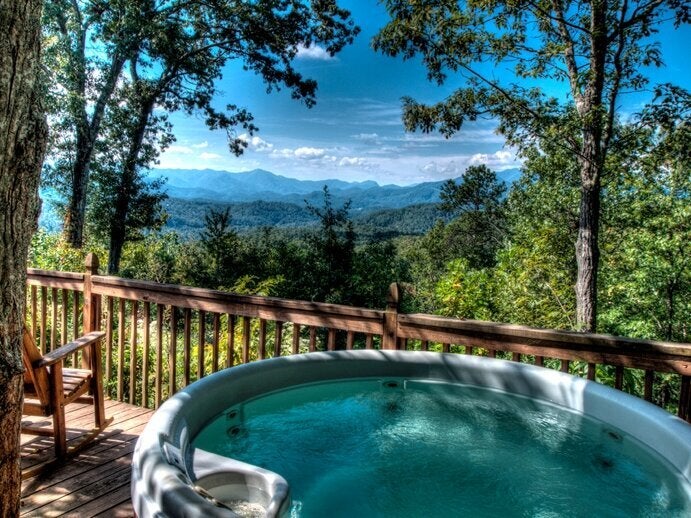 The View from Pop's Cottage
Sometimes in the early morning as the night crawls into day, you can see how the Smoky Mountains got their name. The mist does look like plumes of smoke from a distance - and in the Smoky Mountains you get a lot of distance for your money. Warm air comes in from the Gulf of Mexico and travels several hundred miles across the flatter lands to the south. When it reaches the Smoky Mountains it has no choice but to climb, cooling as it goes and leaving its humidity behind in ghostly wisps of mist. That's the waters of the Gulf of Mexico you're watching, hanging there at several thousand feet looking pretty.
The highest point in the Smokies is Clingmans Dome at 6,643 ft (2,025m), about 9 miles (14kms) north of Bryson City and just across the border in Tennessee. This being the USA you can drive almost to the summit, from where there are 360-degree views of the landscape that really do take your breath away. But when you get your breath back you should set off on one of the hiking trails - maybe even the Appalachian Trail which passes close to the observation tower at the top of Clingmans Dome, where it's at its highest point. Don't get carried away, though, as if you keep heading north then in 2000 miles (3200kms) or so you'll find yourself in Maine, not far from the Canadian border.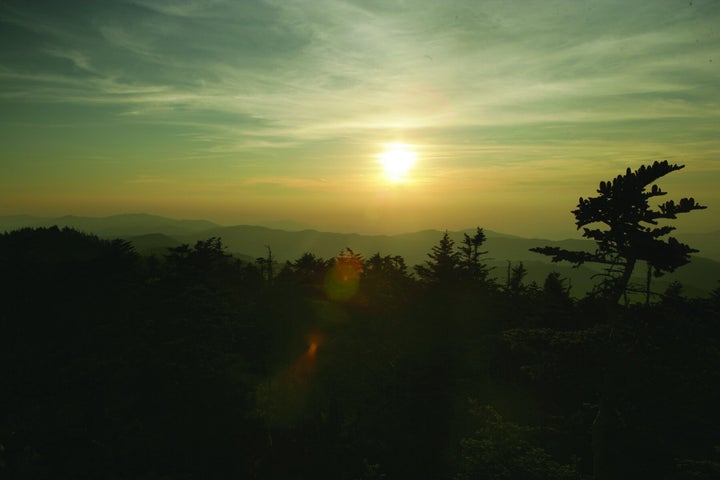 Photo by J.R. vanLienden,
Courtesy of the Bryson City/Swain County NC Chamber of Commerce
My advice after exploring the trail for a few hours is to get back in your car and head down into Bryson City and find yourself a table in FryDay's and Sundaes. Just about now that English Chip Butty will be sounding pretty good. Then grab yourself a bottle of North Carolina Syrah from the Cottage Craftsman along the street, head back to your log cabin, turn on the hot tub and make your own little patch of Smoky Mountain as the steam rises and you watch the sun and the wine go down.
Bryson City is three hours from Atlanta, which has direct flights from London with British Airways with 14-day fly-drive holidays from about £1000. Trailfinders has a 12-day Classic Carolinas fly-drive holiday, including the Smoky Mountains, from £937.
Hidden Creek Cabins has a wide range of log cabins, sleeping anything from 2-30 people, including luxury cabins, creekside cabins, honeymoon cabins, and many with spectacular Smoky Mountain views. Smaller cabins cost from about $119-149 per night, $850-1050 per week. Other options include Bryson City Cabin Rentals.