The Stanford Inn by the Sea
There are all kinds of hotels in Mendocino, one of the most beautiful towns on the California coast, but there is no hotel like the Stanford Inn by the Sea. This laid-back, boutique eco-resort shows that being green and worthy doesn't preclude being fun and indulgent, too. It offers spa treatments, massage in the forest, heated indoor pool, yoga lessons, canoe and bike rental. Also on site is the multi-award-winning Ravens vegetarian restaurant, which is reason enough alone to visit. In fact as we were driving up the California coast someone we met said we absolutely had to eat at Ravens. As a confirmed carnivore, my heart sank when she said it was a vegan restaurant... but then I tasted the food.
Organic, Sustainable, Eco-Friendly Resort Hotel
The Stanford Inn was one of the first green hotels in America. It converted its entire 10 acres to organic, sustainable gardening and landscaping way back in 1985, long before eco-friendly tourism was a growing concern. It uses no herbicides or pesticides, and grows about 25% of the produce consumed in the hotel in its own gardens, thus reducing its food miles and carbon footprint.
Rooms at the Stanford Inn look out across these lovely gardens to the sea beyond. Guests may also stroll through the gardens for an up-close view, or visit the llamas and horses that graze in the adjoining pastures. The hotel is pet-friendly and four-legged guests are made welcome, too.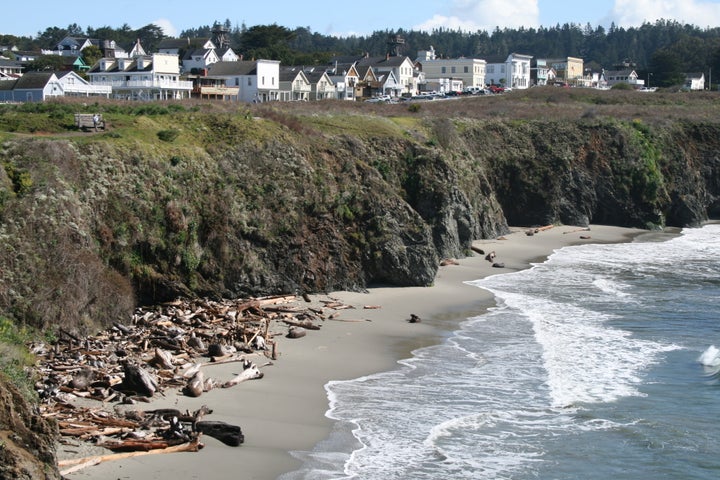 The Stanford Inn's top 4-diamond rating from America's AAA (the equivalent of the AA in the UK) shows that it is possible to combine environmentally friendly hotel practices with comfort. The Inn is built in a rustic style that blends naturally into the woodland backdrop, but the low-key exteriors hide the indoor luxuries. Guest rooms and suites are decorated with pine and redwood paneling, and every one has an ocean view. All rooms have blissfully comfortable big feather beds, cozy wood-burning fireplaces, TVs, DVDs, CD players, VCRs, refrigerators, phone with voice mail and high-speed internet access.
Room rates also include complimentary hors d'oeuvres each afternoon in the Ravens Wine Bar, and a full cooked breakfast from a wide menu, also prepared in the award-winning Ravens kitchen.
Spa, Yoga, Outdoor Activities
The spa, massage, and yoga facilities are what attract many guests to the Stanford Inn. The large, heated indoor pool and hot tub are surrounded by tropical plants, and the crisp, forest air outside makes an exhilarating contrast to this steamy retreat. Yoga lessons are available from the on-staff yoga instructor. There is a range of massage, facial, and other treatments on offer, from hot stone massages to Ayurvedic and acupuncture treatments.
Guests are encouraged to use mountain bikes, canoes and kayaks to explore the surrounding area and stunning local scenery. The Stanford Inn stands right beside the Big River, perfect for a paddle upstream or a cycle ride into the Big River Canyon. Several state parks are also easily reached.
When the coastal fog rolls in, guests can curl up in the lobby-lounge, with its comfy nooks and sitting areas, or have a drink at Ravens Wine Bar.
Ravens Restaurant is the Stanford Inn's acclaimed restaurant, featuring organic produce and vegan dishes. They are accompanied by an excellent list of international wines. Breakfast was one of the best we had along the entire Californian coast, not least for a dish that combined two of my favourites - a Portobello Benedict. Also on offer was a Citrus Polenta, and spicy dishes like Enchiladas and a Santa Fe Burrito. They even managed to make tofu taste good.
In the evening Ravens is really outstanding though, with their signature starter a Sea Palm Strudel. This uses locally-gathered sea palms, with carrots and onions in a sesame filo pastry, and served with umeboshi and wasabi sauces. If I'm ever forced at gunpoint to become vegan, I shall move to Mendocino and dine at Ravens forever.
The Stanford Inn is a totally relaxing experience, all the more so because their eco-friendly and green policy isn't thrust in anyone's face. This is just what they do, and what the owners believe in. They encourage guests to do their bit, too - but also to enjoy themselves just as much as they would in any resort anywhere. They practice but they don't preach, and that is only one of many reasons why the Stanford Inn by the Sea is one of Mendocino's best hotels.
Coast Highway and Comptche Ukiah Road
Post Office Box 487, Mendocino, CA 95460
Toll free: (800) 331 8884
Email: brl@stanfordinn.com
Mike Gerrard is an award-winning British travel writer who spends half the year in the USA. He publishes the Pacific Coast Highway Travel website and has stayed in countless hotels along the USA's Pacific coast.