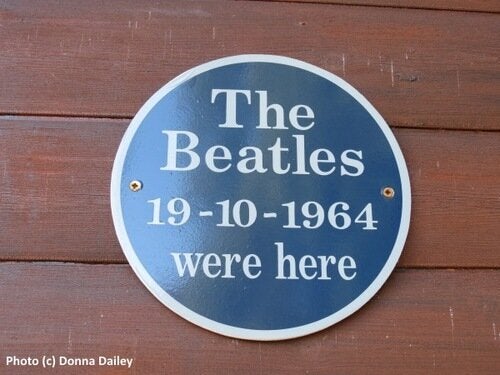 'I never asked for autographs when I was photographing celebrities,' Fraser Ballantyne tells me, 'as it seemed unprofessional, but I did on this occasion.' Ballantyne was a staff photographer for almost 40 years on Scotland's Daily Record newspaper, and 'this occasion' was when the Beatles came to town on 19th October, 1964. He was sent to photograph them in their dressing room at the Edinburgh ABC on Lothian Road, in the company of some lucky winners of a newspaper competition to meet the Beatles.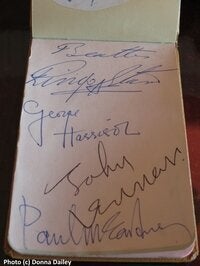 He shows me the page of autographs (right) he collected that night.
'There were two other photographers and other competition winners and the Beatles were great - What do you want, what would you like us to do? They chatted to the fans and were really pleasant.
'I suppose I spent maybe 20 minutes in the dressing room with them, that's all, just to take the photos of the competition winners. I was taking photos of the concert too but all you had then was a big Rolleiflex with no telephoto lens, so you just got a few photos from the side of the stage. You were expected to wander up and down the aisles, that's all. You daren't stand in front of the Beatles or you'd have been lynched.
'At the end of the act as the curtains came down they dropped their instruments and legged it out of the theatre into an Austin Princess, or something like that, that was waiting for them. They were in the car and away while the audience was still screaming, hoping for an encore. The photographers and journalists all tried to follow them to find out where they were staying, as they kept that a secret, but as we were driving things like Ford Populars we didn't have much chance!
'Everyone assumed they'd be staying in one of the posh Edinburgh hotels, and I can't now remember how it happened but somehow I heard they were staying at the Four Seasons at Loch Earn. I phoned the editor and he said get yourself there, so I drove here and got here about 2am. It was a bitterly cold night, I do remember that. I was told that they'd come in, had something to eat, two of them went to bed and two of them stayed up a bit chatting to people. So I phoned the office and they told me to stay here. I slept in the car and then at about 5am another photographer came out and relieved me, so I never did get to see them here.'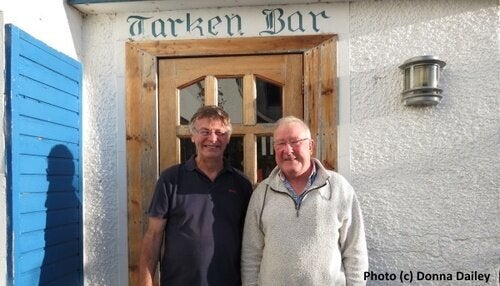 The Author with Fraser Ballantyne (right)
By coincidence, Ballantyne now lives a few hundred yards from the Four Seasons, and I'm staying with my wife in one of the two chalets the Beatles used at the hotel. We're in Chalet 6, which John Lennon and Paul McCartney shared. The chalet's beautifully retro-cool, up a hill in the woods behind the hotel and with the same view of Loch Earn the Beatles would have had. There's a brand new bathroom, and photos of the Fab Four adorn the walls. It's simple and cosy, totally peaceful, and we might even be inspired to write a song if we weren't daunted by seeing the lyrics from Lennon's 'Imagine' on the wall.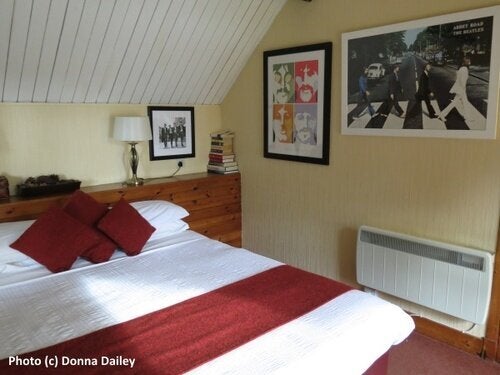 While the chalet's inspiring, so too is the rest of the hotel. It's filled with colourful artworks, many from the owner's love of Thailand. It has a tasteful and varied collection of paintings, sculptures, carvings, quirky decorations on window sills and tables, and wall hangings. One of the guest lounges has a beautifully peaceful oriental feel to it, a mix of rich red fabrics and the natural lush green of plants.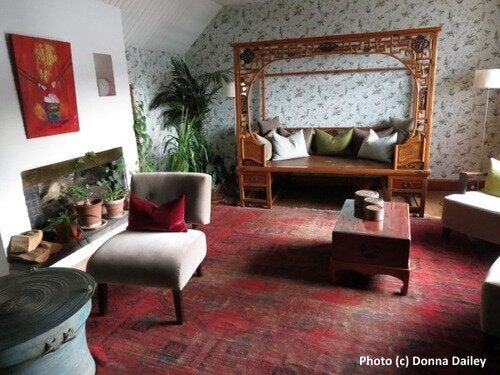 The artsy décor flows on into the Meall Reamhar Restaurant, with its two AA rosettes, where our amuse-bouches are incredibly impressive: a simple crab tartlet with a small bowl of chick pea cassoulet, as delicious as anything we've eaten in France.
We both begin with their signature starter of Hebridean king scallops with crisp air-cured bacon, Granny Smith jam, Morcilla black pudding and cauliflower panna cotta. The flavours flow like the lyrics of a Beatles song ... a palate cleansing cup of intensely flavoured pea soup, and a sorbet of Prosecco and wild berry ('I want that for my dessert,' my wife declares) ... Aberdeen Angus beef with an oxtail salad that was darkly sweet and meaty ... a classic Tiramisu with coconut ice cream, a sticky ginger pudding that is a sublime and subtly spiced version of a sticky toffee pudding.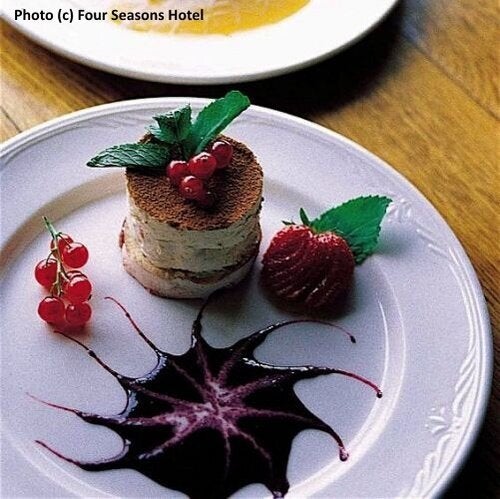 Eventually we haul ourselves up the not very long and winding road to our chalet, and look out on the moonlight hitting the loch. In the morning, enjoying a coffee in the easy chairs and gazing out at the loch again, we know we want to return. 'I want to come back here for several days and write songs,' my wife says. It might have been 50 years since the Beatles stayed here, but they definitely left some musical moods behind them.