A recent study conducted by the social mobility commission concluded that elitism is so embedded in British society that it could be called social engineering. The 'government report' showed that people educated in private schools and Oxbridge have created a 'closed shop at the top'. Generations of individuals in positions and jobs of power come from the same background as those before them, which has created a monopoly in Britain.
Alan Milburn, former Labour cabinet minister who chairs the commission, said "locking out a diversity of talents and experiences makes Britain's leading institutions less informed, less representative and, ultimately, less credible than they should be".
While Oxbridge graduates comprise less than 1% of the public as a whole, 75% of senior judges, 59% of cabinet ministers, 57% of permanent secretaries, 50% of diplomats, 47% of newspaper columnists, 44% of public body chairs, 38% of members of the House of Lords, 33% of BBC executives, 33% of shadow cabinet ministers, 24% of MPs and 12% of those on the Sunday Times Rich List graduated from the prestigious institutions.
For such a diverse nation, Britain is still run by out of touch, dormant and dated ideals which this class of private school based individuals have installed and adhered to for so many generations. This is exactly why a lot of Britain, mainly young people, has become disillusioned with politics and the direction of the country. Politics has become money orientated, as seen with the expenses scandal and there seems to be only subtle difference between the three main parties which has led to the emergence of UKIP.
This issue has been further highlighted by the story of Rachael Owhin, from Alperton, Brent, North-West London, whom I spoke to: "This report does not surprise me at all and it's sad that in 2014, this is still a problem. I have not been to the best schools but I have had a lot of opportunities in my life and I believe despite these statistics, you can still succeed."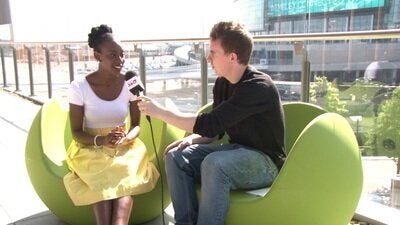 Rachael was offered a place to study a MA in Migration Studies at Oxford University, an incredible feat in itself. Then Rachael told me that only 46 people, including a lot of students from abroad, had been offered a place on the course.
However, the course fees amounted to over £18,000, a shocking amount which did not include living costs either, something which would be required to succeed studying such a demanding course at a prestigious university. Rachael had quite a problem, after calculating personal savings and borrowing money from friends and family, she was still £10,000 short.
Somehow, despite being from Brent which is one of the most deprived areas in the country, Oxford University denied Rachael access to a scholarship granted on the basis of coming from a low socioeconomic background. In fact, Oxford University did not offer Rachael any help, financial or otherwise, in her efforts to take up her place. This left Rachael in quite the predicament.
"It shows that in this society, in the UK, these opportunities are not accessible to all, as much as people try to say they are" Rachael said.
However, the Sussex Law graduate, inspired by her faith, came up with an idea to use social media as a means to raise the £10,000 in 10 days with the #OXFORD10000 campaign. What has followed has been unprecedented, due to the generosity of friends, family and mainly strangers, Rachael managed to crowd fund the required £10,000 in 8 days! This exemplifies how technology can be used for outstanding causes and can tap into the kind hearts of people around the world.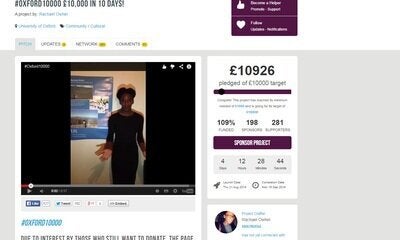 Rachael is off to Oxford University and hopefully she, and her story, will help to break the mould of the elitist, aristocratic gang who dominate the top jobs in the country. What Rachael has achieved is amazing and a testament to the power of faith, determination and what can be achieved with social media.
I asked Rachael if she had a message for other young people in similar positions to her: "stay ambitious, if University is something you want to do, you must make it happen; you can't give up for any financial reason or negative issue."
The problem is that Rachael should not have been made to resort to such inventive, yet unpredictable tactics to accept a place at university which she is clearly good enough for after being accepted.
If anything, Oxford University should be welcoming Rachael with open arms as she has overcome more hurdles than most, coming from where she has. Also, this would have provided Oxford with some much needed diversity, as alluded to by the social mobility commission's report.
However, this is an example of the new, determined to win attitude of the youth who are not willing to allow anything obstruct their path to success. Rachael has shown that, if tenacious enough, students can win especially coming from a digital generation, who can use the internet to make things happen for them.
Best of luck at Oxford, Rachael!
Related