Last night I was rubbing shoulders in Brussels with a fascinating group of people - from politicians and business leaders to staff from ONE, a campaigning organization that fights extreme poverty, and representatives from The Global Fund to fight AIDS, TB and Malaria. We were with Richard Curtis for a screening of his latest film Mary and Martha. It's a story about two mothers who have nothing in common except their shared loss of their sons through malaria. I was there because I share their story, I lost my son Harry to malaria and my own experience is reflected in the character of Martha.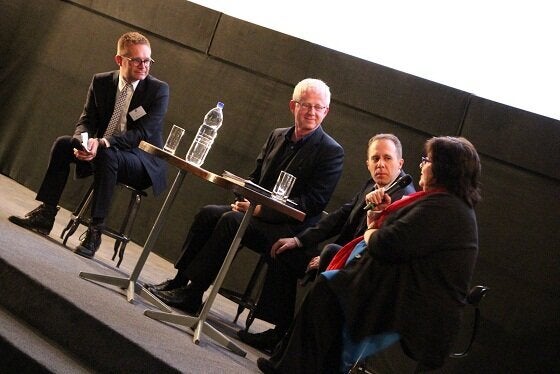 L to R: Flemish film critic Ward Verrijcken, writer Richard Curtis, Europe Director of ONE Adrian Lovett and me
The screening was organised by ONE in the famous Cinêma Galeries in Brussels. I met Mark Dybul, the Executive Director of the Global Fund, just before he gave his speech. I was surprised when he urged this influential audience to take inspiration from my story as well as Richard's film. I couldn't believe that he talked about my Harry to all these important people, using our story to keep the politics of malaria grounded in the lives of the people it affects. It was a humbling moment, and I have to admit there was a lump in my throat when he finished talking. I prayed at the end that he wouldn't ask me to speak, and luckily I just had to nod and acknowledge his kind words.
The ONE team did a fantastic job organising the event and my press interviews, and apparently there might be more chances ahead to speak at international screenings of Mary and Martha. I suppose that makes me an international speaker now! It's a bizarre combination of roles that I am currently holding, from my everyday life as a Mum, teacher, school inclusion officer, chief cook and bottle washer to being a Special Ambassador for Malaria No More UK and "VIP" speaker at events and interviews across Europe.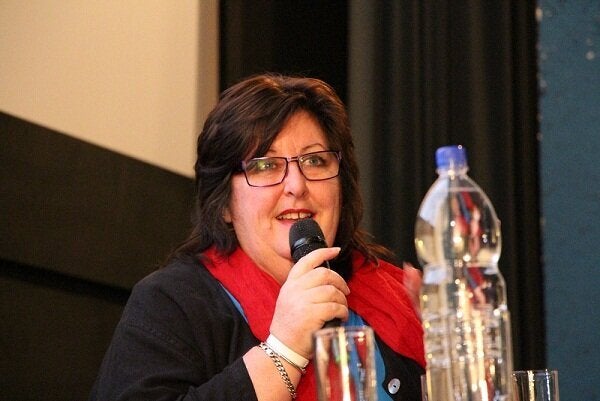 Jo Yirrell, International Speaker!
It's been an amazing journey from my home in Leighton Buzzard to here, and I have learned so much along the way. I learned that malaria is an easily treatable and preventable disease. I learned that the Global Fund represents over 50% of international financing for malaria. I learned that this is a crucial year for the Global Fund as it's running short of money and I've learned that cannot be allowed to happen.
I feel honoured and privileged to have been there last night, speaking out against malaria in all those interviews. It was also great to see Richard Curtis again and motivating to see his passion and commitment to fighting malaria. In truth, however, I would rather not have been invited. I would rather not have been the inspiration for a character in a film, even if it was written by one of my favourite writers. I would rather never have met David Beckham when Malaria No More UK launched or the ex Prime Minister Gordon Brown. I would rather never have done any of these things, because none of it comes close to having my Harry.
Malaria took Harry from me at just 22. Had I not been there last night, maybe I could have been at home with Harry and his brothers. Maybe I could have been cooing over Harry's children, my grandchildren.
But I was there, in Brussels, asking people to support the Global Fund. Asking them to tell their governments that they care about malaria, that they want to stop this child killer from taking another life. I was there sharing my story and my hope that Harry's death won't be for nothing. I had to be there.
I had to be there because I want to build Harry a monument. I want the lives the Global Fund saves to be his tribute to the world. I want malaria to be no more.