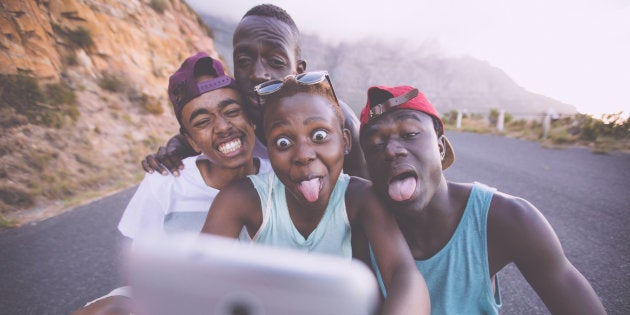 Koppeling: Is the act of catching or giving. It depends on the way you use it, e.g. Koppel some biscuits but don't Koppel feelings when you give them.
AKA: South African rapper who tells it like it is; he's a Manchester United fan hence the constant aggression.
Spaza Shop: A shop found in the hood, this is usually in a garage or shipping containers plus they have incredible vetkoeks.
Draking: (Verb) listening to drake's music and thinking about your 2 grade crush while you wipe your tears. I do this in the shower so I won't see my tears.
Pantyhose : A pair of stockings placed strategically on your head to keep the hair straight, this is usually used by ladies.
Wesley Snipes: Actor- was the first black vampire.
Fake Kevin Hart: Mitch Matyana.
We all have our crazy friends that keep us entertained with most outrageous things that they do. Your squad is the people that simply get you and within that group of friends each individual has some sort of role that they fit into. Without you knowing it, you have a role that you keep in your squad and roles differ from being the Beyoncé, to being the person who tells it like it is (The AKA). If you take a look at your group of friends; we all have that one friend who is the Michelle of the group. Now when I say Michelle, I'm making a reference to the third member of Destiny's Child that you never seem to remember when you're naming them.
Alright so, the Beyoncé of the group is usually the leader of the squad; at times she is the biggest diva or in guy terms it's usually the guy who talks a big game and is forever in the front of any drama. This person usually sticks their nose in everything that happens and has something on everyone so therefore you try your best not to annoy that person. Then we have the Drake of the group, forever crying and koppeling feelings for no reason. This individual is still stuck on their ex from primary school like bubblegum under a classroom table, funny thing is they are the biggest Drake fans and occasionally find themselves Draking and driving which is never good because you'll always end up at your ex's house.
From the Drake of the group we move across to the Kanye, "Hold on, I'ma let you finish", this is the blunt person who just simply tells it like it is. They're not offensive but they will rip you apart when you go to the spaza shop with your old pantyhose still holding your hair together at 3pm or tune you when that Instagram filter is making you look darker than Wesley Snipes.
Then we also have the football hooligan, that one person who knows everything about sports but they support teams that forever finish Arsenal (4 place). When it comes to showcasing their skills on the sports ground, they go from talking a big game like Cristiano Ronaldo to playing like a U/6 footballer. How can I forget the fake Kevin Hart, this is the person that usually laughs at their own jokes and thinks that they are really funny so they venture into creating a YouTube channel and they release a comedy article about friendship circles... Wait why does that sound so familiar?
We bring things back home to our own backyard, where being a part of a friendship is important when social media banter hits. Nowadays, you don't really have to have a conversation with your friends, all you have to do is tag them on a meme and if they like or reply to it then you know they're still alive and kicking. I'm pretty sure that Cassper and AKA do it all the time, we think they really hate each other but lowkey, Refiloe tags Keenan in those "send me nudes" and "How bow dah" memes. I mean really, your true friends would roast in you in public and even on a diss track so we could say you need some composure when you're dealing with the banter.
Look in all fairness, I think we do need to have those friends that just fit all the roles; I mean if I didn't have that I would not have been able to simply deal with certain things in life and simply simile every day. The important thing is that we need to be careful when we pick the people we hang with because at the end of the day they will be a reflection of your character so choose wisely. I know that was deep but why does that Kevin Hart's role sound just like me?