Imagine going back to school after the Easter holidays and being the only child in your class who didn't get any Easter eggs at all; not because your parents don't believe in it, but because they are struggling to afford food full stop.
Whilst the average child in the UK receives 8.8 Easter eggs, and one in five reportedly make themselves sick on chocolate over Easter, there are thousands of children in poverty across the UK who face having nothing at all.
Thankfully, for the last few weeks, food banks across the UK have seen so many local heroes come forward to help children in poverty to have a happier Easter.
An estimated 40,000 people, and 15,000 children are likely to be helped by Trussell Trust food banks alone over the Easter break, and thousands of Easter eggs have been given out alongside food parcels right across the country.
Here we want to pay tribute to the amazing (and sometimes unusual) ways that, you - the public - have helped food banks be there for families in crisis this Easter.
1. 600 leather-clad Easter bunny bikers of Grantham revved up their engines to deliver hundreds of Easter eggs to local charities in the annual Bottesford Egg Run - including 80 eggs to our very own Grantham foodbank.
2. A big thank you to the little three-year-old girl who donated a big basket of goodies to Colchester foodbank because she wanted to help other children like her to have some treats this Easter. We don't know your name but we hope your parents read this and let you know how grateful we are. Also well done to this class of primary school children who gave a huge box of Easter eggs to the Inverclyde Foodbank.
4. One very big hearted Dad couldn't stand the idea of children not getting an Easter treat so he donated an eggceptionally kind 207 Easter eggs to Norwich foodbank - what a hero!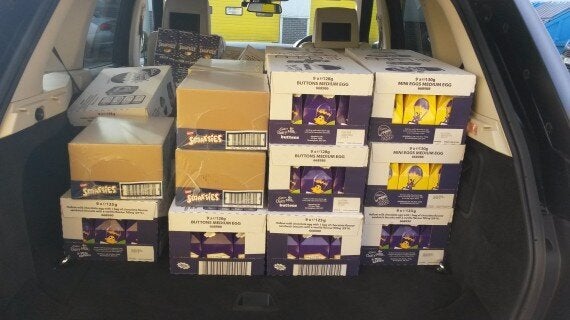 3. Every cloud... we weren't too unhappy to hear of the Exeter lawyers who over-ordered their Easter eggs and kindly donated 100 to Exeter foodbank as a result - a happy accident that will lead to some much happier Easters.
5. The people of Westminster have given enough Easter eggs to make sure that everyone who comes to the foodbank gets one, and they've also donated to help Westminster foodbank put on a special Easter Sunday tea for local people who are struggling.
6. Active Fitness Centres in South Gloucestershire waved their joining fee for all new members who donated an Easter egg to go to local food banks. Meanwhile Styles and Wood did an egg collection at the office and donated 129 Easter eggs to Timperley foodbank.
Easter is a time of hope, and it's been so uplifting to hear all the different ways that people across the country have helped Trussell Trust foodbanks be there to give a bit of hope to people in crisis this Easter.
We could keep telling stories of kind-hearted people for days, but we wanted to make sure we took this chance to say a huge thank you and Happy Easter to everyone who's given Easter eggs or emergency food to help stop hunger.
It may seem small but it makes a big difference.
This morning a man came to Wandsworth foodbank and was moved to tears when he was given Easter eggs for the family, saying that without the foodbank and the church there would be nowhere for him to turn. Another person visited Fallowfield foodbank and said "your compassion, care and tenderness has healed my heart."
If you could have seen some of the grins from children at food banks this week, and the relief on the faces of so many mums and dads, we know your Easter would be happier too. It's thanks to you that far fewer children will be going back to school saying that they didn't get anything for Easter this year.