"Juggling a degree in Journalism and a high powered job in sandwich making it's hard to believe that Molly McGreevy has time for a man in her life, but the 19 year old was spotted out in Sheffield with a mystery male this week.
The Derby born student was snapped stepping out of Corporation nightclub hand in hand with another partygoer, who was then seen leaving her home in the city the next morning.
The pair both were both sporting white shirts and school ties as they left the venue, after attending the infamous 'Skool Disco' event at the nightclub.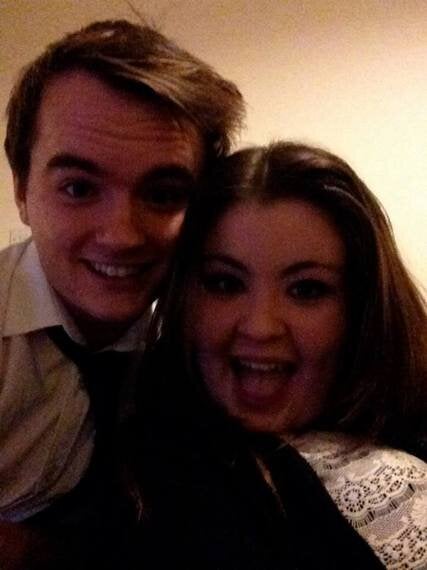 Staff from Corporation confirmed that the couple had been dancing and taking flirtatious selfies with each other all evening.
The aspiring journalist has been spotted enjoying many of the city's clubs and bars since moving to the city over a year ago to study at the University Of Sheffield.
It is thought her mysterious lover is also a student at the University.
But this is not the first time the young writer has been spotted looking cosy with the men of Sheffield.
A red headed man, believed to be a third year student at the University, has been seen entering and leaving Molly's Crookesmoor home in the early hours of the morning, whilst sources say the pair have become close.
And a picture of the two students hugging outside Sheffield's West Street Live venue seem only to confirm this rumoured romance.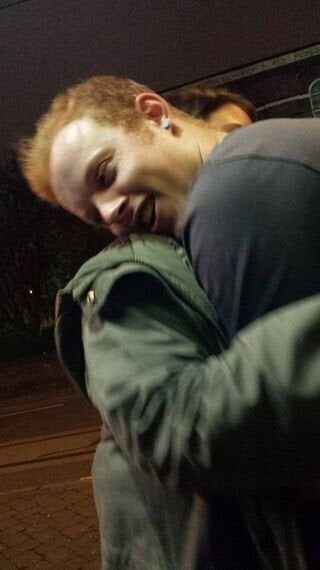 Or is this man the young student's latest lover?
Molly wore a green jacket and styled her brunette hair into tousled curls whilst her suspected lover sported a grey t-shirt and blue earring.
Sources close to Molly said: "She is a young, single girl having fun at uni, she can date whoever she likes."
Molly has been single since her last relationship ended in February 2012."
If this article is to be believed I am currently stringing along two men, one of which could be a random one-night stand. But actually there are two very reasonable explanations behind both boys.
The first boy mentioned in this article is my friend Oliver. Who lives with a course mate of mine and has a very nice boyfriend back home in Manchester. We had left Corporation hand in hand because thanks to the club's lethal 'Quad Vod' drinks both of us needed a little extra support getting to a taxi. He had then stopped over because no one wants to face the challenge of Sheffield's hills at 4am after a big night out. No romance there.
And the second boy is my housemate's friend George, who pops in on his way to the shops and ends up staying for hours drinking tea and watching rubbish on YouTube, he also takes advantage of the fact that our student home boasts a functioning TV and his doesn't. No romance there.
Yet if I were a famous face, or had at least featured on a reality TV show during the last decade, stories like this would be appearing constantly in the national press.
And like the legitimate explanations behind my 'rumoured lovers' there are probably as many explanations behind each story speculating on celebrities' lifestyles.
Studying a journalism degree, one of the first lectures we were given as young, enthusiastic freshers was 'What is News?', and not once was it mentioned that what a Mother wears on a weekend coffee shop trip is worthy of a breaking news banner.
Yet the country loves to read this so-called news about the private lives of the famous. The Daily Mail's 'Sidebar Of Shame' is infamous for featuring stories which, when you actually read them and don't just skim through whilst enjoying your lunch break or procrastinating writing that essay, do not really feature anything newsworthy at all.
Unless of course, what outfit Abbey Clancy wore to take her husband and child out for coffee, is big news for you. (If you're interested, Clancy wore leggings and a coat, outrageous I know.)
So why do the British public and press spend so much time indulging in reading and writing articles that speculate and rumour about stories with very little actual news behind them?
These stories are simply gossip, and the British public cannot resist a good bit of gossip. These stories are no different from catching up on the weekend's most juicy anecdotes come 11am on a Monday morning, or making that call to your friend after seeing their ex on the High Street with another woman.
So in spite everything being wrong about them: the intrusion into the lives of celebrities, the excessive detail about outfits, comments on the most insignificant actions, these stories can be some of the most talked about articles on newspaper websites, simply because humans are nosey.
And although gossip is fun to read, the public have to keep the sidebar stories for their coffee breaks and the press need to ensure real news is in the headlines. Because there are a lot more important things in the world than what people wear to get their caffeine fix.