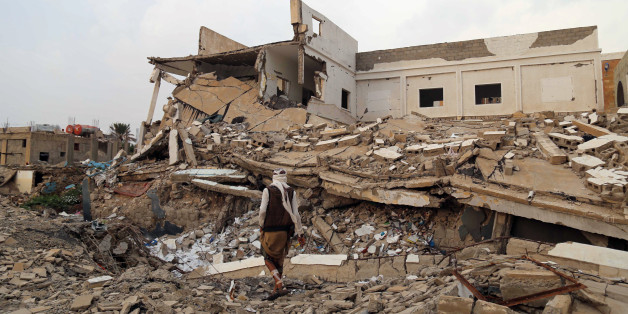 AHMAD AL-BASHA via Getty Images
Today in Parliament MPs will debate a motion to highlight the conflict in Yemen. This attention is welcomed by me, and all my colleagues at the DEC, as the situation in Yemen reaches catastrophic proportions. After two years of terrible violence, 19million people - 70% of the population - now desperately need humanitarian assistance. That's 19million people too many!
MPs Keith Vaz, Mrs Flick Drummond & Alison Thewliss will lead and open a debate in the House of Commons today to highlight the worsening situation in Yemen. They will ask the UK government to take a lead in passing a resolution at the UN Security Council that would give effect to an immediate ceasefire in Yemen.
The resilience of the Yemeni people is reaching breaking point. More people are facing starvation in Yemen - a staggering seven million - than anywhere else in the world.
Conflict and insecurity have destroyed the economy and are depriving people from accessing their most basic human rights; food, water and health services. Three million people have fled their homes because of ongoing fighting, and two-thirds of them live with host families.
And as is often the case, it is women and children that are the hardest hit; 3.3million children and pregnant or lactating mothers are acutely malnourished and almost half a million children under five are suffering from severe acute malnutrition.
The people of Yemen need both peace and emergency assistance. The DEC is calling for all parties to respect international humanitarian law. Civilians should be protected and full humanitarian access and movement must be allowed. Families must be free to leave for safer regions and to be protected in their movements.
But we must also be allowed to deliver the immediate life-saving assistance needed. DEC member charities and other humanitarian partners must have access on the ground so that they can do their job and provide the support for the people that need it most. Urgent funding is also needed in the coming weeks.
In December 2016, the DEC launched the Yemen Crisis Appeal which so far has raised over £22 million, reaching over 1.5 million people life-saving assistance across Yemen's northern and southern regions. Despite the ongoing conflict DEC member charities are continuing to deliver aid; food, water and sanitation, cash assistance and food vouchers. 
Read this report and watch these films to see how life-saving aid is getting through to the people of Yemen.
To prevent famine, more funding and immediate action is needed. The DEC Yemen Crisis appeal is still open and your help is much appreciated. Together, we can and must do more to prevent this crisis of humanity. Please help the forgotten people of Yemen.