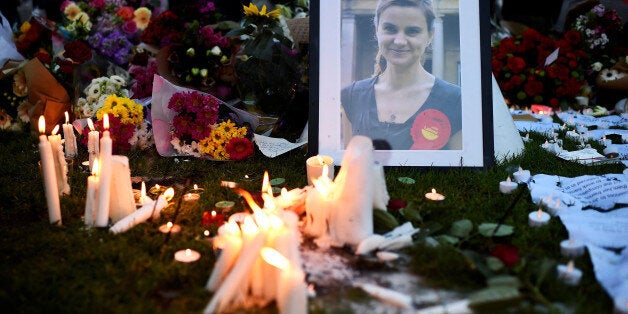 This blog is a version of a speech delivered by Muna Abbas at a gathering at Unicef in New York on Jo Cox and the the impact on Jo's death on her hometown
For those of you who aren't familiar with Jo's constituency of Batley and Spen, it is a small town on the outskirts of the city of Leeds, in West Yorkshire. Before last week, if you had asked anyone in the area who the most notable person to have originated from there was, they may have replied with Joseph Priestley - the man who discovered oxygen, would you believe - who passed away in 1804.
Since last Thursday, I have been both utterly sad and prouder than ever that Jo Cox will overtake Mr. Priestley. Sad as a constituent that our town only had the privilege of having her represent us in Parliament for a mere 13 months, but so proud that for that short period of time, she really did work tirelessly for our community.
Like me, Jo was born and bred in Batley and Spen but she set her sights on much bigger things. As someone who, like her, chose to pursue a career in politics, she showed me that someone from our town could spread their wings and make a difference. I am not alone. Jo inspired the youth of our community to stand up, campaign, push for the changes that they believe in, and fight for what is right. She taught us that the world was our oyster, but Batley was always home.
And to home she returned in 2014. In a seat that many had their eye on, Jo swooped in and won over everyone in the constituency in a matter of months. In a political climate where demographic divisions are more visible than ever, she really did unite the whole community. Her events and fundraisers were filled to the brim, and packed with diversity. From the white working class to Sikh, Muslim, and Hindu members - young, old, politically active, and those who just wanted to meet Jo - the new local celebrity.
She campaigned for our rights - locally to save our hospital, to support the food bank which had been set up; nationally to fight against welfare cuts and campaign against hatred such as Islamophobia; and internationally highlighting the plight and suffering of millions across the globe - most recently helping secure a change in government policy on unaccompanied refugee children.
Most coverage of Jo's work has focused on her international efforts, and rightly so - work which many of you here today will have worked with her on, side by side. Being the super woman that she was, she took on the world, but always saved some of her buzzing energy to serve those in Batley - wherever she was, whatever she was doing.
She showed our hometown at its best - the beautiful, vibrant and peaceful place that we have always known. In the end, it was in the same area she loved and cherished that her life was so tragically taken. In a touching irony, a statue of Joseph Priestley stands no more than 20 metres from where Jo lost her life. A statue now flooded with flowers and tributes to Jo. It is as if he has passed on the baton to her as the new hero of our small town.
When I first told Jo I was moving to New York, her eyes lit up, and spoke about how much she loved the city. Standing here today at one of the most important institutions in the world, thousands of miles from home, seeing everyone here, it makes me so proud as a young woman from Batley to see how another woman from Batley made such an impact on the world.
The Batley that I know and love has lost some of its sparkle, we have lost some of our light. But I believe that Jo and the memory of Jo will continue to burn bright and live on in all of us who continue her good work with the same passion, love and zeal that she displayed throughout her short-lived time in Parliament. Jo is gone, but will never be forgotten.
Muna Abbas worked previously for Labour's team in the House of Lords and Mike Wood, Jo Cox's predecessor as MP for Batley and Spen. She tweets @Muna_Abbas1