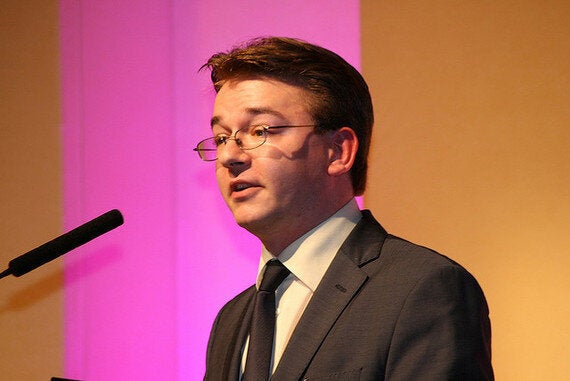 Tim Aker. Photo by Euro Realist Newsletter under a CC license.
Ukip MEP Tim Aker recently paid a visit to his old sixth form. Hoping to win over the soon-to-be first time voters he stood with folded arms as lines of teenagers spilled noisily into the lecture theatre. Within minutes hundreds of seats had filled and late-arrivers were perching in the aisles.
Older tutors wondered if the MEP was surprised by how multicultural the college had become. Sixteen year old girls protested at the doors in t-shirts reading "this is what a feminist looks like".
"So how many of you would consider voting Ukip?" begun Aker. Two students half raised their hands. Many others clapped, stamped and laughed uproariously.
If Aker was surprised by the response he concealed it well. He probably wasn't. Ukip draws most of its support from considerably older people who leave school before sixth form.
Research shows younger people are more likely to think Ukip is a racist party with 69% of 18-24 year olds saying they're more likely than other parties to have candidates with racist or offensive views. And this attitude is reflected by the NUS who this year denounced the party for being 'racist, xenophobic, homophobic and bigoted'.
Students of Aker's former college were no exception. 'I won't be attending as I can't trust myself not to smack him' said A level student Fatima. 'I don't think he should be allowed to come.'
Tutors agreed and sent strongly worded emails calling for the visit to be cancelled. Havering Sixth Form College principal, Paul Wakeling, borrowed a response from Voltaire's biography to say he'd fight to the death for Aker's right to an opinion. 'We must actively encourage independent thinking, responsibility and challenge' he asserted.
Ukip's recent Rochester success might well be a game-changer, but the next generation are not convinced. They find the party 'uninspiring' and, too young to be disaffected, protest voting isn't really their style. Grumpy policies that tend towards the negative - no to the EU, no to same sex marriage, no to the Human Rights Act - will never win over idealistic youth.
This was apparent as the sixth formers questioned Aker. How could he justify the opposition of same sex marriage? What would he say to the Syrian refugee child entering the UK without documentation? Why will Ukip reduce tuition fees for only a tiny minority of students? Concerns about Ukip's stance on overseas aid, public services and immigration were voiced with a compassion for others that made their teachers proud.
And most encouraging was that tolerance and civility transcended their anger and distaste. They even clapped politely at the end. 'On the whole, everyone's very accepting here' commented Charlotte from the upper sixth 'Funny, that's very different to UKIP.'