Proximity Care is a relatively new start-up hoping to change the lives of carer's of those with dementia with our innovative product 'the Proximity Button.'
Getting lost and wandering are huge worries for carer's; more than 60% of those with dementia will wander and if they are not found within 24 hours could risk serious injury or even a fatality. Proximity was invented to help. Inspired by mother who's cared for people with dementia for the past 15 years, it's a simple and affordable way to make days out easier.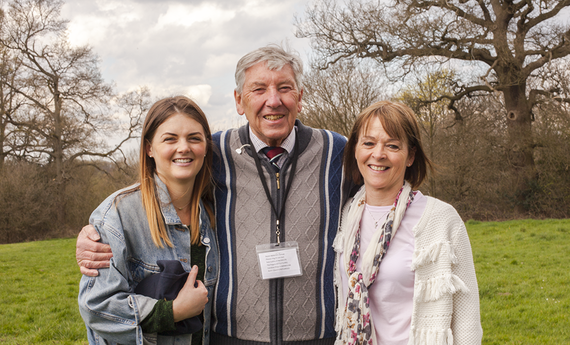 Me, mum and Bob - Bob has dementia
Currently, there are 46.8 million people living with dementia worldwide. This number is going to steadily rise and with no cure yet, I believe it's vital that we continue to think of innovative ways to offer a better life. 
The Proximity Button is a small badge that is worn by the person with dementia. The Button connects to the Proximity app on the carer's phone via Bluetooth. If the person wearing the Button wanders too far from the carer and their smartphone, it will alarm to alert them. Simple.
The Proximity Button uses innovative Bluetooth technology to provide carer's with a low-cost, simple option for keeping their loved ones safer. Rather than being a device to find someone once they're lost, the Proximity Button acts a warning device to try and prevent the problem from escalating in the first place.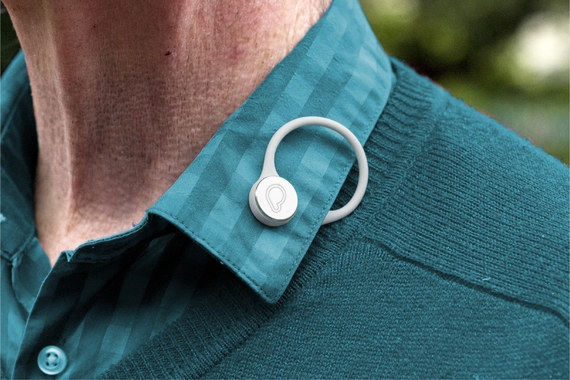 The Proximity Button is so small and light that it can be worn safely on the collar of a shirt.
Traditional devices to help with wandering will come in the form of a bracelet or a pendant. The Button is innovative in its functionality but also in its aesthetic value. We first started the development of the Proximity Button 2 years ago. During this time, we tested various types of wearables such as bracelets, pendants and the badge. User testing with my mum's Alzheimer's group quickly showed the badge to be the most suitable as once on the wearer, they forgot it was there.
The Proximity Button is a discreet, sleek badge that will not upset the user and will remain securely in place.
James Ashwell, founder of Unforgettable, the world's best market place for dementia products, says:
'There are a few tracking products available in the market, but they use expensive and complex technology. Proximity is unlike other products out there; it's a simple solution to prevent wandering at a much more affordable price point.'
Whilst GPS tracking devices are a great solution to help with wandering, based on my mum's experiences, I know they aren't suitable for everyone. They're expensive to purchase and incur monthly subscription fees, the design of these devices is also unsuitable for many. And lastly, there are concerns for some over the ethical issues of tracking a person. The Proximity Button is not a substitute for a GPS tracker but it's a great alternative to help with this ever-present problem.
I've known for a long time now, just how scary wandering can be for a dementia carer. It wasn't until our crowdfunding campaign last year, that I was made aware of other people that could benefit from the Proximity Button, such as children with autism and people living with other disabilities. I must stress that the Proximity Button's use can be extended to anyone who needs protecting. It's stylish and small design means it's suitable for all.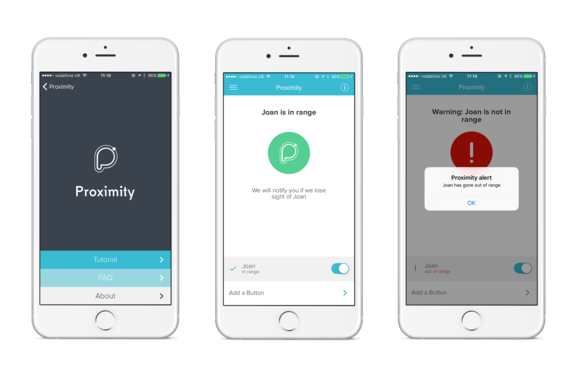 The Proximity app is easy-to-use and has been carefully designed to suit all ages.
Currently, the Proximity Button is our first and only product within the care market and I don't want it to be our last. With the innovative world we now live in and with the internet of things ever expanding this is undoubtedly the time for us 'experts' to be using our knowledge to develop products that could make lives easier. I hope that in years to come we will not only have the Proximity Button but a small range of connected products that will allow people to live a better and more independent life.
The Proximity Button is now available to buy online from proximitycare.co.uk/buy-now/ or unforgettable.org/proximity for £49.95 with no additional subscription fees.