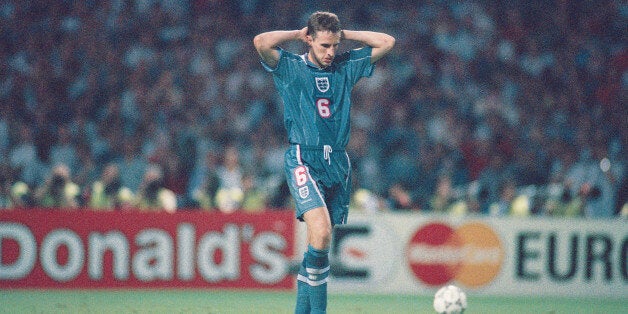 It's almost 20 years to the day since Gareth Southgate took the long walk from the halfway line to the penalty spot, missed his kick, England crashed out of Euro 96 and we all realised football wasn't coming home.
Two years later Paul Ince and David Batty would suffer the same fate against Argentina during the World Cup. Losing on penalties - it's the English way. But does it have to be?
There's been some extensive research carried out into what psychological impact a penalty shootout has on players, most notably by Norwegian academic Geir Jordet. He pointed out that anxiety is the most significant contributing factor to failure in penalty shootouts. Think about it, this is one of the few moments in the team sport of football where individual players are under intense scrutiny on their own. They also have time to think about the consequences of failure unlike most of the rest of their performance time. Steven Gerrard talked about his anxiety in the build up to taking his penalty at Euro 2006:
"As extra time went on around me I spent half an hour worrying about the only kick that counted - my penalty. Nearer and nearer. My pulse raced madly. My head was pounding. Penalties, penalties, penalties."
Italy, Portugal, Portugal, Argentina, Germany - reads the list of opponents who have beaten England in each of their last five spot-kick contests. As the press have been quick to point out that England have lost six of their last seven shootouts, most recently to Italy in Euro 2012 - following that Andrea Pirlo panenka.
Whilst England have won only 17% of their penalty shootouts, Germany and Argentina have won over 70%. Even Denmark and the Czech Republic have higher success rates.
So why is it that even these smaller footballing nations have significantly more penalty success than England? Jordet identified an "ego-threat" which can cause athletes to change their behaviour when they perceive a situation as being potentially harmful or threatening to their status.
Players who have already picked up big individual accolades like being nominated for FIFA World Player of the Year or making the top three for the Ballon D'or in the UEFA Team of the Year are likely to be more effected by this. In the past 19% of England's teams have been made up of these kind of high profile players.
And the research shows that existing stars only score their penalties 65% of the time, while players who will go on to win these kinds of accolades in the future found the back of the net 88.9% of the time. So with Roy Hodgson naming the youngest squad at the tournament, could Dele Alli and Marcus Rashford be more reliable from 12 yards than the likes of Wayne Rooney?
With the shortcomings of the so-called 'golden generation' there's certainly an argument to be made that putting faith in youth could be the way to go if an England match ends up going the distance this summer.
In particular Alli and Rashford have already shown the ability to rise to each of the challenges they've faced in their relatively short top-flight careers. Similarly Eric Dier has been among the stand-out performers for England in France so far and all could continue their notable rise if the dreaded penalties crop up in the next few weeks.
There are also statistics pointing to the fact that not turning your back on the goal, ignoring the keeper and taking your time over a kick can all increase the chances of scoring from the spot. While the idea of penalties being 'a lottery' can have a detrimental impact on a taker's state of mind.
It's often said that it's impossible to replicate the pressurised environment of a penalty shootout but it is possible to fine-tune the skill in a training environment - including the lonely walk from the centre circle to the spot.
Think about it, if penalty taking is influenced by perceptions of skill and luck then seeing one's self being successful in training should help strengthen perceptions of control and help to maintain positive performances. And this is certainly something the England team - many of whom will have never taken part in a high level penalty shootout - should be working on right now.
As Euro 2016 edges towards the business end, heroes and villains will emerge from almost every team. England head into the knockouts without the big stars of years gone by - gone are the likes of Frank Lampard, Steven Gerrard and David Beckham. But in their place is a young vibrant squad of players who have the potential to go on and be stars in the future. And if it comes to a penalty shootout, that just might work in their favour.