Forget about New Year Resolutions that only last until Valentine's Day, London is currently in a fitness revolution that is everlasting. New studios, new styles and new inspirations are encouraging Londoners to ditch the sofa and choose squats instead. Here are just a few things that I love about London's love affair with fitness.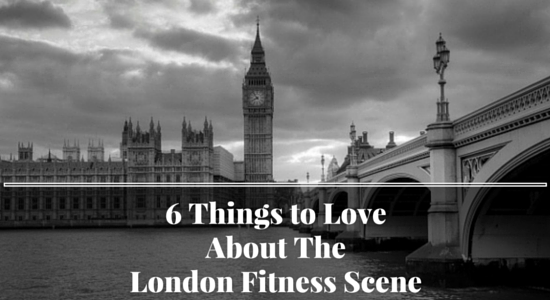 1. The Early Morning Enthusiasm
The attendance in any early morning fitness class never ceases to amaze me! Take a trip on the tube at 5am, and the only other people around are bleary eyed builders and people in sportswear, a mere 2 hours later, and lycra looks like the odd one out among the suited and booted. Londoners have bucket-loads of enthusiasm for their early morning fitness rituals, and I love that.
London style is always up there in terms of fashion stakes, but it's fit fashion is starting to make a statement too. With trusty Nike, Sweaty Betty, Reebok and Adidas raising their game in terms of style and appeal, and relative newbies Lululemon and Fabletics upping the stakes significantly, it's no wonder women are feeling empowered to get into the gym. Call it cliche, or vain, but there's nothing wrong with thinking that good kit makes for a better workout!
Talking of fabulous kit, most of these brands have free in-store workouts too! Shopping and sweating? Sounds like my cuppa tea. Simply pop into Lulu, SB, Nike or Reebok and staff will happily tell you about their clubs. It's a great way to meet fellow fitness lovers and feel part of a like-minded, healthy community.
4. The Architecture For Running
Whether you're a runner or not, you must appreciate that London must be awesome to run in. A quick instagram search will reveal London's beautiful landmarks in all their glory as early morning runners snap the sights on their runs.
5. There's Always Something New
Doga, Voga, bounce, aerial, pole, hoop, barre, crossfit - you name it, London probably has it, or it will soon. Never get bored of your training, there's always something new to discover.
6. Inspiration from Londoners
In my opinion, the London Olympics started this, but it continues still. Picture this: it's 5am, you're waiting for a bus, or walking to the gym, it's cold and you think you must be mad to be up at this hour to go to the gym...In a flash of fluro, a runner skips past, notching up their pre-work miles and you know you're not alone. In studios across town, men and women of all shapes and sizes trying their hardest to achieve more than they did the day before. A quick hop onto social media, and you'll find bloggers, friends and strangers achieving PBs, handstands, balances, medals and goals. It doesn't get more inspirational than that.
So there you have it, London's love affair with fitness is definitely in full swing. Maybe 2016 is the year that you join in, or if you're already in, then now's the time to try something completely different. Beguiled by ballet? Curious about crossfit? Make this the year you dive in!