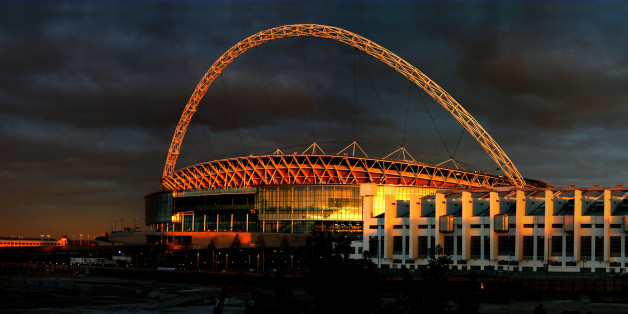 shutterstock
On 22 May 2016, England played its first football international outside of London since Wembley was rebuilt. Which begs the question - just how national is our national team?
Since hosting Brazil at the new Wembley in 2007, England has played a further 54 home internationals. Fifty two at Wembley. The other two games clashed with the 2016 playoff finals. Many of these took place on weekday evenings. Therefore fans, based in Manchester for instance, could be expected to part with over £150 in transport and accommodation and require up to two days off work to attend. It must be even harder for those based in less connected parts of the country. Yet they are equally as English as those in the capital. Is it right that the chance to watch the national team is based unequivocally on geography? Is it any wonder, therefore, that northern football fans may be seen to disengage with their national team?
There are several arguments in favour of Wembley hosting all matches. Being the capital city is irrelevant - the home of Government has no bearing on where a national sporting event should be hosted. Wembley, with a 90,000 capacity, generates a greater income than any other stadium. But it is often far from full. Old Trafford accommodates more than 75,000 people. St James' Park nearly 60,000. If the finances of the FA are so dependent on the extra income generated by a few thousand extra ticket sales perhaps other changes should be made. How about a lower salary for the England manager?
The FA is contractually obliged to host all England internationals at Wembley until at least 2020. Maybe once obligations are fulfilled England will tour the country again? I doubt it. In the 21 years preceding the old Wembley's final game in 2001 only three home games were played outside of London (Leeds 1995, Manchester 1997, Sunderland 1999). England even played all Euro 96 matches at Wembley. Excuses included foreign teams wanting the experience of playing at the 'home of football'. Surely the FA should put England fans first.
The arguments in favour of taking England nationally are, in my opinion, overwhelming. The national team should play across the country, allowing supporters in all areas of the country to engage. It will boost local economies and morale. Bars, pubs, restaurants, hotels will all benefit from the presence of fans and the media. Young children and grass roots football in those regions will be inspired. Imagine the local excitement in Humberside if England and Portugal came to town? Atmospheres in fuller, albeit smaller, stadia will be far better. This was demonstrated during England's travels whilst Wembley was rebuilt. A full stadium in Derby would surely generate a better noise and atmosphere than a half-full Wembley. At a time when commercialisation threatens the very fabric of the sport, the FA has no easier way to show the fans that they are the heart and soul of the game. It will give smaller regions a sense of national value, and help to bridge the north-south divide.
Other major European football nations highlight this elitist English mentality. Germany has played 58 games at home since Wembley re-opened, in 20 stadia. Only eight were in Munich or Berlin. Spain has played 41 games across 24 Spanish venues. Six in Madrid. Italy played 46 times across 20 venues (Spain and Italy also frequently play home games overseas, including in London). The Dutch are more centred on Amsterdam who hosted 33/53 games. Nonetheless, nearly half were spread across four other stadia. Since the summer of 2012, however, 22/26 games have taken place in Amsterdam suggesting that concentrating on its main city is a recent change in policy. Has this exacerbated their recent struggles? Portugal have played 51 games in 13 cities. These countries play at club grounds rather than a dedicated national stadium that needs regular games in order to justify it's existence. Except the French, who still managed to host 25/63 matches outside of the Stade de France. Across Europe, regardless of population or size, major sporting events are spread out. There is no justification for Wembley to have the monopoly on England.