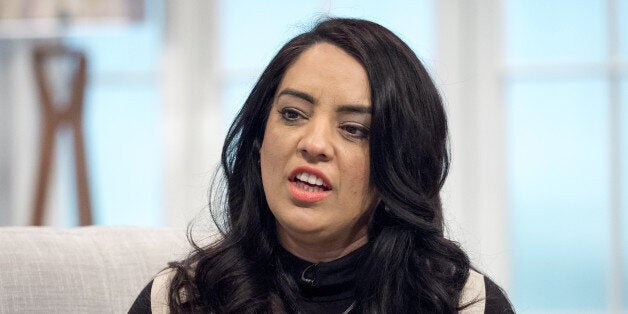 It was with a sinking heart that I watched Pakistani women talking about being blocked into entering politics on Newsnight for the second time in a matter of weeks. But this stuff isn't just historical, it is happening today, leaving me disheartened and disgusted.
I can resonate with what is being talked about. When I fought my own bitter election campaign I remember being told there were doctored pictures circulating which would be used to damage my reputation.
Then, nearer to the election, one of my opponents key supporters tweeted a picture out with a hashtag of #topnightout, which was then used by others with a slogan of 'do you want your daughters to be like her?', all because I went to a party of a friend.
I thought that having been elected as MP for Bradford West, getting down to hard work, challenging issues around education, employment, inequality and austerity would influence some of those patriarchal gatekeepers. That it would show how honest, progressive and transparent politics could influence the change what was needed in Bradford, and I would win them over.
In part I have been proven to be wrong.
Only a week ago senior members of the local Labour Party in Bradford West called a meeting in protest of two things:
The Labour Party National Executive Committee's decision to take over the local council Candidates selection process
Me
In January, as a result of serious concerns around issues of this very nature, the NEC took a decision to come into Bradford West. I supported this and in so doing unleashed a systematic campaign by the gatekeepers of local Labour politics to not only challenge the Labour Party and the NEC but also to malign and attempt to denigrate me and my character.
So this is how it works, the "power brokers", key senior individual Labour Party members decide between them who will get "selected" through the "selection process". This is through bloc voting based on personal, family and clan relationships. By and large these people control the "selectorate" - members who will vote to select the candidate.
Coming back to last week's meeting: This was organised by a former senior councillor, a member who made a prospective parliamentary candidates shortlist, and attended by a senior serving councillor and his father who is also a member, other community 'power brokers', as well as some non-Labour members. This is one of many meetings historically held when local elections and politics are concerned. I recall, when I was first shortlisted, a similar meeting was held to decide which way to vote, and which candidate would be selected was agreed.
In Bradford West it has taken many honest and very brave conversations, leadership on many fronts and some very brave decisions, locally, regionally and nationally, to start to address this problem, the first being the NEC's intervention. The crux of the problem is that this issue is part of a "culture", that voices, for fear of reprisals, get suppressed, and it goes unchallenged.
'Technically' speaking it's people exercising their democratic rights, which they appear to afford through paying for their membership fees to the party. And, as has happened recently, those power brokers use the language of "democracy" to cry out loud about what is in fact them losing control and power over the community, and loss of face as the power supposedly affords them huge izzat; honour and respect and ultimately power and control.
When I challenged one person who attended the meeting last week I got a heavily-worded email back which I am very clear was an attempt to 'put the frighteners' on me. Indeed my 'challenge' was construed back to me in a way that I had bullied and intimidated them, and they went as far as saying they were left shaken up!
It was in one of these recent meetings that one of the men had with him a copy of that tweeted "party picture" and a recent article about me printed out. A discussion took place and it was agreed that further proof would be gathered about my character to ruin me and my reputation.
The fact remains that unfortunately we have pockets of patriarchy and misogyny within my community and society at large.
But I also need to make clear that these old boys networks, or Biradhis, don't just exist within the Labour Party, they exist in all communities where power resides. Those of us who seek and apply progressive and transparent politics have a responsibility to call out bad behaviour/practice whenever we see it; it holds particularly true for Labour because taking on vested interests should be in our DNA. It means we should call out misogyny, sexism and discriminatory practice whereever we see it - and I applaud the women who are brave enough to do that.
Whilst I know we have a way to go, we need to give Labour credit where it is due. I'm proud to have been selected on an all-women shortlist, I wouldn't have stood a chance otherwise. Of course this is not without its problems but positive action has delivered Bradford's first ever British Muslim female MP of Pakistani heritage. For this, I stand proud of Labour.
Labour is proud of its history in both electing BAME candidates and women to local and national government. It has the strongest track record of any of the parties but, while taking the credit for best representing the communities, it also has a responsibility to tackle the problems and issues that emerge within. Leadership is leadership, it cuts both ways.
I have always spoken up against inequality, whether that is around issues of gender, race, disability or mental health, and I am not going to stop now. If there are things that aren't right in any community - including my own - I have a duty to tell the truth, so here it is: I know that there are parts of the Muslim community that have problem with women's equality and I want us to be honest about that. I also know that some women in South Asian communities support these views and we have to tackle that too.
We all know that it is wrong that women and girls, born in the UK, living in in the 21st Century, are being held back from fulfilling their full potential. As a women's rights activist and a Labour politician I wouldn't tolerate this in any other community and so I won't tolerate it in my own.
Finally my message to those who didn't challenge the bloke with the picture:
You called me your daughter, your sister, yet because I refuse to endorse your hunger for power and control, you set out to bring me down. Where are your 'community meetings' when education levels have been falling? Why don't you exercise your democratic rights when young people don't have jobs? Where are your meetings when our communities are effected by drugs and crime? Where are your solutions then?
I ask you clearly where is your ghairat, your self-respect, your principles when another man amongst you threatens a woman?
I will work with whoever wants to work with me, from within the community and out, to tackle this injustice. I stand shoulder-to-shoulder with the women on Newsnight last night, and in support of the excellent work of the Muslim Women's Network. Things are changing in Bradford; progressive and transparent politics is the direction of travel, it needs to be the direction of travel across all of our country and in every party.
My mantra - 'Bradford Deserves Better' - was central to my election campaign, so for me we must challenge any unfairness and discrimination, because politics needs better and women deserve better. Equality, fairness and justice, because I'm Labour. It's in my DNA.
Naz Shah is the Labour MP for Bradford West