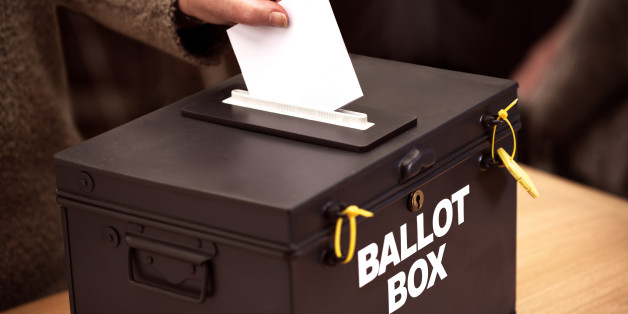 Anthony Bradshaw via Getty Images
Up to 13 million disabled voters like me will be heading to polling stations this week. It's no understatement to say that we could tip the balance in who gets hold of the keys to number 10 - if the narrowing polls are to be believed....
This is a crucial election. The result could have long lasting implications for disabled people's ability to support themselves and their families, find work, access education, or benefit from local services that enable them to play active, fulfilling roles in communities.
We are a sizeable and influential group of people that political parties ignore at their peril.
Yet every election seemingly sees some disabled voters struggle to make their voice at the ballot box heard, because of a lack of basic provision in polling stations.
Poorly thought out and isolated polling station locations, venues or facilities can render them difficult or potentially humiliating for disabled people to use.
Leonard Cheshire Disability research at the time of the last General Election found that almost a quarter (24%) of disabled people had difficulties voting in person at polling stations. And recently Mencap found 70% of people with a learning disability wanted to vote - but 60% found it too hard to register. About one in five (17%) had been turned away at polling stations previously.
In 2015, wheelchair users faced stairs and no disabled parking. Other problems included lack of large print ballot papers or too narrow voting booths.
One voter told us: "There was a step up into the venue. My wheelchair could not be tipped back far enough to get over the step. The staff did offer to come and help lift me over -- which although was kind it wouldn't have been helpful or dignified at all, plus I was fearful of being dropped."
Local authorities have a responsibility to ensure that disabled voters are not offered a lower standard of service than other people in their community, by making reasonable adaptations and providing other support at polling stations. I've written to all relevant council CEOs in England to remind them of their responsibilities.
The General Election is building up to a feverish finale and disabled people have a huge stake in it.
One in six of us will be affected by disability at some point in our lives - and like me the vast majority of people with a disability weren't born with it. Eight in ten disabled people have become disabled through accidents, heart attack, stroke or conditions like MS.
As the UK comes to terms with the implications of an aging population and grapples with a social care system that is increasingly not fit for purpose - the views of disabled people are essential in finding the answers on this pressing issue.
There is also a mountain to climb in terms of giving disabled people the employment opportunities others take for granted. A huge gap remains between the proportion of disabled people employed and other people of working age. Closing this gap will take real commitment and focus by the next Government.
To even halve the gap, more than one million more disabled people would need to find work. Schemes like the Government's Access to Work break down barriers to employment, but need to be significantly expanded by whoever takes power.
We can't have a repeat of 2015 with disabled people treated like second-class citizens in elections. And we must also ensure the issues affecting disabled people on a daily basis, that prevent them living fulfilling lives that match their potential, remain in the spotlight whichever political party celebrates victory.