Simon Schama, who is best known for his BBC series A History of Britain, curates a new exhibition at the Whitechapel Gallery: Travelling Light.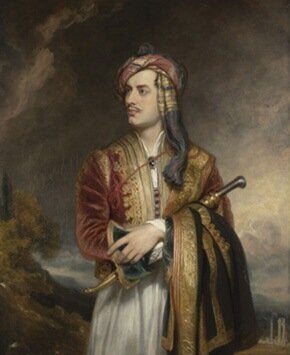 How would you explain Britishness? If we were introducing a foreign ambassador to Britannia with no prior knowledge of her, save for the embarrassing 'ums' and 'ahs' of Mr Bean and Hugh Grant, we would surely draw on a few comfortable self-induced stereotypes. Fall back on That Churchill speech, the Blitz and a love of queuing if in doubt. We Britons are a nation of class conscious introverts with an odd sense of humour; we are comfortable keeping ourselves to ourselves, unless, of course, the occasion arises to complain about the weather. We are a stoic bunch mistrustful of intellectual or culinary frippery. We build bridges and trains; the French lie about mating and reading Satre.
Nonsense, says Simon Schama. We actually have a very vague and amorphous view of national self. This makes us experts at assimilating the other but also experts at becoming the other. Some of our most typically 'British' art is foreign - Holbein, van Dyke and Zoffany; great swathes of our home grown talent have opted to elope to sunnier climes for inspiration.
Travelling Light, draws on the Government Art Collection to explore this theme. It is not meant to be too challenging or perplexing. Schama admits he's not entirely sure what the Big Idea of the show is. Think of it like a little relaxing break, post-Christmas-shopocalypse. The exhibition gleefully gets lost in time and space and Schama seems to have unashamedly picked the paintings he finds most interesting or fun, rather than those which fit best into some clever narrative.
As a result we are treated to a refreshing mix of the old and the new; the familiar and the foreign. A portrait of Nelson hangs alongside a modern post-colonial take on Nelson's flagship Victory; the thrusting pomp of Byron in Albanian guise from 1813-14 sits next to Vanessa Bell's Byzantine Lady from 1912. Not surprisingly for the historian, many of the pieces are playfully intellectual, rather than forbiddingly so; they wink and nudge the viewer rather than force ideas on them.
Much of this collection comes from far-flung British embassies scattered across the globe. It's often hard to see what the pieces are saying though; are we trying to project ideas of Britishness onto the natives or instead revelling in the otherness of other cultures? Often we're not sure; probably a bit of both. With Tacitia Dean's subtle Palast I - VI we get a subtle critique of another land; with Howard Hodgkin's Mud on the Nile we are plainly revelling in it.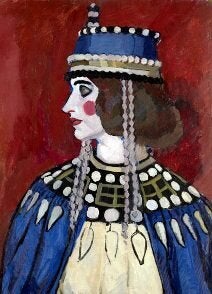 For the rambling Brit, of course, travelling is as much about the act of getting somewhere than the eventual destination. Take Grayson Perry's wonderful Map of an Englishman. It's a confusing rambling piece, full of childlike enthusiasm for minute detail. It's nicely contrasted with a piece by Richard Long, which prompts the viewer to come up with their own detail through a series of descriptions.
For Rachel Lowe, however, any attempts to record those fleeting transitory moments are ultimately futile, as she attempts to scribble a landscape speeding by onto the interior of a car window. But it's fun to try. It's an odd mix, but surely highlights a Britain used to fluidity and flux, and, - more presciently - a Britain completely unable to properly arrive at any universally accepted national narrative.