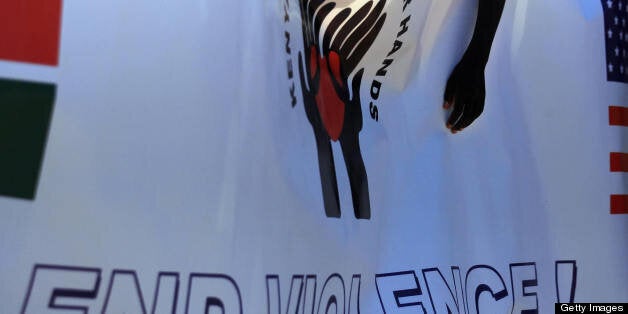 This week a beautiful little blonde and blue-eyed English girl was horrifically sexually mutilated - by her parents. She will be scarred for life both physically and mentally. She could have died in the attack. This was not a lone assault, however. Such ritualistic violence against children happen on average EVERY week among a particular cult in Britain.
Incredibly Scotland Yard in particular and police forces across the UK know all about this group making awful assaults against it's own children - yet in all of London there is only a single officer working on it full time (and then mainly in a PR capacity), and there has never ever been a prosecution of anyone for it even though it carries a sentence of up to 14 years.
It is truly a scandal, yet one that is ignored in this great civilised liberal country of ours. Why? Because I misled you on one crucial fact. Yes, this massacre of mutilation really is going on among British children now. Yes, the police really do know about it but almost entirely effectively turn a blind eye to this horror.
But they're not beautiful little blonde and blue-eyed girls... they're beautiful little brown girls instead.
That single crucial fact explains why Metropolitan Police Commissioner Sir Bernard Hogan-Howe in London - where this vile practice most commonly happens - barely bothers to have a single full-time officer on the case; that neither Theresa May nor her Labour predecessors have carpeted him or other Scotland Yard commissioners or chief constables for their appalling failure to tackle this ghastly crime; our liberal politicians say nothing.
Our religious leaders - Christian, Muslim, Buddhists - are largely silent too.
For it is called 'female genital mutilation', and has been practiced for centuries among the poorer communities of Somalia and East Africa. It is still is - not least here in London and the UK among the estimated 300,000 from that region who have settled in this country since the 1960s. Very many live within a mile or so of me in West London.
Despite extensive police connections, I had no idea FGM was being actively and regularly practiced widely TODAY right here in Britain until I was told about it recently by a bright, angry but resigned young woman I know of of Somali descent.
The facts stagger and horrify me. The Met's own statistics admit there are 6,500 little girls in London alone at high risk of the most severe form of FGM. Shockingly, that's a huge under-estimate say campaigners - that nationally there are actually 100,000 children at High Risk of such savage life-wrecking attacks, and very many of those are in the capital.
A young girl, usually around the age of five and always before puberty, is forcibly held down by her parents and without anaesthetic her sexual organs are cut away. The reason is simple - it means that when the child grows into a woman she can never experience sexual fulfilment... and therefore won't commit infidelity. It began many centuries ago, indeed one version is known as Pharoanic Circumcision because it began in the time of Egypt's Pharoahs. It became part of the male-dominated culture in that part of the world, remained so when the Muslim faith spread there, and bizarrely in large parts of that particular community - usually though not exclusively the less well-educated and poorer members - is now often justified as permissible even obligatory under one particular distorted view of Islam.
Hard to believe, isn't it? But even the Metropolitan Police Project Azure supposedly monitoring FGM admit at least 600 cases EVERY YEAR involving female circumcision and its long-term effects on women's health are being dealt with in London's hospitals.
Places like Guys and St Thomas's have had to actually set up special African Well Womens Clinics to cope with this epidemic of attacks.
Dr Comfort Momah who runs them says she has to carry out on average two operations a week there to try to repair the damage to these destroyed female genitals. There are now 16 such clinics around the UK - and they're all over-worked.
So why is no-one doing anything to combat it? Why is no-one being prosecuted by Scotland Yard? Why isn't the Home Office, the Education Department, the Department of Health all fighting this scourge?
Naana Otoo-Oyortey MBE is the highly articulate, highly knowledgeable Executive Director of the UK's foremost anti-FGM charity Forward UK. She says flatly: "It is shameful. Of course the fact that this is basically confined within the immigrant community makes it easier to not respond properly to it. There is no strategic approach whatsoever from the Metropolitan Police, for instance.
"The response of successive governments has been shameful too. We need a National Action Plan against FGM led full-time at senior level from the Home Office, getting teachers and health workers and police all pro-actively involved - just as they have in countries like Holland that have had genuine important success in stopping FGM."
She confirms that often the problem with state organisations is a PC belief that FGM is part of the 'East African culture', that the nature of that community means no-one will speak out anyway, that somehow it's a private issue that's for the Somalis, the Sudanese, and others to deal with if, when, and how they choose.
And so the cutting, the mutilation, the wrecking of lives continues unabated a mile or so from my front door. On average at least one a day. Sometimes it's carried out in this country, sometimes children are taken out of their English primary school to be flown back to East Africa to be disfigured before they return home to London crippled and pain-wracked.
We're now actually, literally, coming into what the police themselves on their bland meaningless press releases call the main "FGM Season". It's often carried out in the school summer holidays so the victim has time to physically recover before they hobble back into the playground... My brave Somali friend confirmed, "they even have circumcision parties, where three or four families get together and make the victims feel it is an honour and treat that awaits them."
Not everyone agrees that a blind eye should be turned to this butchery, incidentally. The French had a similar problem, but have jailed over 100 adults for committing or permitting FGM. Health reviews there which include compulsory checks on children that female circumcision has not been carried out prove that as a result of the police action incidents are falling significantly. A recent similar anti-FGM police crackdown in Holland, say Dutch campaigners, resulted in over 10,000 Somalis leaving their country... for London and the UK.
To our shame, it's not hard to work out why, is it?
The sum total of Scotland Yard's Project Azure achievements for the last five years statistics are available have been 11 FGM cases detected, 11 arrests, zero charges. Interestingly, Scotland Yard announced recently it was to reinvestigate six old failed cases. Campaigners are not hopeful... Project Azure has such low priority within the Met that it doesn't even have a budget of its own.
How different would that be, I wonder, if the victims of these continuing atrocities committed on our youngest and most vulnerable citizens were indeed blonde and blue-eyed, as distinct from merely brown?
(This is a longer version of an article on FGM that appeared in the London Evening Standard on 16 May, 2013)