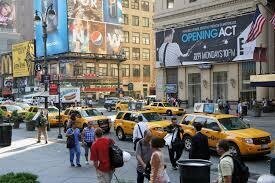 (photo courtesy of: commons.wikimedia.org)
So, let's get the obvious point of this article out there straight away - it is, in fact, not really possible to spend 4 enjoyable days in New York City without parting with quite a sizeable amount of cash.
However, that certainly doesn't mean it's not worth the expense. And there are a few ways you can keep the costs down a bit and get more genuine experience in the process.
Firstly, to save a few quid, you can track down a good price on the flights. Direct flights from London on Delta at the very end of March cost us less than £400 a person, which is pretty reasonable for 'coach', although you might be able to get a slighter cheaper ticket if you're prepared to fly indirect via somewhere like Iceland.... we were not.
Once you've arrived your wallet comes under immediate pressure. New York has become extraordinarily expensive in the last few years, to the point that even a favourable exchange rate won't help you that much.
Even the street food isn't so cheap as it was. Only a handful of places still sell a slice of pizza for a $1 (you're more likely to pay near $5 for a piece of 'pie' these days) and the ubiquitous hot dog vendors - always a reliable source for a low-cost, low nutrient snack - have started to charge more than a 'buck' for a 'dog'.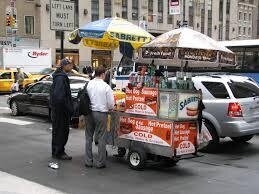 (photo courtesy of: newborhood.com)
But inflation hasn't stopped the visitors from coming, in their millions, every year, from all over the world. And why would it? New York remains one of the most exciting cities on earth, and everyone, if they can afford it, should go over and check it out.
As the cab driver said to me on the way from JFK airport; "they call it the Big Apple, because we got everything here - you just need to take a big bite."
It was a great introduction (or re-introduction, I've been to New York before, and lived there as a boy when my dad was working in the city during the 1980s), almost as if the town's tourist board had prepped him with the line. But the warm welcome couldn't change the fact that by the time we had been delivered to our hotel, we had already spent $70 on his fare.
In fact, if you are determined to try and be a savvy traveller, keeping your use of the iconic yellow taxis down to a minimum might be a good idea. During my recent trip, I failed in this regard, spectacularly, spending literally hundreds of dollars getting around town.
Flagging down a cab is part of the New York experience, but, unfortunately, it will cost you to use too many during your visit. You're better off joining the native New Yorkers and getting involved with the public transportation system. The subway is a good alternative and you can get a Metro pass for just $2.50.
One way I tried to budget a bit on my recent city-break, was to book a cheaper hotel - Downtown on the Lower East Side of Manhattan. The self-styled 'affordable boutique' Sohotel on Broome Street, proved to be an excellent choice, and at just over £100 a night came in much cheaper than some of the more expensive alternatives in Midtown - and with much friendlier staff than many of its more established Uptown counterparts.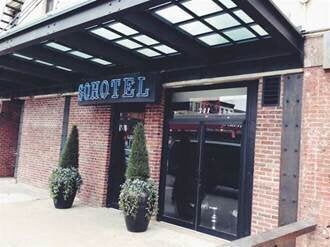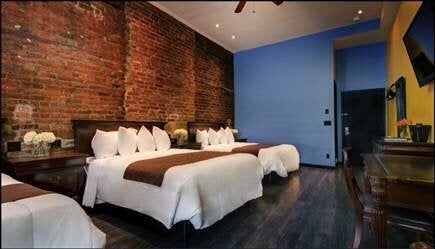 (photos courtesy of: HostelBookers.com)
This part of New York has changed out of sight since I lived here in the 1980s. Much of the Lower East Side was pretty much a no-go area during that time - and it was certainly not somewhere for tourists to stay. However, things have changed drastically since then, and the vast majority of Manhattan has been gentrified to the point where it is not only a lot safer than it was, but there are now decent places to stay all over town.
Avoiding any of the hotels in Midtown is a one a good tip for getting not only better value accommodation, but a more authentic New York holiday. Downtown, whether you're on the East Side or the West Side, is buzzing - with culture, shopping, nightlife, and great food on every corner.
It's probably fair to say that there is nowhere else on earth where you will find so many options when it comes to finding something to eat - sometimes it feels as if there's too much choice, and by opting to eat in one place you've missed out on something truly great somewhere else.
Difficult though it is to choose, I will just make three Lower East Side foodie recommendations - One, get some cheesecake at Eileen's Special Cheesecake on Cleveland Place. Two, eat some pizza at Lombardi's on Spring Street, America's oldest pizzeria. And three, you absolutely must go to Katz Deli on East Houston Street and get yourself a Rueben sandwich.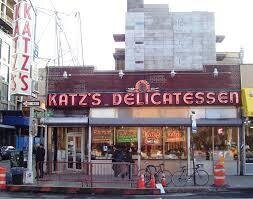 (photo courtesy of: commons.wikimedia.org)
Katz is famous and it knows it - the walls are covered with photos of the owner with his celebrity clientele - it was the location of the notorious Meg Ryan 'fake orgasm scene' in the 1989 hit film 'When Harry Met Sally', but it is more well-known as the home of arguably the finest beef sandwich in the universe.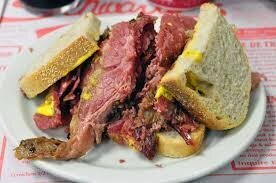 (photo courtesy of: commons.wikimedia.org)
When you go make sure you are prepared to queue, take a ticket on your way in (do not lose the ticket or they'll charge you for it!) and have your order ready before you get to the end of the line - if you stumble, they will ignore you. However, if you make it through this quintessential New York trial, and secure yourself one of the world's most famous sandwiches - believe me you will not be disappointed.
Katz deli is just another Downtown experience that many will miss by staying in Midtown at one of the overpriced, tourist trap hotels. I'm not saying that you should avoid the sights and skyscrapers of Midtown Manhattan, just don't spend all your time (and money) there. Take a day or two negotiating the madness of Midtown, pick one or two sights or museums and spend your money on them. There's plenty more you can do for free.
The wonderful Central Park, for example, doesn't cost anything to explore, the bright lights of Times Square are best taken in from the sidewalk, and a stroll down 5th Avenue is as good a way to enjoy the iconic sights and sounds of New York as any overpriced bus tour.
You can also get a great view of the Manhattan skyline and one of the most famous New York landmarks, The Statue of Liberty, for free - by getting on the Staten Island Ferry. And over on the West Side, the unique High Line , built on the historic freight rail line above the city streets, is also another unique experience which won't cost you a penny. There's also no obligation to spend any money in Chelsea Market - on street level, below the High Line - but I defy you to walk through without buying something from one of the great food outlets and shops you'll find there.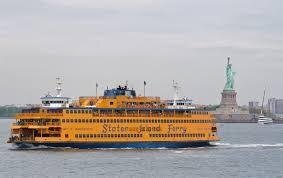 (photo courtesy of: commons.wikimedia.org)
Much of the city feels so familiar, mainly because it's been the backdrop to so many of our favourite films and TV series over the years - and you can revel in your time there simply by wandering through the busy streets and drinking in the atmosphere.
You'll still spend a fortune of course, because the food, drink and shopping options are too inviting to ignore. But it is possible to keep the costs down a bit, and, more importantly, to get a more authentic New York experience by avoiding the obvious and taking a bite of Big Apple life, the way New Yorkers live it.
Flights from London Heathrow to New York booked with Flight Centre, prices from £349