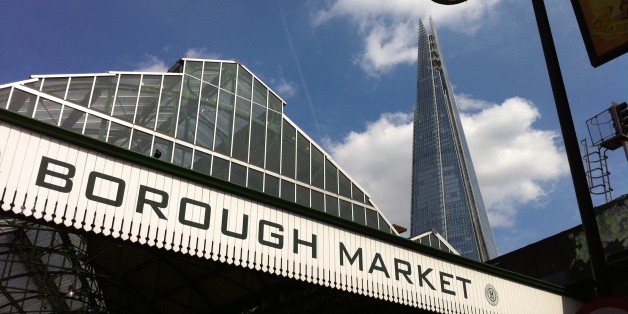 FarzyB
There aren't many places in London that have seen so much change as Borough Market. Nestled below the railways bridges, at the south end of London Bridge, in the shadow of The Shard and Southwark Cathedral, it has existed, in various guises, for over 1,000 years. Always hustling and bustling with noise, energy and replete with the enticing smells of great food, it is very much the beating heart of the capital.
Over the centuries it has continually evolved, from traditional food market to foodie destination. Nowadays it's pretty much a huge food court, a tourist hot-spot with thousands descending on the area, every day, to get stuck into cuisine from around the world. Much like London at its best, it's diverse, inclusive and full of spirit (and a good selection of spirits).
Its popularity is undoubtedly one of the chief reasons it was chosen to be the target area of the violent terrorist attack, on June 3rd. Since then I've been along several times and have spoken with the people who were there, hearing some amazing stories. Most of all I've been struck by the stoical resilience of the traders in the area.
It was a life changing evening for many people. However, those who live and work in the market area were determined to get back on their feet as soon as a possible. And to remerge, stronger, more unified than ever.
Much like the market itself, Jack Applebee, proprietor of Applebee's on Stoney Street, has seen plenty of turbulence on the crowded streets in front of his busy fish restaurant, but nothing would prepare him for the experience he went through on that fateful evening.
"It was the busiest night we'd had since I took over managing the restaurant and I had just popped out the front for a break. Then I looked up and saw all these people running down Borough High Street. They were shouting and screaming and telling us to get away. It was pretty clear, early on, what was happening."
To his great credit, Jack acted swiftly and got all his customers out into the back of the restaurant to hide and then went back to get the key to put the shutters down.
"I had my key in and I was willing the shutter to come down faster. It moved so slowly. And then, all of a sudden, they were just there, right in front of me, two of them, with machetes strapped to their hands and what looked like suicide bomb vests around their bodies.
"I made eye contact with one of them, he was just a few meters in front of me, he looked out of his head. I didn't know what to do, so I just looked away and started to walk towards the back of the restaurant where everyone was hiding."
For some reason, you could call it fate, or a random bit of good fortune, the assailants let him go and moved on. However, those in the Wheatsheaf pub, next door, along with many other people who were in the area, were not so lucky. We all know how the night transpired.
After looking over his shoulder to see that the murderers had moved on, Jack went back to finish putting the shutters down and then waited it out, with his team and their customers, until the police had moved in.
"We heard gun shots and then the police asked us to stay where we were. A while later, we got out. I am not sure I'll ever get over what happened, it was crazy. I still have nightmares about it."
Of course, like London in general, Borough Market is no stranger to upheaval.
The first reference to the area can be found in the history books in 1014, when the Saxon king, Ethelred the Unready, was chased out of London by the Danish warrior-king, Sweyn Forkbeard.
With its enduring history, it's perhaps not surprising that the community has responded to the tragedy with such resilience. But it is really terrific to see, all the same.
I've been coming to the area for many years. As both a Londoner, a food writer and an enthusiastic eater, it's long since been a favourite haunt of mine. It felt very close to home when I watched, in a mixture of horror and disgust, as the tragic events played out on my TV that night.
But it's been fantastic to see how quickly Borough Market has bounced back to normality. They make them tough in this part of the world. This community survived the Vikings, they can get through this. No problem.