So, I turned 40 this year. It really wasn't that bad. But it is a big deal. Anyone who tells you that they weren't or aren't bothered about this seminal moment in time is either lying or not telling the whole truth about it.
You only have to go on Facebook and see how many of your peer group have just completed a marathon endurance triathlon through the desert, or cycled backwards through the Andes on a unicycle, to recognise that we are all in fact profoundly troubled by our advancing age. And seek to challenge it at every opportunity.
My mid-life obsession is golf. No, I've absolutely no desire to climb Mount Everest (far too cold) or run a marathon (too painful) but I have become mildly obsessed with getting better at hitting balls with sticks - as my wife would say.
I've played the game for years, but lately it's become a massive preoccupation. I've found myself parting with ridiculous amounts of money to buy brightly coloured golf attire and I've even become a member of a club.
My inner 20-year-old is disgusted with my conformity and has even threatened to beat me with his copy of the Communist Manifesto. But he should just chill-out. It's really quite simple. In golf, at 40 you're still fairly young. There's still time to improve.
But with endless photos of my children's school friends' sporty fathers smiling smugly at me through my smart phone (all of whom seemingly compete in some form of charity running event every other week) I decided that my new drive for golfing greatness needed some form of Iron Man dimension. And this led me to the inevitable conclusion that I should to treat myself to a 40th birthday golfing challenge, to truly test my metal.
What better place then than Celtic Manor in South Wales? Venue for the 2010 Ryder Cup - a golfing Mecca with three championship length golf courses to test even the hardest of golf nuts. It was the right place for the encounter, but I had underestimated the other trial that awaited me before we'd even arrived.
Another sad fact about turning 40 is that trying to get your mates together for a one-night jolly is a logistical nightmare. Rounding up the usual suspects used to be a simple task, but now we're all married with kids, I was faced with a barrage of diary commitments to overcome.
"I think we're at Center Parcs that week..." "It's Clarissa's tap recital, can't do it..." "I've promised to take Bilbo to the vegan centre..." "We've got a Naming Ceremony in the Cotswolds, I can do it but will need to be back by 8am..." "Do you know if they've got WiFi?"
When did my 'stags' turn into such a bunch of 'hens'?
My birthday was in July, but when we finally found a weekend that suited everyone's 'hectic schedule' it was nearly October. It's one thing taking on the famous "Twenty-Ten" course in the middle of the summer, but factor in the inevitable strong winds and the rain of a soggy Autumn in Wales and this was now the golfing equivalent of the Tor des Geants.
I accepted the man points and refused the offer of a buggy at the first tee - with the rain lashing down and my size 10 golf shoes sinking into the sodden ground beneath me... No, I would carry my own clubs. I was man enough.
Unfortunately, my undisputed tough-guy credentials couldn't stand up to the examination on the course. I felt my age as a group of wispy 15-year-old Welsh lads continued bashing gargantuan drives up behind us. They make them tough in this part of the world and the golf was no exception.
My Fitbit (another 40 year-olds' must have accessory) told me we'd walked up the equivalent of 63 flights of stairs. And I certainly felt that I'd earnt the personalised "Twenty-Ten" golf bag-tag that you are awarded with at the end.
The good news is that despite being undeniably more talented than any of us, the 15 year-olds weren't allowed in the clubhouse bar. No, it was back to mum's house for them. Bad luck son. There are some perks to getting older after all.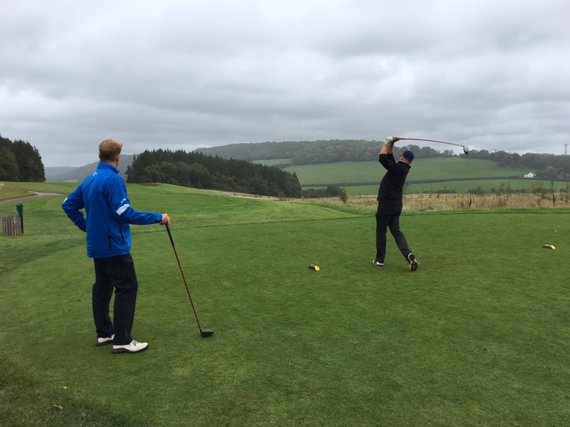 (source: author's own)