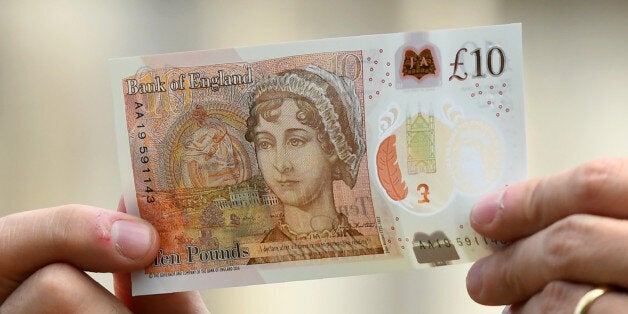 This week I encountered my first Jane Austen tenner and I knew immediately how I wanted to spend it, in a donation to Women's Aid.
My reasons for doing so are clear, I grew up with domestic violence. The soundtrack of my childhood was the sounds of my father's anger, our screams, the slap of his hands on our skin, breaking glass, the barking of the dog trying to intervene, the roar of his car engine as he drove off the drive and my mum comforting us all once he'd gone and saying she was sorry. Apology is the default of the target of domestic violence and abuse.
The ever present fear of triggering my father's white faced rages and falsetto childlike screams of anger, were matched by the silence which we all, as a family embarked on in never sharing what was happening outside our home.
Such was the fear that even after he'd left, a couple of months before my brother died of a heart condition in 1978, I didn't speak about it publicly until my father's death, in 2015. Along with denial of the target's truth, groomed silence is the abuser's greatest weapon. I'm talking about it now because I've been asked to.
I'm an interesting choice because I publicly argued with Caroline Criado Perez. It was a terrible time in both of our lives and as can happen on Twitter, the written word can wreak havoc on the psyche. But in donating this ten pound note I want to do two things.
Firstly I want to thank Women's Aid. I'm crying as I write this because if ever there was a definition of love, their organisation is the physical manifestation of it. We survived our situation because my father left and later married someone else. But many women have to flee or die. It's a simple and as terrifying as that. Women's Aid give sanctuary to broken families who are trying to mend; to parents like my mother who give their whole lives to protecting their children whatever the cost and to children who learn early that their adored abusive parent, is someone to be loved and feared simultaneously.
Secondly I want to thank Caroline Criado Perez.
I'm sad to relay the fact that we had an argument online, which I regret. Suffice to say we were both experiencing a very bad time in our lives. Caroline, was experiencing it publicly and I was experiencing it, privately. The written word is an imperfect medium and when adrenaline is pumping through your veins, the net effect on your psyche removes a critical distance from the events.
I'll remain critical, if I don't agree with her. As recently as this week I questioned the cost of a statue, in an age of austerity, but I know she would be the first person to applaud and encourage any disagreement, as an opportunity to explain the vital nature of her work. A tangible, permanent manifestation, commending and encouraging women in politics, is definitely due.
Feminism isn't a hive mind. The views and opinions of women on rights on equality and on how feminism is, or how it should be, is a broad spectrum. This is so important to recognise, but what there must be and what there is from me in this piece, is total solidarity.
A solidarity, from one veteran of sexism and misogyny, to another.
I love Caroline's strength and stoicism, her defiance in the face of the word "no" and her fierce refusal to accept the status quo. As a feminist and in campaigning online for disability rights for eight years, I recognise how vital this is.
Put simply, I send Caroline, Women's Aid and any and all women, living in enforced silence under the threat and reality of physical and mental violence; all my love, in sisterhood.
We are one another's strength.