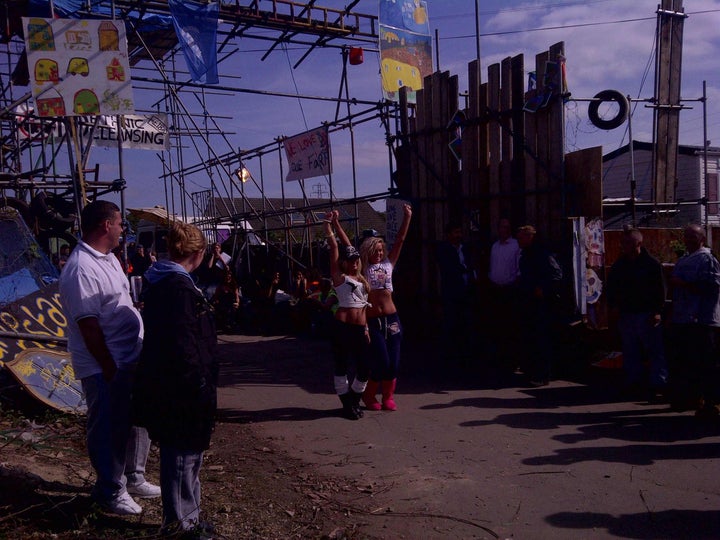 Dale Farm residents celebrate the postponing of the ruling until next week.
Mary Slattery's careworn face belies the uncertainty of the situation the Dale Farm travellers find themselves in. At 57 years old, she has already lost her only daughter, a trainee nurse, and now will potentially lose the place she calls home. Mary moved to Dale Farm three and a half years ago to find some stability -- her life before had been spent living in caravans and moving from place to place every time the police showed up.
"When you're travelling on the roadside, the council and the police say to you, 'move on, get your own place,' so we did, by buying this as a scrap yard." Slattery said. She then went on to detail how a group of travellers clubbed together to buy the scrap yard and the years of hard work that it took to clean up the area and make the site a viable place to live.
She says of her new way of life at Dale Farm: "I love it - I'd rather be here than on the side of the road," although she would consider living in other places if the option were provided.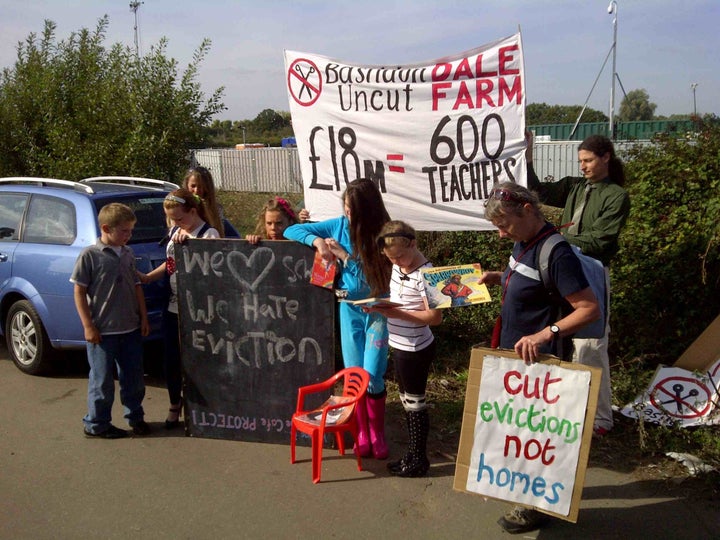 Children, travellers and activists protest the moving of their homes.
Now Slattery might have to move on again, as a High Court decision is pending as to whether Basildon Council has the right to evict the travellers. The council alleges that greenbelt land has been developed illegally; the travellers argue that they never bought it as greenbelt land but as a scrap yard.
Marie McCarthy, a 55-year-old resident of Dale Farm, who has lived there for the past 10 years said over the telephone on Thursday (she was in court on Friday) that she thought it was the government's fault that the clearance is being attempted.
An injunction filed on Monday extended Dale Farm's lease of life until Friday, and the atmosphere among the travellers was tense on Friday afternoon, as some expected to be moved at the closing of the High Court session. When the news arrived from court at about 1:30 pm that the travellers would not be evicted and that a further appeal action had been lodged, a group of four platinum-blonde adolescent traveller girls, highly made up and sporting pink and black tracksuits and T-shirts, jumped for joy at the entrance to Dale Farm. The judge presiding over the case, Mr. Justice Edwards-Stewart has indicated that the decision on moving the travellers will take place next week and the Metropolitan Police vans stationed near the farm in preparation for the eviction moved away.
But what of the Farm itself and of its residents? So much time has been spent debating what is happening with the current legal action, the morals of the situation and whether or not the situation constitutes "Ethnic Cleansing" (as one the banners outside the front entrance to the site reads), that not much time has been given to understanding what Dale Farm and its southern Irish traveller community. I went down to Dale Farm on Friday to find out who exactly these travellers are and to see the scrap-yard-turned-home for more than a hundred people.
I was informed before I went that Basildon taxi drivers only took people as far as The Cattery, a pet shop specialising in cats at the top of Oak Lane. When I arrived in Basildon itself, one local resident spoke of the problems the Basildon population had with the travellers. The resident did not want to give their name or gender for fear of reprisals from the travellers at Dale Farm.
"It's getting silly," the resident said of the injunction filed on Friday. "I'm frustrated that it keeps going to court."
The resident added that they wanted the travellers out because they were unaccountable to the local authorities: "the police don't help anybody when something happens - they don't have the resources," they said. The resident also blamed them for various crimes in the area, pointed out that a local garage had been refused planning permission and had to shut down without nearly as much fuss. They questioned what the travellers did for income and whether they paid council tax or were on the electoral roll.
The resident's questions highlighted the problem of the rift between the local residents and the Dale Farm travellers, which locals blame on travellers and travellers blame on local prejudices towards travellers.
Some blame the travellers for pushing down property prices - especially in the neighbouring Cray's Hill area - and others don't like them as they say that they think they are above the law. Another resident (also declining to give a name for the reasons stated above) said that people didn't like the mess the travellers make, though conceded that Dale Farm is less untidy than the scrap yard that preceded it.
In fact, explained Slattery and McCarthy, the locals have never (besides laying flowers at the at the site of a burned traveller house a few years ago) responded to their outreach and never attempted to interact with them. They said that the travellers do pay council tax and that the council currently gives benefit pay to 25 travellers living on the site and their relationship with the police is very good (Slattery called the police "lovely" and "more than welcome" - though the bailiffs, she conceded, were "the the worst bailiffs that God sent into the Earth"). Furthermore, both said, the travellers applied for planning permission and were consistently ignored by the council - McCarthy blames an institutionalised prejudice against travellers at all levels of government. They insist that they are good citizens with a welcoming but "tight knit" community and, what's more important, that their children want to learn - Slattery uses her daughter's nursing training at university level as an example.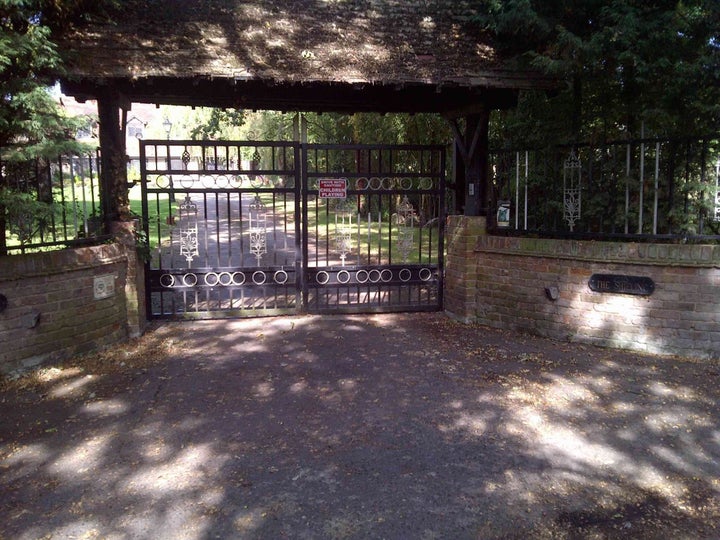 Some residents of Oak Lane have put up gates and use guard dogs - locals told me they were erected to keep travellers out.
Still, the "settled community", as travellers call them, doesn't seem to be very fond of travellers. A local business which declined to be named also because of fears of reprisals said they had been "having a lot of problems with travellers recently", although another resident said their main problem was the police helicopters:
"We don't get any trouble with travellers, we don't get any trouble with media, we don't get any trouble with anything but the bloody helicopters!", the resident said, also declining to give a name for the reasons stated above.
After such warnings, any approach to Dale Farm is bound to be ominous. I have been dropped at the Cattery and make my way down Oak Lane towards Dale Farm, watched by two policemen standing the turnoff. But soon, I relax -- bar a few gated homes (I had been told to look out for these by locals), Oak Lane is a pleasant English country lane, complete with chirping birds, berry bushes and houses with names like "Rose Villa" and "Ivy Cottage". After a brisk walk of about a quarter of a mile, the road that leads to Dale Farm is marked by a sign written in felt-tip and adorned with a drawn flower.
The site outside and around Dale Farm is surrounded by fences, some made from old tires, wood and tarpaulins. But the atmosphere soon changes when one passes the blue press cordon keeping swarming news teams at bay and under the banner-strewn main gate erected by travellers and activists from the Dale Farm Travellers Solidarity Group. Hidden behind a Russian made truck are more permanent structures, though Slattery tells me that these are still caravans and trailers, even though they've been rooted to the ground by brick bases. There is a low-lying brick wall that separates trailers from each other and delineates decently sized courtyards and gardens. The site, though, according to the council, not technically zoned for residential use, has been transformed into homes for the hundred or so travellers who live here. Far from being an unsafe slum as some have depicted it, on this sunny day, discounting the barricades erected to deter bailiffs and press alike, Dale Farm looks pretty much like any slightly untidy other suburban centre in the UK.
After being politely refused an interview with the "head man" of the camp, a wiry silver haired gentleman sporting an old cowboy hat and suit (he tells me: "I would love to live here, if I was allowed to"), I am advised not to ask the men of the camp for interviews, but rather the women.
"It's a cultural thing, I guess," a journalist who's been trying to get interviews tells me. Later I learn from Slattery that the men fear being interviewed by the press because they are worried that they will be discriminated against as an "Oak Lane traveller" when they next try and find work.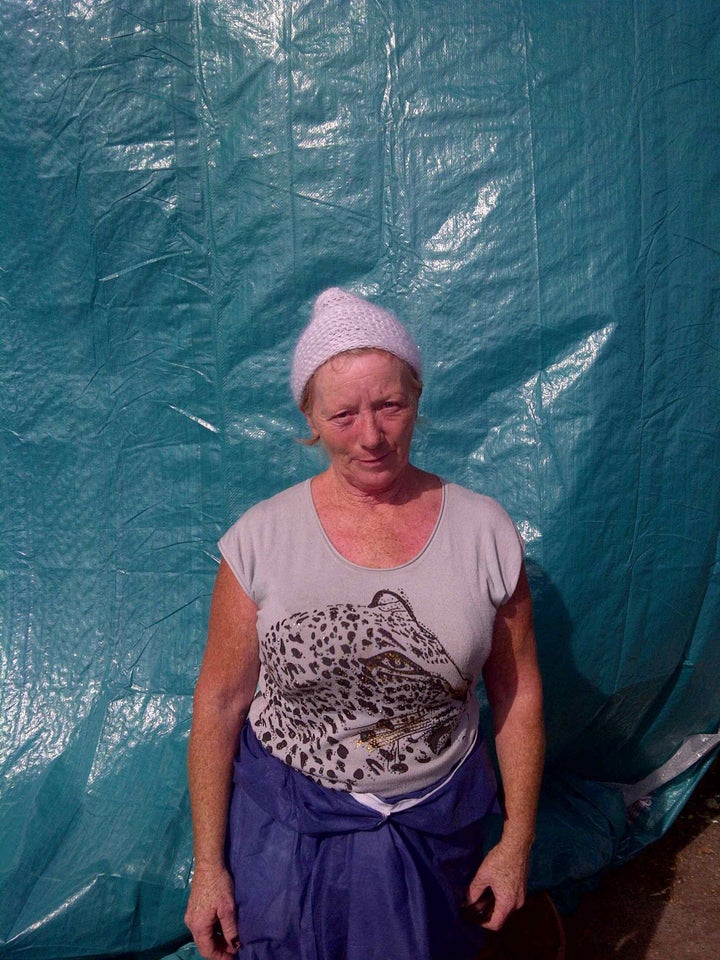 It is here that I meet Slattery, and we sit down for a brief chat in the shade of a brick wall. From the outset, it's clear that she's thought about her potential future a great deal and is devastated that she might once again be uprooted and forced to find a home.
Slattery's story is somewhat remarkable in the modern world, but is the norm for many Irish travellers in the UK. She was born in 1954 to a family of travellers in Ireland on the side of the road in a horse-drawn caravan, arriving in England by boat in 1961 with her family. Her and her siblings were dressed, she said, in "little bundles of rags - like refugees". They were following in the footsteps of her father, a feather and scrap salesman who had already set up sometime before in the UK so his family could come over - when they arrived, they lived in the back of his Austin van, travelling from location to location, constantly moved by the police and local authorities.
"England was supposed to be a goldmine in them times - you come over to England and get a bit of work" she explained, but they faced huge levels of prejudice when they arrived, and that has not abated.
"Everywhere we go, we're getting prejudice - it's still just as bad as it was," she said.
Her accent (which remains strongly Irish, like that of many travellers across the UK) is one of the few things that betrays her origins. She seems for all the world a normal member of society, having taught herself to read and write - she sports a printed T-shirt, a jumpsuit (to stop her dog nipping her, she says), a beanie and short red hair. She looks serious, but matronly - caring and wise despite a lifetime on the road. Activists working for the solidarity campaign confirm my suspicions when they say that Slattery is a strong voice in a community filled with strong voices and an inspiration to the other travellers.
The travellers are incredibly grateful to the activists who have come out to Basildon to help plead their case to the world.
Said McCarthy: "Without [the activists], we never would have managed - our message of being homeless would have never got out without the help of these young boys and girls who have so much understanding in their hearts."
But the activists tell me later that they have also learnt a great deal from spending time among the travellers
Dale Farm Travellers Solidarity spokesperson Kirsty Jones, 30, a charity worker has been impressed by the travellers, despite the preconceptions of them she had before the campaign.
"They're all such amazing and inspiring people," she explains. "It's almost heartbreaking."
Even though the women of the camp are hard-pressed at this time, she adds, they consistently offer her "pearls of wisdom" and have been incredibly friendly. She says that all the travellers have "opened up their homes" to the activists. What's more, the travellers often provide them with food and beer and welcome them into their "strong, close-knit community".
Jones recalls some particularly moving words Slattery offered on Friday morning before the court decided to postpone the ruling.
Recounted Jones: "She said, any glimmer of light at the end of the tunnel for us will be the most brightly shining star."