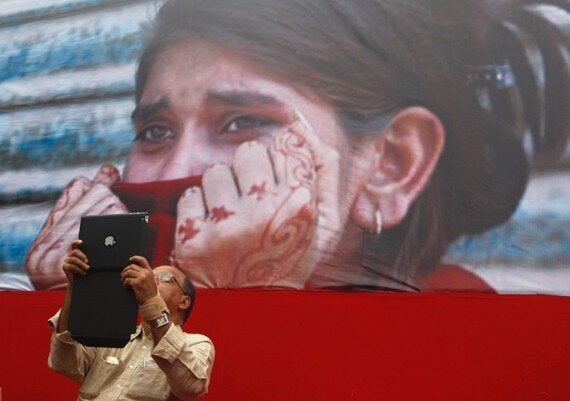 In a 2012 file photo, a member of the Communist Party of India-Marxist (CPI-M) uses an iPad to take pictures of a protest in Kolkata against attacks on women. REUTERS/Rupak De Chowdhuri
Covering women's rights issues for so many years in India, I still find the number of ways women and girls are abused and discriminated against unfathomable.
From their discrimination in accessing health care, education and employment opportunities, to their brutal rapes and murders. From having acid thrown in their faces, to being trafficked for domestic or sexual slavery. From their suicides due to dowry demands, to their molestation on buses and trains. It often feels like a bottomless pit.
The December 2012 murder and gang rape of a 23-year-old physiotherapist on a bus in Delhi jolted many in India out of complacency, and helped bring about greater awareness of violence against women in the country.
But the discussion, particularly on rape, is also bringing to surface the deep-rooted patriarchal and misogynist attitudes that exist in the higher echelons of political power - amongst those who have the ability to forge laws and policies to protect and empower women.
Comments made by politicians from across the political spectrum bizarrely blamed everyone and everything but the perpetrators of sexual violence.
Last week during a debate in parliament about rising crimes against women and children, for example, an Indian politician attempted to advise women how they should dress.
"... to uphold the tradition of our Indian culture, I would earnestly appeal to all my sisters, daughters and girls to dress dignified," said Rajahmundry Murali Mohan Maganti from the Telugu Desam Party.
BLAME ASTROLOGY, NOT RAPISTS
Mohan's remarks are the latest in a series of comments made by politicians who, instead of dispelling sexist and derogatory attitudes towards women, are further propagating them.
In January, one senior politician blamed rapes on the astrological alignment of the stars.
"These days women's stars aren't in their favour, that is why such incidents are taking place," Chhattisgarh state's Home Minister Nanki Ram Kanwar said after reports that 11 girls were raped by a teacher and his assistant.
Other politicians have been worryingly lenient.
Samajwadi Party leader Mulayam Singh Yadav told a public gathering during the general elections in April that young men who rape should be forgiven as they make mistakes.
Yadav said also said that he opposed stricter penalties approved after the Delhi gang rape, which include the death penalty for repeat rape offenders.
"The rape accused should not be hanged. Men make mistakes," Yadav said, adding that "when boys and girls have differences, the girl gives a statement that 'the boy raped me,' and that poor boy gets a death sentence."
But this is just the tip of the iceberg.
Even more disturbing, some politicians encourage raping or even murdering women.
"(The) solution is this: any woman if, whether married or unmarried, goes along with a man, with or without her consent, should be hanged. Both should be hanged. It shouldn't be allowed even if a woman goes by consent," Abu Azmi, a senior member, also from the Samajwadi Party, told the Midday newspaper in April.
Last month, a parliamentarian from the Trinamool Congress party hit headlines when he was caught on camera threatening to rape women from the opposition Communist Party of India (Marxist) (CPI-M).
"If CPI-M tries to kill and intimidate our workers here, I will not spare them. I will ask our boys to go and rape CPI-M women if necessary," Tapas Pal told members of his party.
The argument has been made that the attitudes displayed by politicians are a reflection of our society, and many women's rights advocates say these kinds of comments are clearly cause for concern.
"What most women and girls have known or sensed from early childhood and what has been strenuously denied by many on both sides of the gender divide should now be accepted and dealt with realistically," wrote Subhanshini Ali, a former parliamentarian and member of the CPI-M.
"Rape is the ultimate threat to keep women and girls 'in line'. It has little to do with the way a woman or a girl dresses or behaves but is the ultimate punishment meted out to them when they transgress limits that have been placed on their thoughts, desires and volition."
(Editing by Alisa Tang: alisa.tang@thomsonreuters.com)