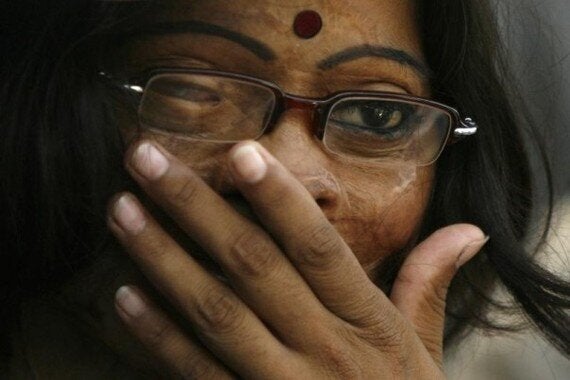 An acid attack survivor attends a conference in Dhaka in 2009. The Acid Survivors Foundation (ASF) of Bangladesh, which provides help and support to victims of acid violence, hosted an international conference to mark its 10th anniversary. REUTERS/Andrew Biraj
NEW DELHI (Thomson Reuters Foundation) - An 18-year-old Indian girl has been admitted to hospital after her jilted boyfriend poured acid down her throat and pushed her into the sea in the coastal city of Mumbai, India Today reported on Monday.
According to the report, the teenager sustained injuries on her face, lips and tongue after her attacker forced her to drink the toxic liquid, after persuading her to meet him on a Mumbai beach on Saturday.
The couple had been in a relationship but had parted ways a few months earlier after the victim's parents rejected his marriage proposal, disapproving of the partnership, the report said.
"The accused then forced her to consume acid. She raised an alarm when passersby caught (the attacker) and handed him over to police," an unnamed police official was quoted as saying. The attacker has been arrested.
Acid violence - where acid is intentionally thrown to maim, disfigure or blind - occurs in many countries across the world. It is most common in Cambodia but also happens in Bangladesh, Pakistan, Afghanistan and India, where deep-rooted patriarchy persists.
Around 1,500 acid attacks are reported globally each year, with women being the victims in 80 percent of cases, says London-based charity Acid Survivors Trust International, adding the actual number is much bigger since most victims are scared to speak out.
There are no official statistics for India, but a study conducted by Cornell University in January 2011 said there were 153 attacks reported in the media from 1999 to 2010.
Many of these attacks are acts of revenge because a woman spurns sexual advances or rejects a marriage proposal, the study said.
Women's rights are at the heart of the agenda at the Trust Women conference, to take place in London 3-4 December. Organised by the Thomson Reuters Foundation and the International New York Times, Trust Women will tackle issues such as slavery in the supply chain and the impact of the Arab Spring on women's rights. Don't miss a chance to be a part of this incredible conversation - register now and save up to 20% off the ticket price at www.trustwomenconf.com