Ten days remain in this summer's transfer window. Ten days remain for Tottenham Hotspur to sign a big name striker, as well as a replacement for the for the arguably irreplaceable Luka Modric. That is what the fans want. That is what the squad needs. This was largely evident in Saturday's defeat at Newcastle. A striker such as Demba Ba is what Spurs are currently lacking. One chance, one goal. An ability to hold the line and bring others into play. Jermain Defoe's predatory instincts can only take us so far.
A glance at the Spurs replacements on the weekend did little to dispel the theories that we have gone backwards. A bench comprising Jermaine Jenas, Andros Townsend and Harry Kane is not the mark of a squad with Champions League aspirations. There are still the likes of David Bentley, Danny Rose and Sebastian Bassong scamming the club of money.
The window began well for Spurs. Astute signings were made in the form of Jan Vertonghen and Gylfi Sigurdsson to give fans hope that despite last season's eventual disappointment, we would not be left behind. Vertonghen filled a big need at centre half, with the retirement of Ledley King as well as age and injury concerns over William Gallas and Michael Dawson. Sigurdsson lit up the league in the second half of last season with some glorious goals and is a very talented, young attacking midfielder. And then the fresh faces at Spurs Lodge ground to a halt.
The enigma that is Emmanuel Adebayor looked set to join permanently before he decided to be the first footballer in history to want the transfer fee to go into his bottomless pockets. He still may yet sign. As is the case every summer, every footballer under the sun has been linked with Spurs. From Leandro Damiao to Daniel Sturridge to Fernando Llorente. From Joao Moutinho to Adam Johnson. From Hugo Lloris to Jack Butland. Unfortunately, none have arrived. As a result, the general sentiment among Spurs fans is one of disgruntlement.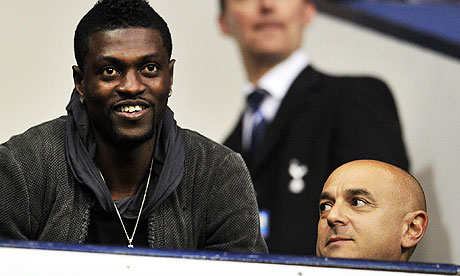 We are used to chairman Daniel Levy conducting a lot of his business towards the latter stages of the transfer window. However, due to inflated market prices and astronomical wages, there is no guarantee that much success will be had on this occasion. What's more, Andre Villas-Boas is very particular when it comes to finding the correct player to suit the system he wishes to employ. It is a great risk. Modric must be sold sooner rather than later to free up the necessary funds. I would rather the sulking Croatian be sold tomorrow for £2m less than on the last day of the window.
The importance of signing some big name, quality players before the transfer window closes cannot be understated. This summer may be the most important of all in the coming years. Chelsea, Manchester United and Manchester City have all continued to improve. Despite losing their two best players, Arsenal have still signed some serious, albeit unproven talent and will be up there come the end of the season. Spurs run the risk of being left behind if serious upgrades are not made in the next week days. Some are saying that we are 'only two or three players away'. In the positions that we wish to improve, two or three quality players could cost £50m plus so that is a somewhat misleading statement.
Do not misunderstand me. I am not saying Levy and Co are not working hard behind the scenes because I believe they are. Nor am I panicking just yet because ten days is admittedly a long time in football terms. I am simply stating what I believe to be the facts and would like to think that I am echoing the thoughts of the majority of Lilywhite fans at this juncture.
The next ten days ought to define the season that Spurs will have because at the moment there are more questions than answers. Come 1 September, everyone affiliated with the club will hope that is no longer the case. For now, there are nervous days ahead.